Sustainability Roadmap 2020
Since the implementation of our five-year Sustainability Roadmap 2016-2020, an important milestone in Qatar Steel's sustainability journey, that outlines our performance targets to be achieved during these five years, we continue to build upon the progress achieved in the past years, across six thematic objectives that sets a clear path to improve the sustainability of the company. Qatar Steel's new Sustainability framework along with the updated roadmap are going to be developed further by the end of 2020 in line with the corporate objectives with "Building the Future " as the core and through benchmarking with respect to other steelmaking industries and their performances.
Six thematic objectives: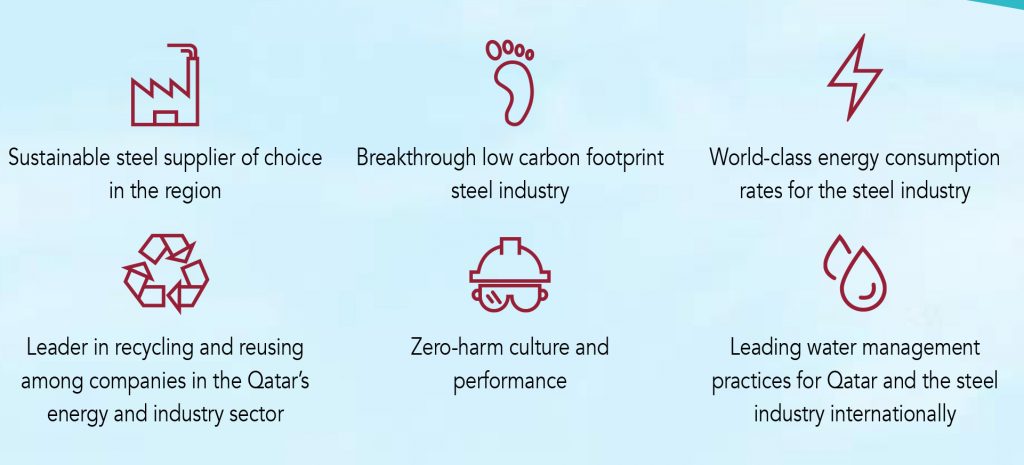 The Roadmap is built upon Qatar Steel's Sustainability Framework.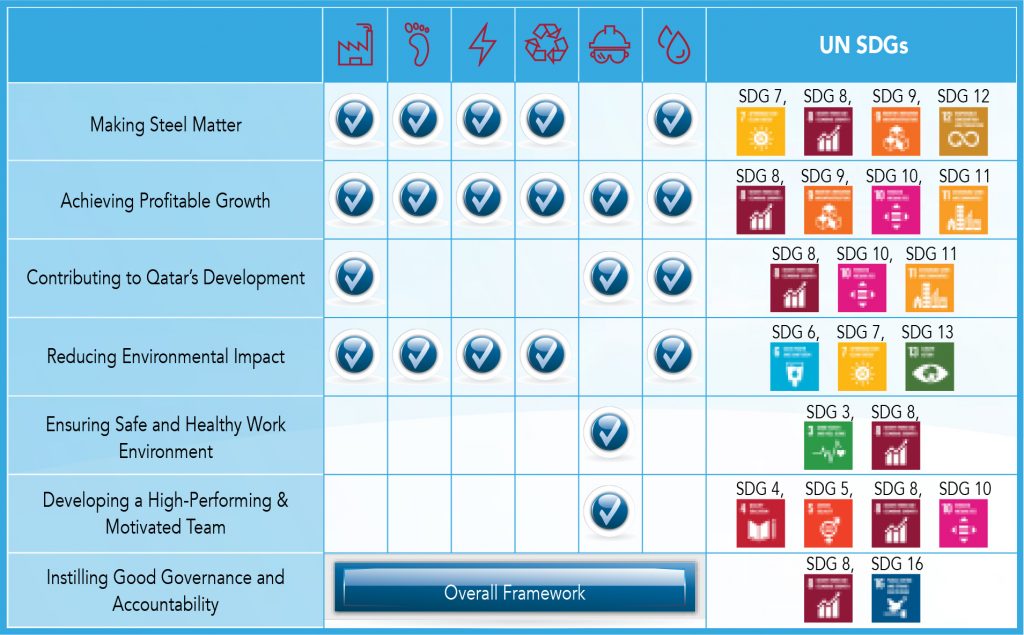 Sustainability Roadmap Objective
Progress in 2019

Sustainable steel supplier of choice in the region

Qatar Steel has successfully developed rebar conforming to Singaporean Standard SS 560:2016 Grade B600B to cater the Singaporean market and this new product was certified by UK CARES.
Under the new product development initiative, we have also successfully developed another new grade of rebar conforming to Australia/New Zealand standard AS/NZ 4671:2001 Grade D500N to fulfil the requirement of Australian construction industries and this new product was certified by ACRS (Australasian Certification Authority for Reinforcing and Structural Steel Ltd).
Qatar Steel added one more product to its portfolio by producing rebar conforming to Malaysian Standard SIRIM and the product was successfully certified by SIRIM QAS International Sdn.Bhd.
Qatar Steel holds BRE BES 6001 Issue 3.1 responsible sourcing certification from UK CARES since 2016.The BRE standard BES 6001 has been published for construction product manufacturers to ensure and then prove that their products have been made with materials that have been responsibly sourced. The standard includes a framework for various aspects such as the organizational governance, supply chain management and environmental and social aspects that must be addressed in order to ensure the responsible sourcing of construction products. In 2019, Qatar Steel has added a new feather in its cap by achieving performance rating of "VERY GOOD" under this certification scheme from UK CARES.

Breakthrough low carbon footprint steel industry

The company's GHG emissions intensity has stayed relatively flat at 1.3 CO2e/metric tonne of molten steel, despite slight increases in production.
Trial of recycling MgO-C bricks was conducted successfully at EAF. By- Product EAF dust is sent to M/s Al-Khalij Cement on continuous basis. From July 2015 to December 2019, around 431,891Tons of EAF dust has been dispatched.
To monitor and control the probable loss of natural gas and to identify the source of massive fire incidents, Qatar Steel's gas leak detection station were identified 22 leaks across 11 locations as part of a quantitative risk assessment.
In the year 2019, Survey of Pipelines by third-party was initiated by utility section to monitor the gas leakages within Qatar Steel plant. The final maintenance survey report (Methane emissions & LDAR) will be received from an inspection company and final report will help in assessing the reduction in emissions due to repairs that might resulted from possible pipeline leakages.

World-class energy consumption rates for the steel industry

95,189 tons of briquettes with DRI Dust and DRI fines has been produced and consumed in EAF's. Trial of recycling MgO-C bricks was conducted successfully at EAF. EAF dust is sent to local cement company on continuous basis.
As a major project of electric power factor improvement 6 units of capacitor banks (each is 5 MVAR) for electrical power factor correction were installed at DR1, DR2, RM1, RM2, main substation and EAF5. This project improved the electrical power factor from 0.85 to 0.99.
Opportunities for renewable energy projects such as installing a solar power plant to have redundancy in electricity supplies and to reduce the natural gas consumption in the electricity power generation plants and under collaborative feasibility study. Consequently, this collaboration would minimize the quantity of natural gas consumption, electrical power and GHG emission.

Leader in recycling and reusing among companies in the Qatar's energy and industry sector

Under Recycling and Sustainability initiative, in 2019, Qatar Steel successfully recycled around 100,000 Tons of by-product briquettes produced by cold briquetting technology and also consumed around 5,000 Tons of carbon material from neighbouring companies in steel making as a raw material in line with QNV 2030 Environmental Development Pillar and to reduce the carbon foot print.

Zero-harm culture and performance

In June 2019, QS hired an HSE trainer to review training program provided to QS Employees.

In April 2019, in cooperation with the strategy department QS started in identifying key appraisal indicators that are linked into safety transformation program. This has been suggested to HC with KPI's that needs to be incorporated into the appraisal system.
safety observation program has been implemented throughout all departments and observation and closeouts thereof are being tracked through the ERP system – Attendance of Manager safety walks have also been linked to KPI's

Leading water management practices for Qatar and the steel industry internationally

Project awarding is ready, subject to result of QP-MIC wastewater discharge impact study
The Near Zero Liquid Discharge (NZLD) Project was awarded to one contractor and started its execution in coordination with our Engineering Section. An Impact study was started in Qatar Petroleum Mesaieed Industrial City (QP-MIC).
Savings of Qatar Steel for reusing wastewater instead of purchasing freshwater from local utility amounts to more than QAR 1 million.
Use of wastewater for slag quenching was 21% in 2019
Increase of using wastewater for garden irrigation by 237% more (2019: 38,300 m3 vs. 2018: 10,300m3)
S. No
Objective
Baseline/Target
UOM
2016
2017
2018
2019
1
Sustainable Steel Supplier of Choice in the Region
10 New Products to be developed by end of 2020 including high Strength Rebar, Wire Rods and others
Number
3
2
1
2
2
Breakthrough Low Carbon Footprint for the Steel Industry
1.51 tons of CO2 per ton of Molten Steel produced
Tons of CO2/Ton of Steel
1.34
1.31
1.33
1.30
3
World Class Energy Consumption Rates for the Steel Industry
14.9 GJ/tonne of Molten Steel Production
GJ/T
15.57
14.92
15.27
15.27
4
Leader in Recycling and Reusing Among Companies in the Qatar Energy and Industry Sector
Q-Companies By-Products Recycled

(10,000 T)

Ton
145
13,067
9,589
4,648
% of Scrap used as Input Material

(10.9 %)

%
14.93
15.09
16.20
17.13
QS-By-Products Recycled/Sold for further processing

(48 %)

%
–
83
59
69
5
Zero Harm Culture and Performance
Zero LTIFR (QS Employees)
No
0.51
1.07
0.53
1.06
Zero LTIFR (Contract Employees)
No
1.96
1.14
0.48
0.18
6
Leading Water Management Practice for Qatar and the Steel Industry Internationally
Near zero m³ process wastewater discharged to sea
m³
767,678
708,174
622,320
716,311
88% recycling rate of processed water
%
16.50
31.69
35.90
21.00
0.66 water intensity (m³ freshwater / tonnes of molten steel consumed)
m³/T
0.59
0.61
0.57
0.60