Sustainability Roadmap 2021
In 2021, Qatar Steel proceeded with monitoring the objectives based on the Sustainability Roadmap 2016 -2020 and it was decided to develop a new Sustainability Road Map 2022 – 2026 with new objectives, defined by benchmarking with regional and international steel companies and in line with Qatar National Vision 2030. This process was carried out and completed in 2021.
Qatar Steel's new Sustainability Road Map 2022 – 2026 builds on the previous roadmap and draws a deeper picture of the strategic objectives that will give QS a competitive edge over its regional and international peers.The previous six objectives were expanded into ten with a detailed action in place to enable QS to capture improvement opportunities and performance gaps within the short and medium-term. The new ten objectives build on the six of the previous Road Map, adjusting and adding some completely new targets: Pursuing Innovation in Green Steel Making, Nurturing Human Capital, Empowering Local Communities, and Championing Sustainability Stewardship.
Six thematic objectives:

Sustainability Roadmap Objective
Progress in 2021

Sustainable steel supplier of choice in the region

The Quality Assurance Laboratory of Qatar Steel is now accredited by TURKAK (Turkish Accreditation Institution, Turkey), in accordance with ISO/ IEC 17025 -2017, for Chemical and Mechanical testing of carbon steel used for reinforcement of concrete. TURKAK is a signatory to the European co-operation for Accreditation and International Laboratory Accreditation Cooperation (ILAC). This accreditation enables us to further maintain our reputation as a company that follows the highest standards in product quality in comparison to peer companies.

Qatar Steel has received the Quality Mark license issued by the Saudi Standards, Metrology and Quality Organization (SASO) in accordance with the standard SASO ASTM A615:2018 Grade 60. The certificate certifies that it has granted Qatar Steel the right to use SASO quality mark on the products following the fulfillment of requirements according to the related normative. This will enable Qatar Steel to export rebar to Saudi Arabia
Qatar Steel received the Quality mark license as per KWS GSO ISO 6935-2:2012 Grade B500B-R Standard issued by the Public Authority for Industry in Kuwait. This certificate ensures that QS rebar is meeting the specified standard requirements and enables Qatar Steel to export rebar to Kuwait market

Breakthrough low carbon footprint steel industry

As part of a new project initiated in January 2020, Qatar Steel has started a different system based on QatarEnergy's methodology for calculating GHG emissions for Scope 1 and Scope 2 emissions, using the Intergovernmental Panel on Climate Change, EU Emissions Trading System as well as Kahramaa's emission factors. Qatar Steel completed the initial verification process by SGS, UK of its GHG reporting and in June 2021 received the Scope 1 and Scope 2 verification certification.
The average GHG emission from Scope1 and Scope 2 has been found to be around 0.95 CO2/ MT steel production for 2021, which is below the world average of 1.89 (according to World Steel Association standards – https://worldsteel.org/media-centre/press-releases/2021/sustainability-indicators-2021-and-our-sustainability-journey/.

World-class energy consumption rates for the steel industry

Qatar Steel is exploring the possibility of undertaking a collaborative feasibility study for renewable energy projects, such as installing a solar power plant to reduce the natural gas consumption onsite.

Leader in recycling and reusing among companies in the Qatar's energy and industry sector

376,654 MT of recycled material was used as input material. Average % of scrap recycled as feed mix in EAF was maintained at 33%, compared to the average 16% of the 2016-2019 period.
Began a segregation waste programme in both the office and plant areas to divert recyclable waste from the source point to recyclers. Color coded containers- blue, yellow, green, brown and black – meant for collecting wood, plastic, domestic, general and paper wastes respectively have been set up across the company premises. A total of 1,055 metric tons of plastic and paper waste has been collected by recyclers.

Zero-harm culture and performance

Successfully re-certified according to the ISO 45001:2018 standard.
Awarded by World Steel Association (worldsteel) for "Safety Culture and Leadership"
Projects initiated for the digitization of safety-related documents (e.g., e-PTW, e-MOC, e-Investigation system, Bowtie software, etc.), which will assist operational staff.
Identified Process Safety Critical Equipment (SCE) and prepared SCE register for different operational plants.
Initiated a Process Hazard Analysis review by a 3rd party for selected plants within PSM covered process.
Implemented a new framework for rewards and spot recognition of remarkable safe behaviors from employees and contractor associates.
Continued the regular engagement with all employees in terms of training even during COVID-19 pandemic, an HSE eLearning Platform was developed

Leading water management practices for Qatar and the steel industry internationally

Qatar Steel is in the process of construction of a Near Zero Liquid Discharge (NZLD) plant which will significantly reduce the amount of Treated Industrial Water (TIW) and brine discharges into the sea during plant operations. During year 2021 the installation of equipment took place.
Highlights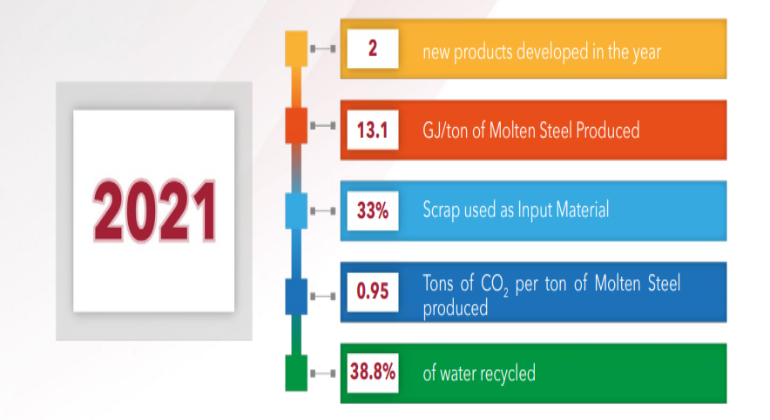 S. No

Objective

Baseline/Target

UOM

2016

2017

2018

2019

2020

2021

1
Sustainable Steel Supplier of Choice in the Region
10 New Products to be developed by end of 2020 including high Strength Rebar, Wire Rods and others
Number
3
2
1
2
1
2
2
Breakthrough Low Carbon Footprint for the Steel Industry
1.51 tons of CO2 per ton of Molten Steel produced
Tons of CO2/Ton of Steel
1.34
1.31
1.33
1.30
0.93
0.95
3
World Class Energy Consumption Rates for the Steel Industry
14.9 GJ/tonne of Molten Steel Production
GJ/T
15.57
14.92
15.27
15.27
11.5
13.1
4
Leader in Recycling and Reusing Among Companies in the Qatar Energy and Industry Sector
Q-Companies By-Products Recycled

(10,000 T)

Ton
145
13,067
9,589
4,648
3,660
2,363
% of Scrap used as Input Material

(10.9 %)

%
14.93
15.09
16.20
17.13
33.30
33.30
QS-By-Products Recycled/Sold for further processing

(48 %)

%
–
83
59
69
62
44
5
Zero Harm Culture and Performance
Zero LTIFR (QS Employees)
No
0.51
1.07
0.53
1.06
0
0.44
Zero LTIFR (Contract Employees)
No
1.96
1.14
0.48
0.18
0
0.36
6
Leading Water Management Practice for Qatar and the Steel Industry Internationally
Near zero m³ process wastewater discharged to sea
m³
767,678
708,174
622,320
716,311
222,795
157,703
88% recycling rate of processed water
%
16.50
31.69
35.90
21.00
28.17
38.82
0.66 water intensity (m³ freshwater / tones of molten steel consumed)
m³/T
0.59
0.61
0.57
0.60
0.59
0.61
Sustainability Pillars' Alignment with the UN SDGs