Managing Director and Chief Executive Officer's Message
Dear Fellow Stakeholders,
In the recent past we all faced unprecedented challenges due to the Covid-19 Pandemic and the sharp post Pandemic recovery, which resulted in shortages and price escalations. The repercussions of the outbreak seem to suggest that conventional approaches are insufficient to respond to the type of uncertainty a Global Pandemic creates and a new approach to resilience is needed.
The Pandemic also brought sustainability into sharp focus, especially the interconnections between the living and working environments, and the impact on our everyday lives.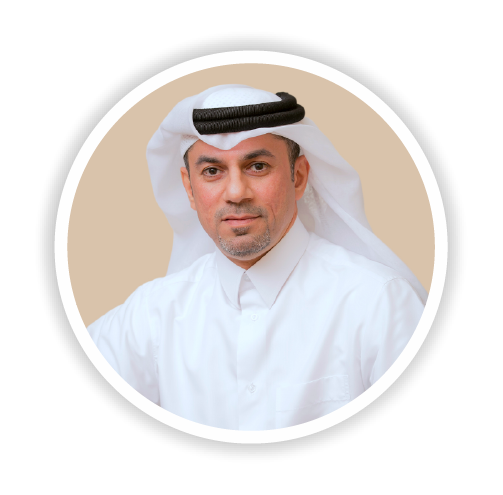 We at Qatar Steel have experienced that the integration of Environmental Social and Governance (ESG) structures into business decisions paves the way for agility to be built into the business and strengthens its adaptive capability. Leveraging our well-structured ESG management approach, I am proud to report that Qatar Steel remains on a steady footing to weather future possible market shocks and uncertainties. Our foundations are built on the primary strength of our business: our people, and I would like to emphasize that during this challenging period, our employees demonstrated their normal high-levels of dedication and commitment to remain focused on the execution of strategies which support our agile and resilient operations.
Studies suggest that companies with high ESG scores have delivered better risk-adjusted returns post Pandemic. Acknowledging the role of ESG in our business, we developed the new ESG Sustainability Roadmap 2022-2026 and incorporated new objectives greater aligned to the changing operating landscape. We are committed to tracking our ESG performance and continuously improving our position, addressing any gaps timeously.
We have adopted an integrated way of thinking companywide and this enables us to manage our financial and non-financial assets in a holistic and sustainable way, and report same in this this report, which reflects our performance in all spheres, over the past two years.
With our pioneering spirit we understand that we play a leadership role within our sector in the region, and within the greater Steel Making community. We attach utmost importance to improving our performance in high impact ESG areas. We have defined our strategic objectives and understand the material issues impacting our business, whilst developing the necessary responses required to meet the everchanging challenges we face. Diligently, we review and report our performance on a regular basis in various forums, striving for excellence in every aspect of our business. Our efforts are recognized, and we achieved the World Steel Association's (World Steel) Safety and Health Excellence Recognition in 2021, for safety culture and leadership.
Accepting the devastating effects of the emerging climate crisis, we join the wider steel manufacturing fraternity in initiating mitigation efforts and striving for Carbon Neutrality. Through are new Vision and Mission statements we commit to Carbon Neutrality and have intensified efforts in decarbonization, reducing emissions to 0.95 CO2/ MT steel production in 2021, which is well below the world average of 1.89 (World Steel Association). In addition, we are tackling the global waste issue by embracing the circular economy and increased our scrap recycling consumption. In line with our commitment we received recognition for our 10-year participation in the "World steel Climate Action Data Collection Program" as a climate action data provider from the World Steel Association.
We embrace the future, and also look at sustainability from a business perspective. Our commitment remains to conduct and grow business in ways that contribute positively to society and environment. Our sustainability lenses include new technologies such as digitalization and data analytics that will lead to significant improvements in energy use and emissions whilst the highest level of cyber security.
I am proud to present our Annual Sustainability Report 2021 to our valued stakeholders. I am heartfully thankful to all our employees who played an outstanding role in our success, and all our stakeholders and partners that involved in the preparation of this report.
Best regards,
Abdulrahman Ali Al-Abdulla
Managing Director and Chief Executive Officer