Managing Director and Chief Executive Officer's Message
It is with great pleasure that I am presenting Qatar Steel's first integrated annual and sustainability report. This integrated report features our financial and operational highlights, as well as our sustainability performance in various aspects including health and safety, governance, environment and community development.
The year 2020 was marked by global uncertainty as a result of the Covid-19 pandemic; this new normal and the many challenges that it poses has further highlighted how truly globalized our world is, and the need for companies to think and act in a sustainable manner. Business continuity was one of the biggest threats/challenges brought to us by the pandemic. Our employees are our strength and we are proud that they stood by us during these challenging times. I would like to express my heartfelt gratitude to all employees and service providers at Qatar Steel for their dedication and commitment in helping the company maintain continuity in business operations during these times. This being said, we have operated and will continue to operate prioritizing the employee safety not only related to steel business but also in terms of the ongoing pandemic.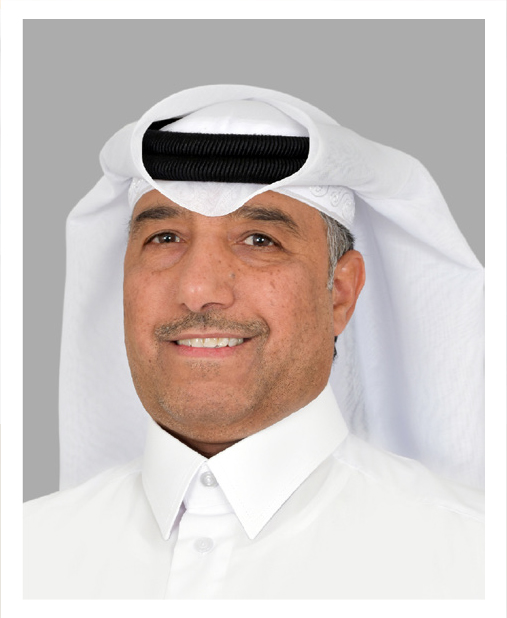 At QS, we opened the year by concluding the BUILDING THE FUTURE Workshop and with the expectation that the wheel of business (over the next 3-5 Years) will turn and that the Steel Industry would start to recover. Instead, shortly thereafter, everything changed as the pandemic spread rapidly around the world. From one day to the next, demand for our products and services began to shrink and our way of working changed and it affected the performance owing to a multitude of reasons, including unstable market conditions due to Covid-19, disruptions in the demand for steel, and lower steel prices. To secure the financial stability of the company, we implemented a detailed plan to reduce our fixed cost structure by 30%, by the end of 2020, and to generate cash through reducing inventories, managing receivables closely and reducing investments – this included mothballing some of the production units to restrict sales only to the local market. These actions helped us to improve our performance in the latter half of the year and enabled us to meet or exceed our targets.
2020 was a very successful year for Qatar Steel in terms of the health, safety and environment performance category. Qatar Steel achieved a "best ever" total of 10 Million working hours without any LTI (Qatar Steel and Contractor employees), as well as a LTIFR of Zero (0) for 2020. The Total Recordable Incidence Frequency Rate also shows a continuous downward trend, with another "lowest" recorded for the company at the end of 2020. These figures indicate the success of our HSE system, and it is our intention to build on this system to further improve our performance on the health and safety front. We also achieved "1 Rosette" rating in UK CARES Sustainable Constructional Steel (SCS) Certification Scheme for the first time since the commencement of certification and became the first company in the Middle East and fourth in the world out of 26 certified companies to achieve this status. We also conducted a new materiality assessment in 2020, and in the process of developing Sustainability Roadmap (2021-2025); in keeping with our intention of updating our sustainability strategy in line with Qatar National Vision 2030.
Under Qatar Steel's vision of being the world's leading steel company, we will continue to deliver our products successfully, focus on HSE performance with higher targets, exceed customer expectations and thereby strive to maintain the company's sustainable growth, increase our corporate value, and ensure QS plays a vital role in the development of a sustainable society.

Mohammed Nasser M A Al-Hajri
Managing Director and Chief Executive Officer