Creating shared value is one of the sustainability priorities that guides Qatar Steel as a company. We aim to be strong contributor to the community in which we operate and therefore we do our part for society by investing in those initiatives that measurably impact the quality of life of the local community in Qatar. This includes community investments, running programs in local communities, sponsoring events, and donating to different charitable causes. Apart from this, we also seek to hold ourselves and the company operations to the highest ethical standards.
We strive to achieve excellence through performing our operations in a socially and ethically responsible manner and put in consistent efforts to manage our business as conscientious members of our community.
In 2021, due to the challenges of budgetary restrictions arising from the COVID-19 pandemic situation, we were unable to make our annual investments in local CSR projects. However, Qatar Steel sought to contribute to thelocal community in other ways by organizing and running various activities and programs as listed below.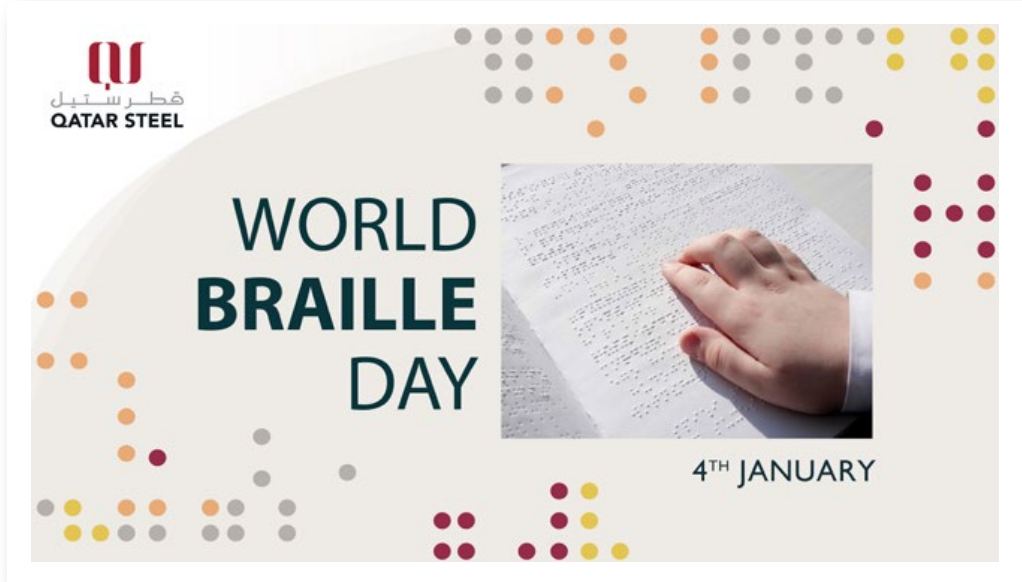 January 2021: WORLD BRAILE DAY
World Braille Day is celebrated on the 4th of January as it marks the birthday of Louis Braille. Louis was born in France in 1809, and he was blinded in a childhood accident. However, he was determined to overcome this setback, and, inspired by Charles Barbier's night reading system, he invented what we now know as braille.
On the occasion of World Braille Day, Qatar Steel took the chance to raise awareness of the issues impacting those who are visually impaired. The invention of braille has transformed the lives of those with visual impairments, and it promotes equal opportunities. We hope that, by highlighting the methods, the world will make greater attempts to promote inclusion.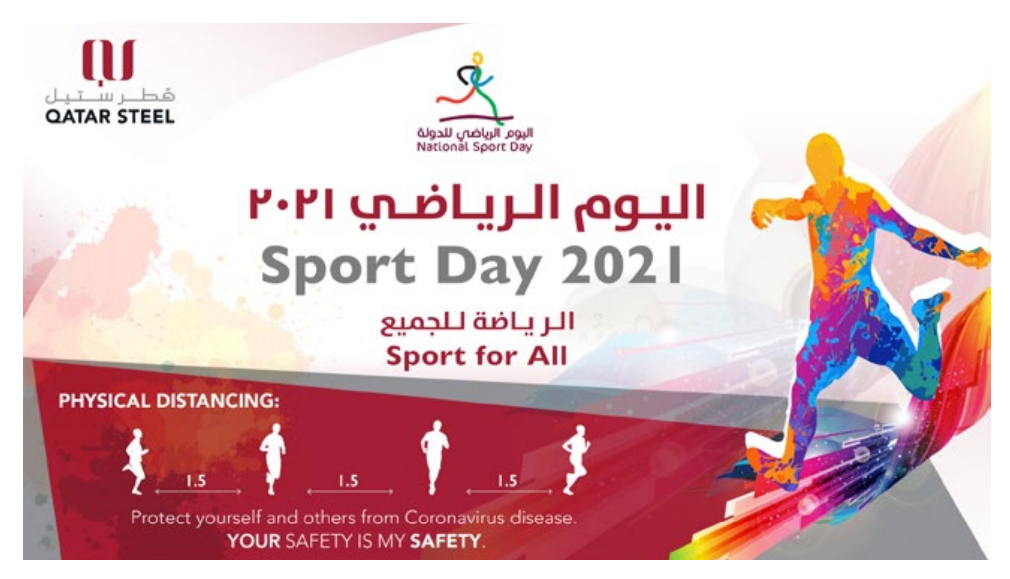 February 2021 :QATAR SPORT DAY
Within the limitation of COVID protocol and in an effort to prevent any employee and their families from spreading and infection of the disease, Qatar Steel celebrated the event virtually. This event is scheduled every year on the second Tuesday of second month of the year.
Consistent with our efforts to promote the benefits of an active healthy lifestyle and fitting society, Qatar Steel participated in the celebration of National Sports Day reflecting the vision of country's wise leadership for building fit individuals and strong society. The message was loud and clear that sports should be a part of the culture and life of individuals and society and is an important aspect of our nation's investment in human development.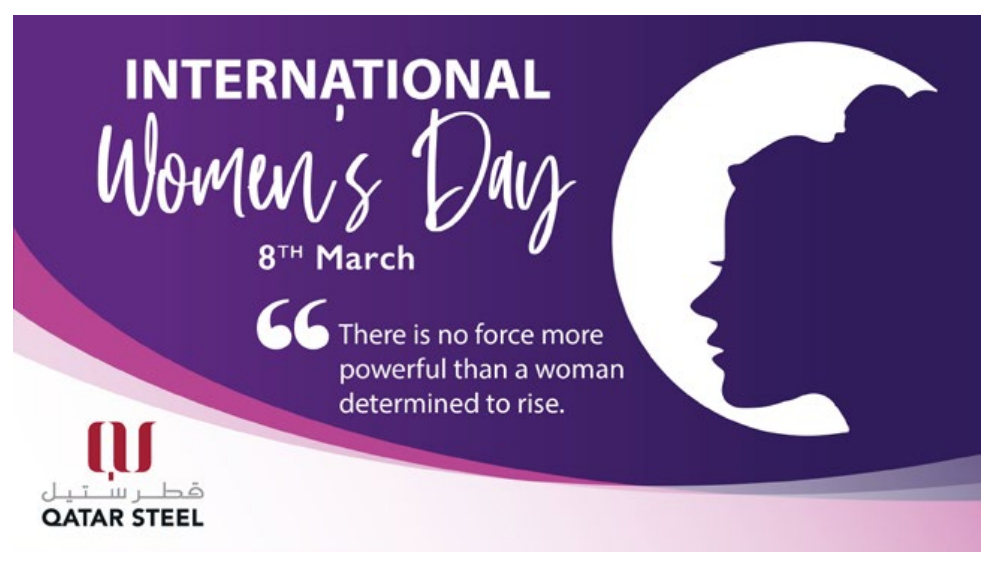 March 2021 : INTERNATIONAL WOMENS DAY
International Women's Day (March 8) is a global day celebrating the social, economic cultural and political achievements of women. The day also marks a call to action for accelerating women's equality. On the occasion of IWD, Qatar Steel paid respect to al women's working in Qatar Steel and in the region visually and to their families.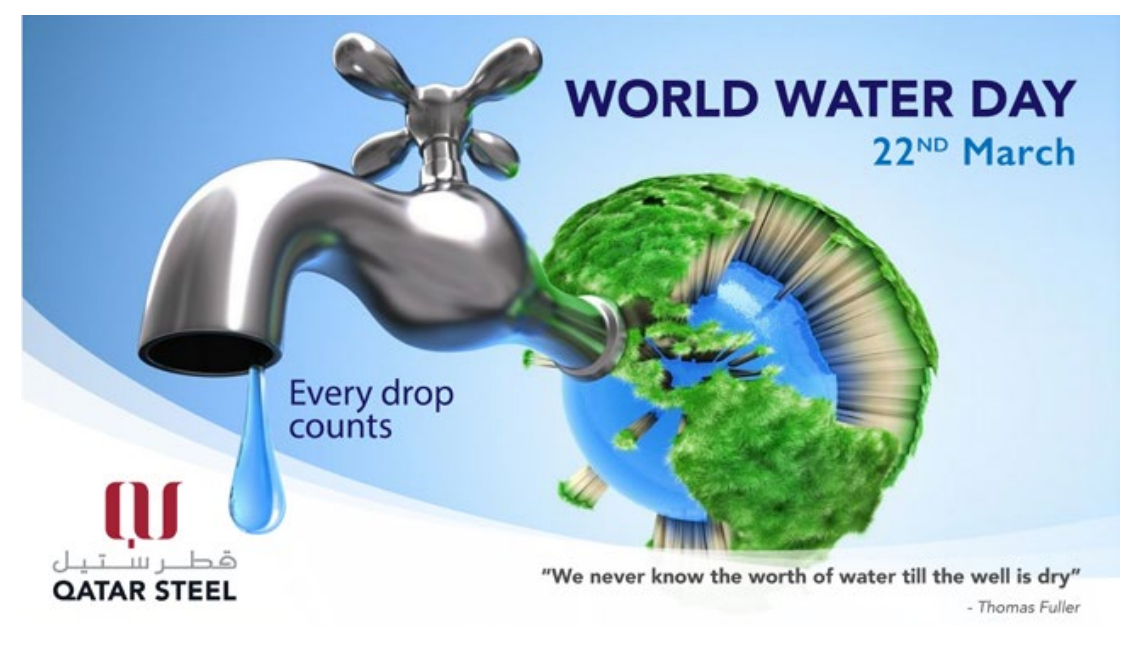 March 2021 : WORLD WATER DAY
On the occasion of World Water Day, held on 22 March every year since 1993, Qatar Steel raised the importance of freshwater and its conservation. World Water Day celebrates water and raises
awareness of the 2.2 billion people living without access to safe water. It is about taking action to tackle the global water crisis.
A core focus of World Water Day is to support the achievement of Sustainable Development Goal 6: water and sanitation for all by 2030.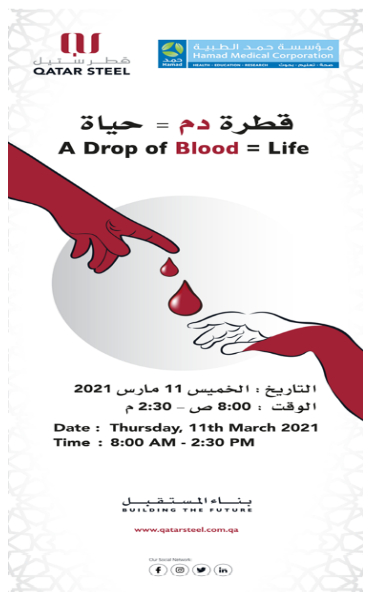 March 2021 : BLOOD DONATION DRIVE: Give blood and keep the world beating"
The blood donation campaign, organized by Qatar Steel in coordination with Hamad Medical Corporation (HMC), QS Clinic and QS HSE Department, was aimed to encourage members and colleagues of Qatar Steel to contribute and commit to blood donation act to maintain adequate blood supply at the blood banks and achieve self-sufficiency in safe blood and blood products in Qatar. The humanitarian drive was intended as part of enhancing our commitment towards the community.
The initiative drawn huge number of employees who responded remarkably to the campaign. The campaign was successful to raise awareness all around and fulfilled our commitment to the community and in line with the QS Corporate Social Responsibility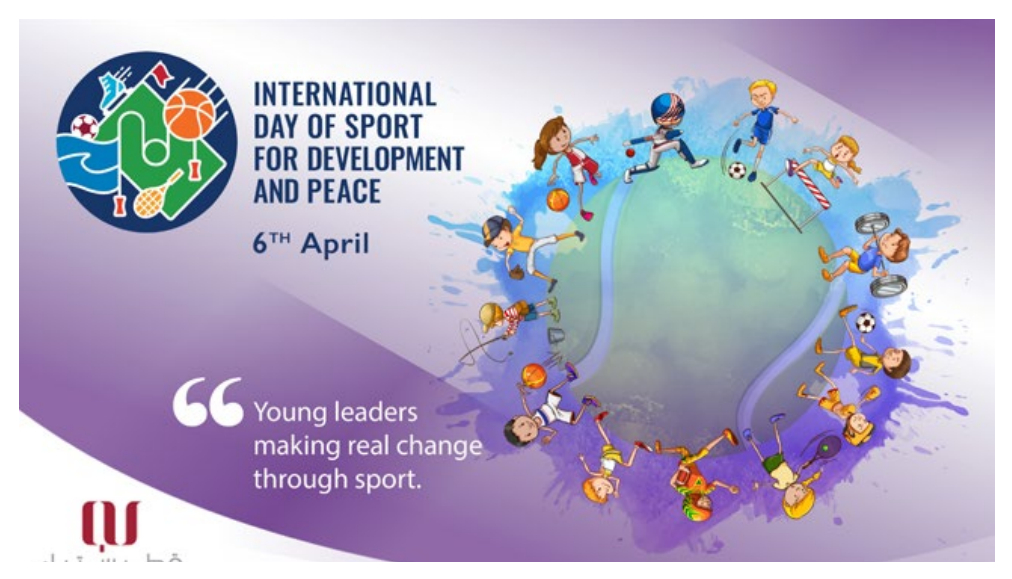 APRIL 2021 : INTERNATIONAL DAY OF SPORT FOR DEVELOPMENT AND PEACE
This day marked the value of sport in our life and highlight the importance of ensuring that we are all protected from COVID-19 and we can return to moments like this in the future. We at Qatar Steel wished a healthy life ahead and raised the issue virtually.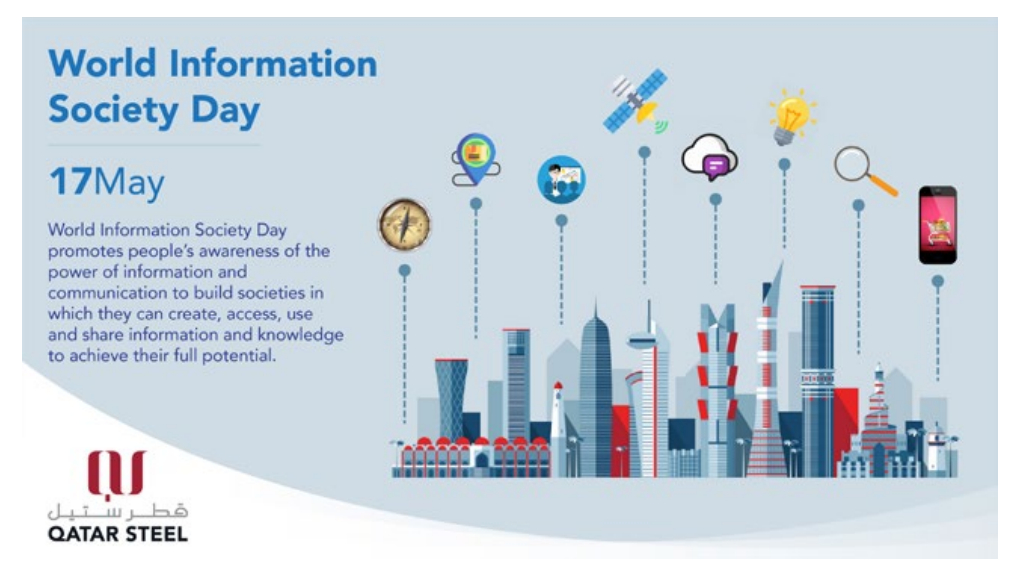 May 2021 : WORLD INFORMATION SOCIETY DAY
Accelerating Digital Transformation in challenging times: The COVID-19 crisis has not only highlighted the critical role of information and communication technologies (ICTs) for continued functioning of societies, but, has also brought us to the fore the startling digital inequalities between and within countries. At Qatar Steel we realized the issue very closely and marked the day with fond remembrance.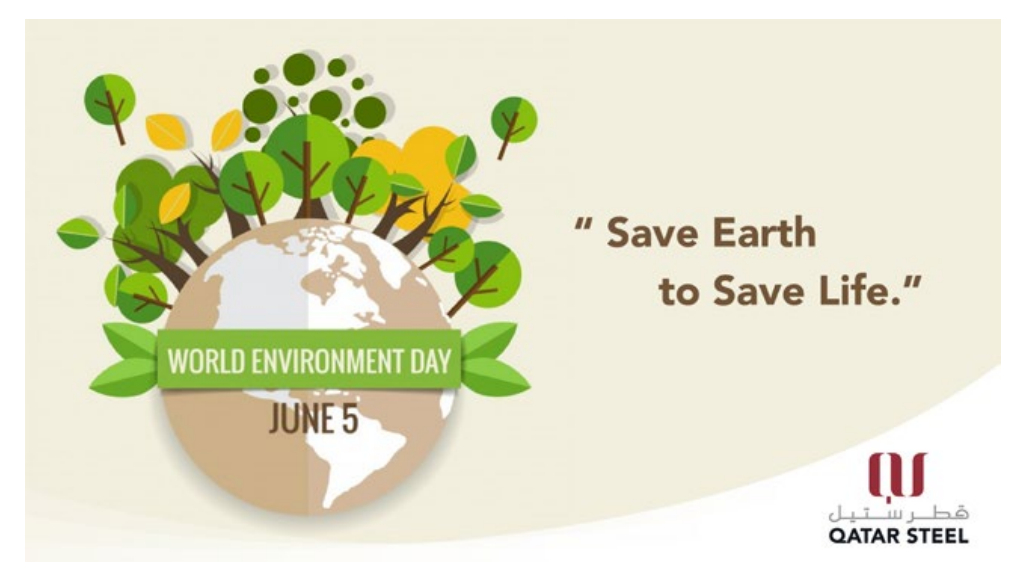 June 2021 : WORLD ENVIRONMENT DAY
World Environment Day takes place every year on 5 June. It is the United Nations' flagship day for promoting worldwide awareness and action for the environment. Over the years, Qatar Steel has
actively participated in the awareness campaign in promoting progress on the environmental dimensions and to achieve sustainable recovery from COVID-19. The day was celebrated by employees across the company.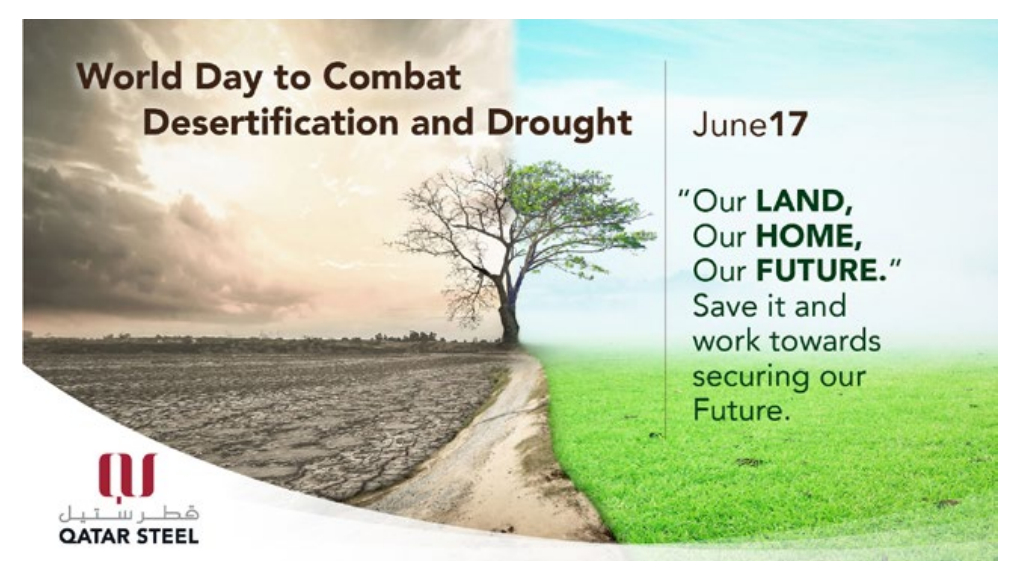 June 2021 : WORLD DAY TO COMBAT DESERTIFICATION & DROUGHT
Restoration. Land. Recovery.
The2021DesertificationandDroughtDay to be held on 17th June was focused on turning degraded land into healthy land. Restoring degraded land brings economic resilience, creates jobs, raises incomes and increases food security. It helps biodiversity to recover. It locks away the atmospheric carbon warming the Earth, thereby slowing climate change. It can also lessen the impacts of climate change and underpin a green recovery from the COVID-19 pandemic. At Qatar Steel we aimed to raise the awareness virtually.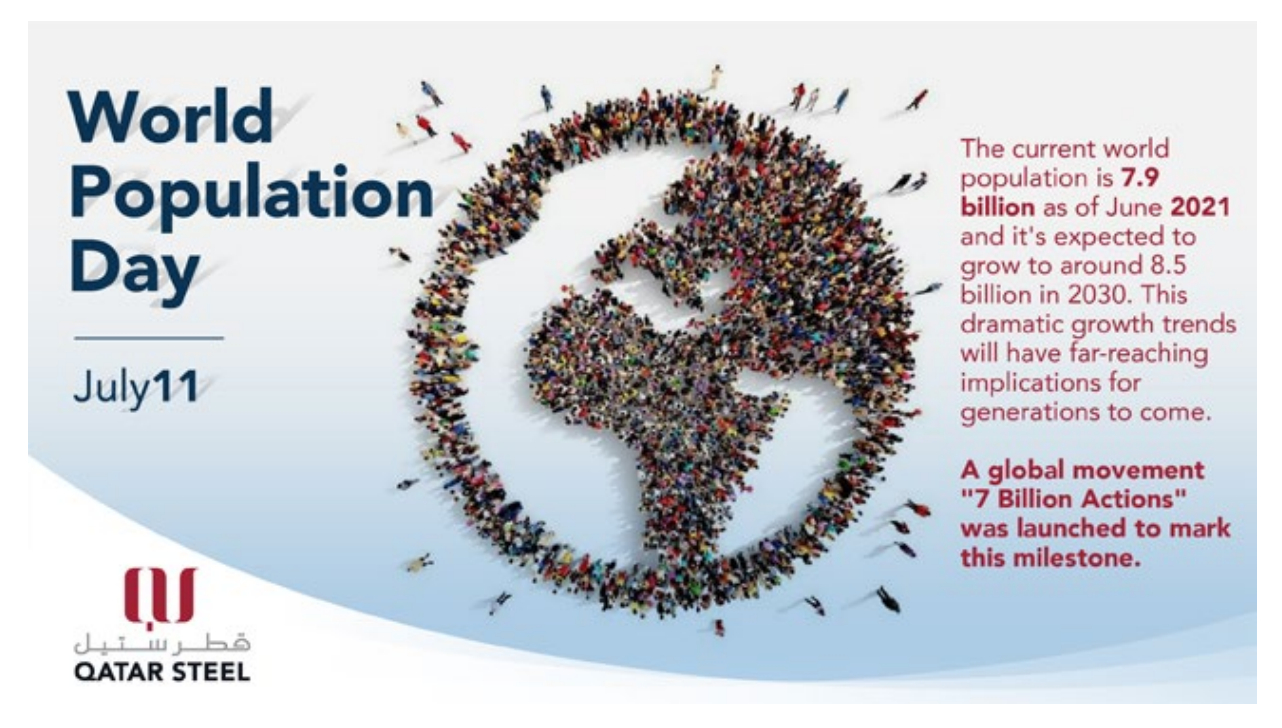 WORLD POPULATION DAY 2021
It took hundreds of thousands of years for the world population to grow to 1 billion – then in just another 200 years or so, it grew sevenfold. In 2011, the global population reached the 7 billion mark, and today, it stands at about 7.9 billion in June 2021, and it's expected to grow to around 8.5 billion in 2030, 9.7 billion in 2050, and 10.9 billion in 2100.
This dramatic growth has been driven largely by increasing numbers of people surviving to reproductive age, and has been accompanied by major changes in fertility rates, increasing
urbanization and accelerating migration. These trends will have far-reaching implications for generations to come. We, at Qatar Steel, tried to raise the issue and generate little awareness on this issue.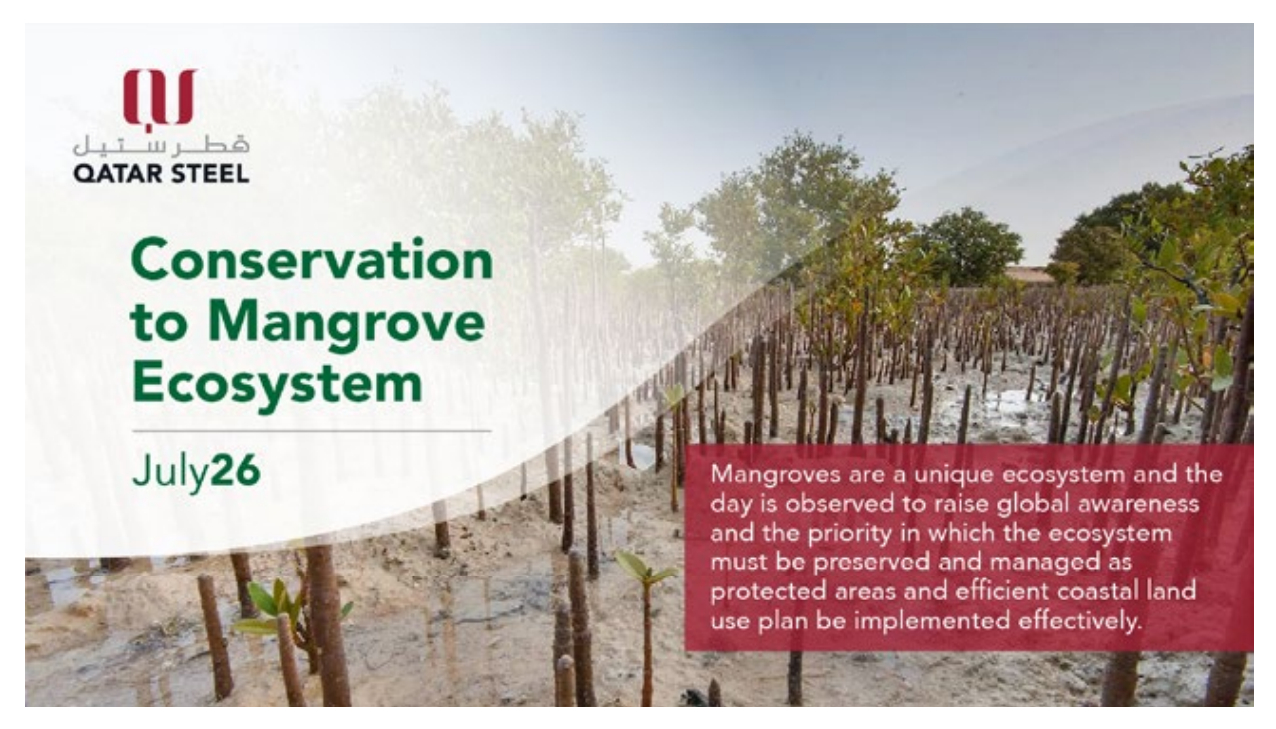 July 2021: CONSERVATION TO MANGROVE ECOSYSTEM
The International Day for the Conservation of the Mangrove Ecosystem, adopted by the General Conference of UNESCO in 2015 and celebrated each year on 26 July, aims to raise awareness of the importance of mangrove ecosystems as "a unique, special and vulnerable ecosystem" and to promote solutions for their sustainable management, conservation and uses. A Qatar Steel we were truly encouraged by Shekha Al Mayassa Al Thani's statement and we motivated to include in our newsletter.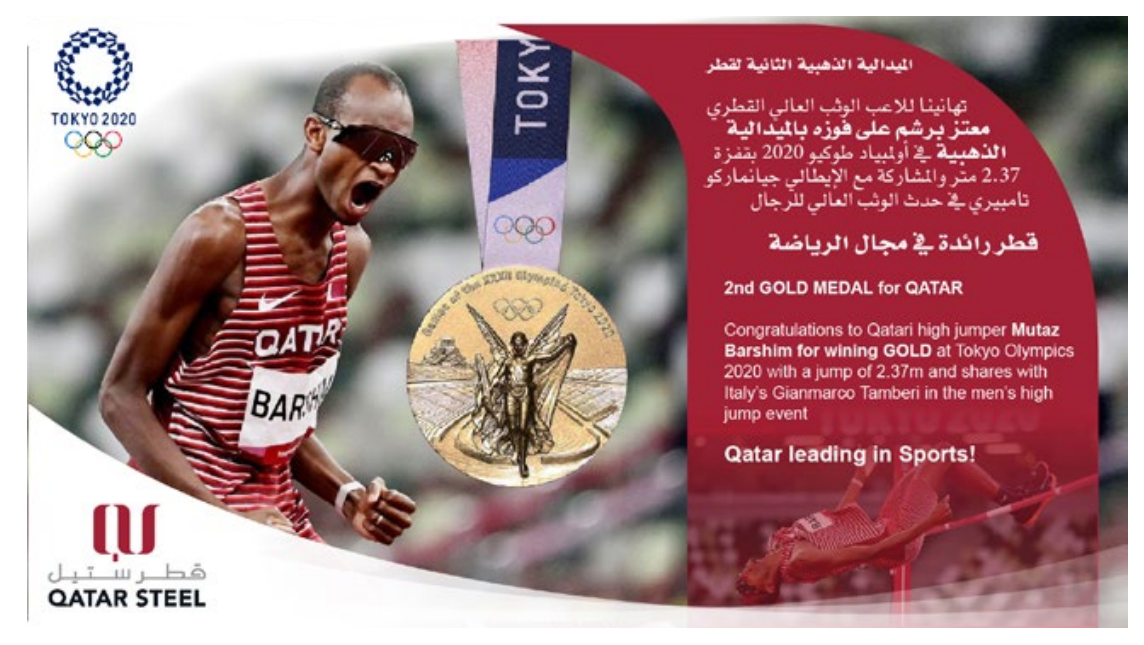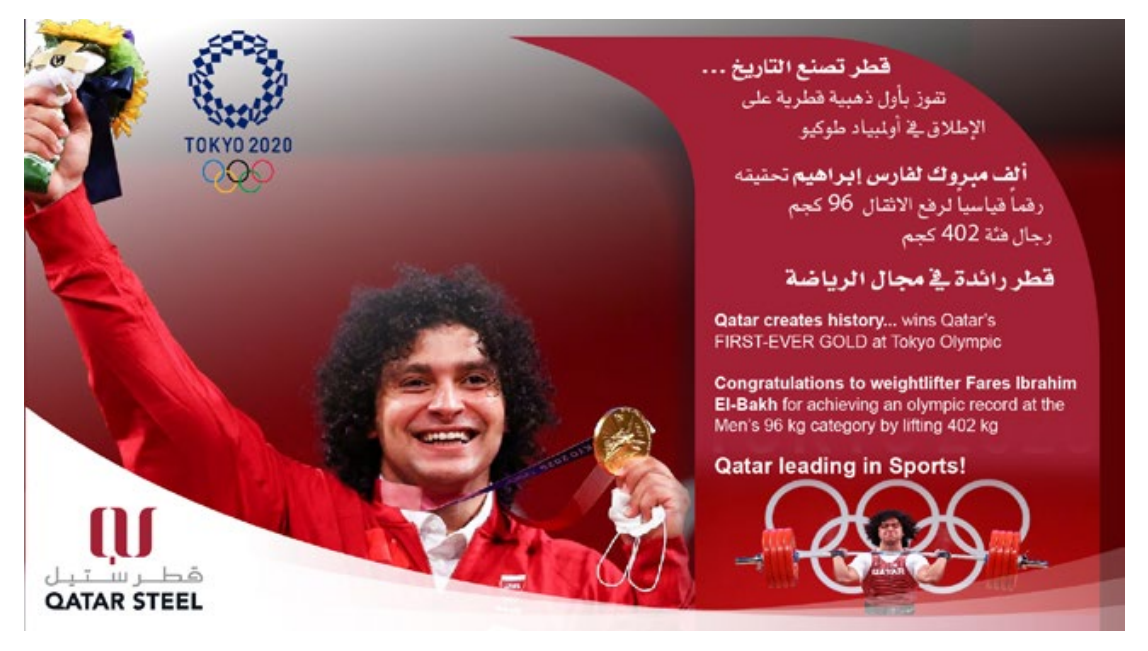 CONGRATULATIONS
Qatar Steel bid congratulation message in all social media platform on winning Gold medal in Tokyo Olympic 2021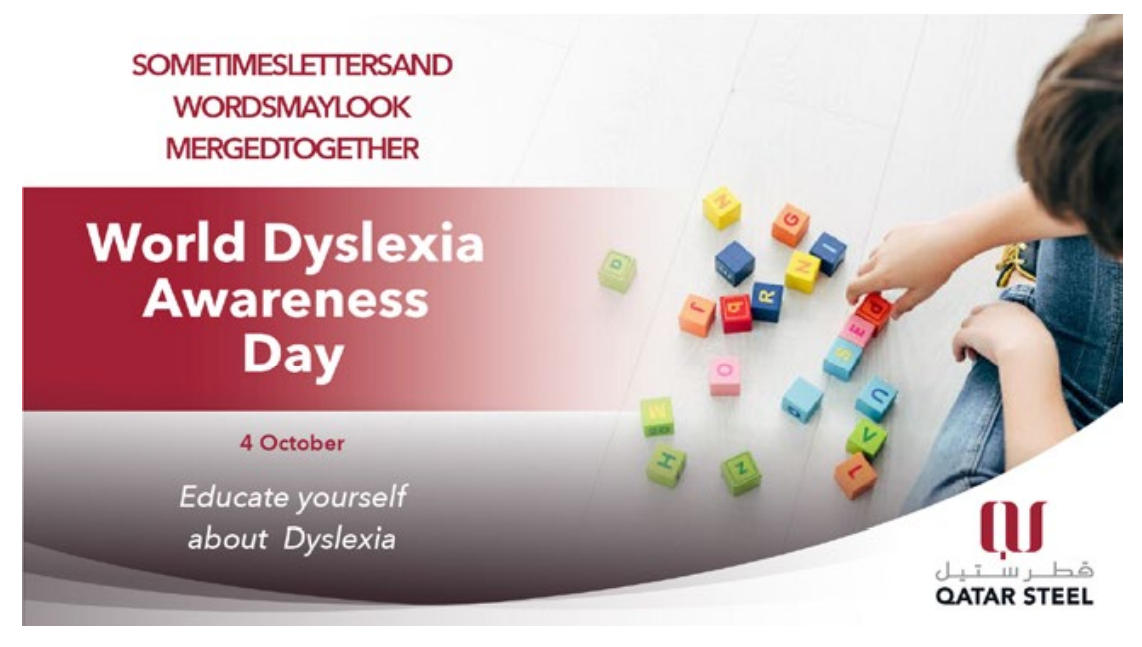 October 2021: WORLD DYSLEXIA AWARENESS DAY
Dyslexia Awareness Week held on October 7-12th 2021. It's an annual event which is aimed at building an understanding of what dyslexia is, what it means how we can support those with dyslexia1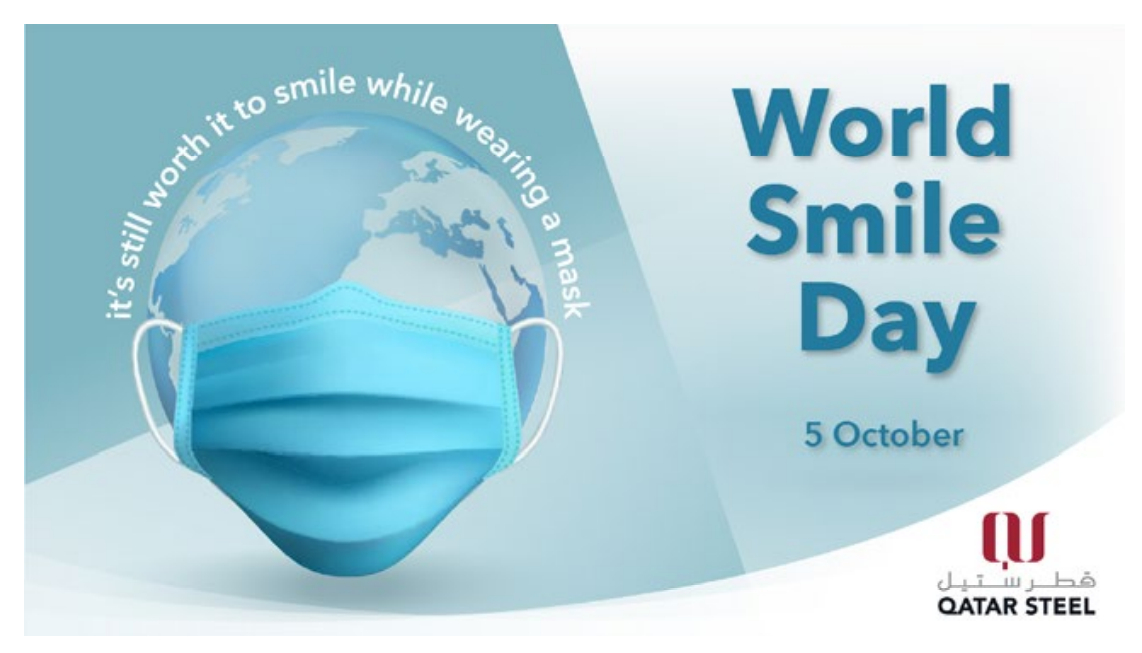 October 2021: WORLD SMILE DAY
Smile costs nothing but creates everything. The first Friday of October every year is celebrated around people to do acts of kindness to spread good will and cheer.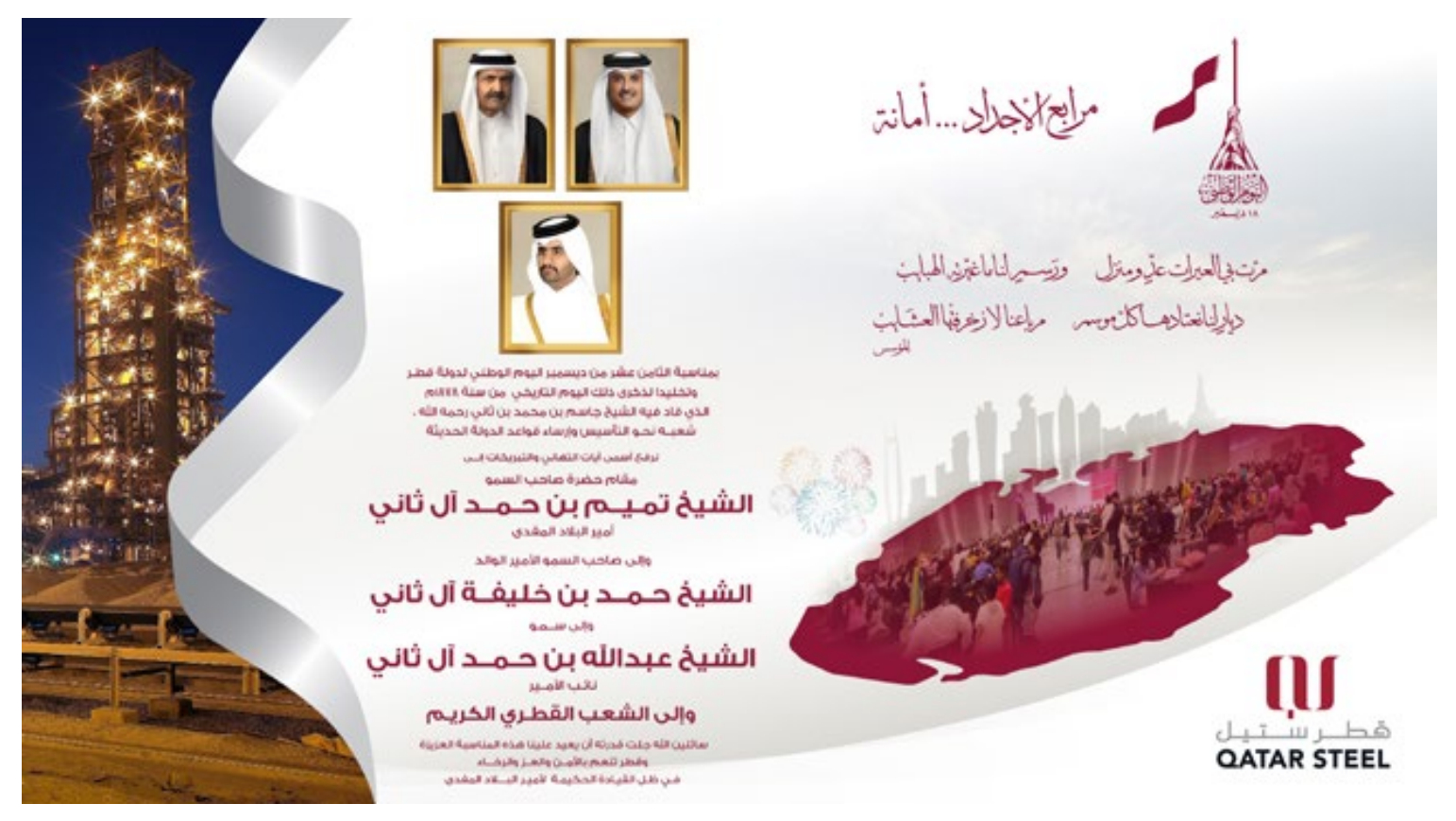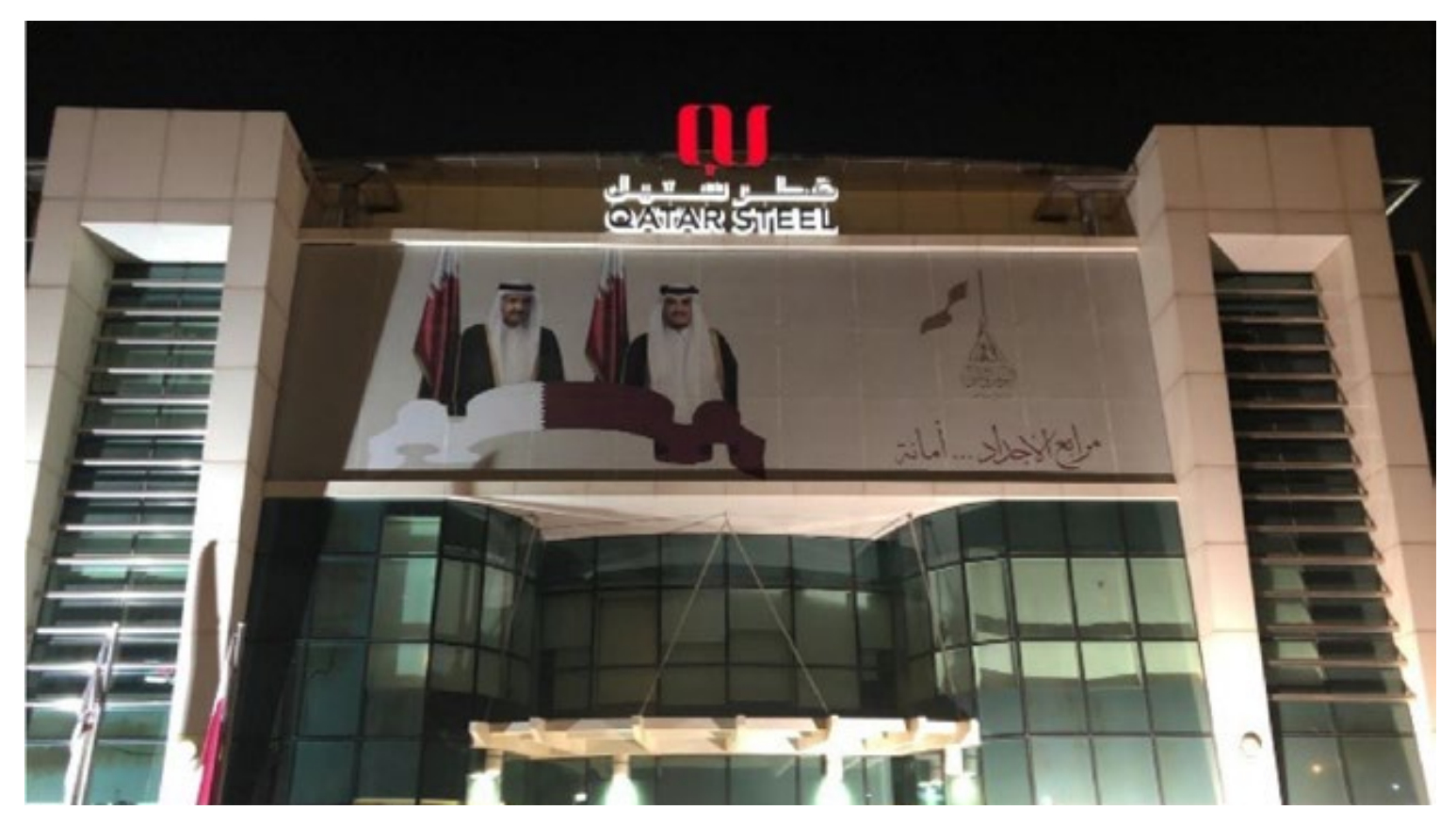 December 2021: QATAR NATIONAL DAY
As part of our social responsibility, we thanked the able leadership of Qatar and marked the day with our post in social media.
We also created the same effect with one way vision sticker posted in Qatar Steel Doha office