Qatar Steel proceeds in the process of building a high performing, expert staff, dedicated to organizational excellence, as to deliver on our business strategy. At Qatar Steel, we have In-House, Overseas, Local Training programs, E-learning, English courses, and Development packages to ensure skill-building of our employees. The Learning and Development Department always improves its educational infrastructure, methodologies, and content material to make sure that our training programs are always up to date. In particular, our in-house learning facilities are set to guide non-stop education and talent development of our personnel, mainly of our youthful workforce, and in the post-Covid era, we have boosted our e-learning programs.
Training Company-Wide
2016
2017
2018
2019
2020
2021
Average hours of training per year for employee

9.0

12.7

29.0

24.0
16.80
29.4
Total Cost of Training (QAR)

669,687

972,842

1,852,786

1,487,041
429,592
619,392
E-learning programme
Technology and innovation are a high priority for our business and became even more crucial in 2020 due to the need to transfer to online remote training due to the pandemic. An e-learning programme was piloted the at beginning of 2020 and is still active. This E-learning became a game changer for the Learning and Development (L&D) function in its ability to continue training during the pandemic, as all in-person classroom trainings were halted to avoid any contamination risks.
During 2021, E-learning was a steady presence in our training function due to various reasons such as enhancing of our training methodology, diversifying of our training delivery and the pandemic constraint for social distancing.In the e-learning, we have two distinct segments that covers different training topics.
The first segment is provided by a third party that covers programs such as Business Strategy and Operations,Networking, Internetworking, Security and DATABASE Systems, Finance, Human Resources and Administration, Management and Leadership and Professional Effectiveness.
The second module cover mainly HSE topics like Heat Stress Awareness, Environmental Management Awareness
and Occupational Health Awareness. It is exclusively designed internally by our HSE team:
E-learning report 2021 – Third party
Category
No. Of Employees
Modules Completed
Training hours
Management
18
131
60
Senior
39
402
189
Intermediate
22
156
80
Grand total
79
689
329
E-learning report 2021 – HSE
Category
Qatari
Expats
Total Attended
Heat Stress Awareness
128
873
1,001
Environmental Management Awareness
88
789
877
Occupational Health Awareness
69
650
719
HSE Refresher
42
483
525
Total
327
2,795
3,122
Organization Cultural Survey
With an objective to improve the Organization by reinforcing values and boost employee morale to maintain a positive work environment, Qatar Steel has successfully conducted an Organizational Cultural Survey in Q4 2021. The Survey was accessible to all employees online. The inspiration behind was to sense the "employees feel" on certain prime organizational drives covering through twelve wide-ranging categories including HSE, Benefits &Rewards, Job Satisfaction, Work atmosphere, Work life balance, and service quality and standards of Information Technology, Learning & Development, Facility Services etc.
The Survey occurred while Qatar Steel was riding the waves of one of the toughest business challenges it has ever faced since its establishment following the outbreak of Covid-19.Nevertheless, the overall satisfaction index stands at 3.87 out of a scale of 5 which is quite impressive as it is only slightly below the 3.98 reached in the previous survey (2017) and also shows a constantly growing trend since the survey was first rolled out: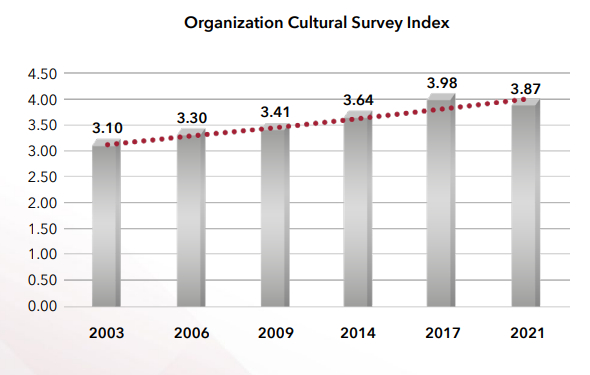 The Qatar Steel Management was pleased to take note of the overwhelming enthusiasm demonstrated by employees of all levels and ranks across the organization by their active participation in the survey and shown high regards to their valuable inputs, independent opinions and suggestions for improvement.
The assembled data has been analyzed in-depth by a taskforce applying SWOT tactics in order to identify gaps and formulate an all-embracing action plan. Improvement areas have been earmarked and prioritized to improve the quality of services and take the employee satisfaction level to its zenith.