Product Quality and Traceability
Product Quality:
Qatar Steel strives to provide its customers with the best steel products that meet and exceed international standards. The use of stringent quality-control system qualifies Qatar Steel for several international management systems such as ISO 9001:2015, ISO 14001:2015, ISO 45001:2018, BRE BES 6001 from CARES and product certifications like product conformity certifications for rebar conforming to different international standards such as BS 4449:2005 Grade B500B, ISO 6935-2:2015 Grade B500B-R, ASTM A706 Grade 60, SS 560:2016 Grade B500B, B600B, Nuclear Grade Application Certification from CARES and CS2:2012 Grade 500B conforming to Hong Kong Standard Certification from CARES and Civil Engineering and Development Department (CEDD), Hong Kong. Additionally, Qatar Steel:
is approved by the Public Authority for Industry, Kuwait for using the quality mark license as per KWS GSO
ISO 6935- 2:2012 B500B-R standard,
is approved by the Quality Mark license issued by the Saudi Standards, Metrology and Quality Organization
(SASO) in accordance with the standard SASO ASTM A615:2018 Grade 60,
added one more product to its portfolio by producing billet conforming to Malaysian Standard SIRIM and
this product was successfully certified by SIRIM QAS INTERNATIONAL SDN. BHD.

The Quality Assurance Laboratory of Qatar Steel is now accredited by TURKAK (Turkish Accreditation Institution, Turkey), in accordance with ISO/IEC 17025:2017 for Chemical and Mechanical testing of carbon steel used for reinforcement of concrete. TURKAK is a signatory to the European co-operation for Accreditation and International Laboratory Accreditation Cooperation (ILAC). This accreditation enables us to further maintain our reputation as a company that follows the highest standards in product quality in comparison to peer companies. Furthermore, it helps us build and maintain trust amongst auditors and regulatory departments, locally as well internationally. Laboratory accreditation also indicates the status of being certified as a competent laboratory, thus providing a ready means for customers to identify and select reliable sources of testing and measurement. Based on surveillance audit conducted in 2020, accreditation revision was received on 22nd February 2021 which is valid until 26th of August 2023.
Qatar Steel is the first company in the Middle East and one of the four companies in the world to have achieved "1 Rosette" rating in Sustainable Construction Steel (SCS) Certification scheme, granted by the authority of CARES, for the production of continuous cast steel billets and hot rolled steel bar for the reinforcement of concrete.
Qatar Steel has also received the "QATAR QUALITY MARK" license from Qatar General Organization for Standardization, Quality & Conformity Department, for production of Reinforcing Steel Bars conforming to QS BS 4449:2005, Grade B500B, for the sizes 8mm to 40mm. Qatar Steel is the first integrated steel plant and large-scale organization in Qatar that has fulfilled the criteria for obtaining "QATAR QUALITY MARK" license.
Refer to https://www.qatarsteel.com.qa/certifications/ for list of certifications.
Product Traceability:
Traceability is an important concern for customers to track all the components of product origin. On the raw material souring front, Qatar Steel procures iron oxide pellets from globally reputed pellet producers and can be traced back the history of production up to the palletization plant. Similarly, steel scrap procured locally can be traced up to the supplier/trader level.
On the product front, Qatar Steel allocates a charge number to each billet and rebar along with a material test certificate which is supplied when the product is dispatched to the customer. This enables customers to track the history of the production.
This is done by providing a heat number to each billet and rebar bundle that is produced. With this heat number for the billet/rebar – available on the material test certificate – the entire history of the production process can be traced.
With effect from 11th of April 2021 Qatar Steel rebars are supplied with new product tag comprising Static and Dynamic 'QR Codes' and 'Qatar Quality Mark' as required by CARES and Qatar General Organization for Standardization (QATAR STANDARDS) respectively. This new initiative will further improve the reputation of Qatar Steel's rebar in terms of quality compliance, product traceability and confidence of our customers in local and international market. In 2020, CARES introduced QR codes to improve the security of the certificates of approval and the traceability of product in the supply chain. As a responsible rebar producer, Qatar Steel immediately impressed upon studying the feasibility of adopting it using internal resources and successfully rolled out it in April 2021. Similarly, "Qatar Quality Mark" license obtained from Qatar General Organization for Standardization, Quality & Conformity Department enhances the brand image of Qatar Steel rebar compared to other competitors in terms of quality and product conformity with the approved national standards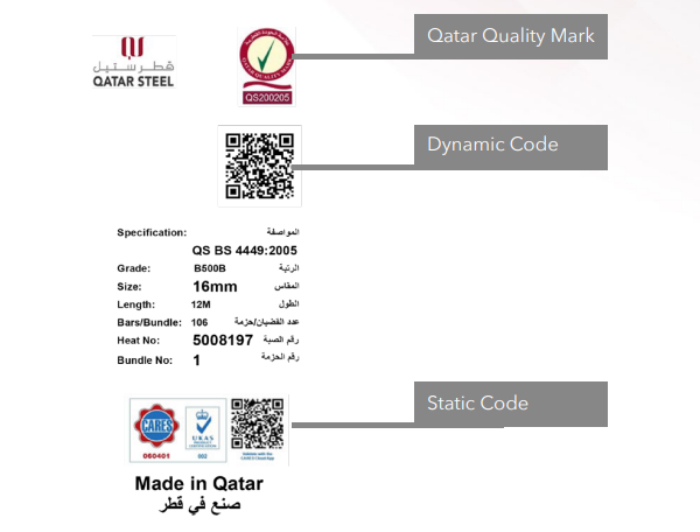 Further information about the sourcing of raw materials and life cycle of products can be found in the Responsible Sourcing and Material Consumption chapter.