Qatar Steel's Occupational Health Centre (OHC) has three main domains: Primary Health Care, Occupational Health Services, and Emergency Medicine. The Centre aims to maintain and improve employees' health and well-being through pre-employment medical exams, periodic medical exams, and special exams for employees exposed to hazards. As part of the company's focus on preventative medicine, clinics also provided individual consultations for employees and conduct a variety of health awareness campaigns such as breast cancer awareness and diabetes check. Additionally, a total of 201 Employees were trained as Designated First Aiders with the internationally recognized certification of HABC.
New Qatar Steel Medical Facility
The new Qatar Steel Medical Facility was officially commissioned in September 2020 after the Ministry Of Public Health issued the certificate for occupancy. This facility is equipped with state of art emergency care equipment, which can cater to provide immediate care during medical emergencies. Within the Medical Center, a separate pharmacy facility has been established for dispensing of prescription drugs, which became functional in 2020 with the appointment of the pharmacist. A total number of 3435 Qatar Steel Employees and 403 contractor employees were consulted in primary and urgent care facilities at Qatar Steel Medical Services during 2020.

Two new procedures were drafted and implemented by Qatar Steel Medical Services in 2020.
Infection Prevention & Control Policy: The purpose of this policy is to minimize disease transmission with the company through recommendation of methods for early identification and control of infectious diseases (such as COVID-19), and highlighting practices that accelerate the rate of spread within the workplace. The policy also facilitates compliance with reporting requirements of communicable diseases to the Ministry of Public Health.
Medical Confidentiality Procedure: The policy aims to protect the medical information of individuals who avail of services at the Qatar Steel Medical Services through mandatory compliance of the staff with all Qatar Steel Company policies, procedures and guidelines as well as HIPPA and other applicable legislation, for the release of medical information on patients.
Safety and Health Recognition Award of 2020
Qatar Steel was recognized by the World Steel Association for its safety and health performance for the year of 2020.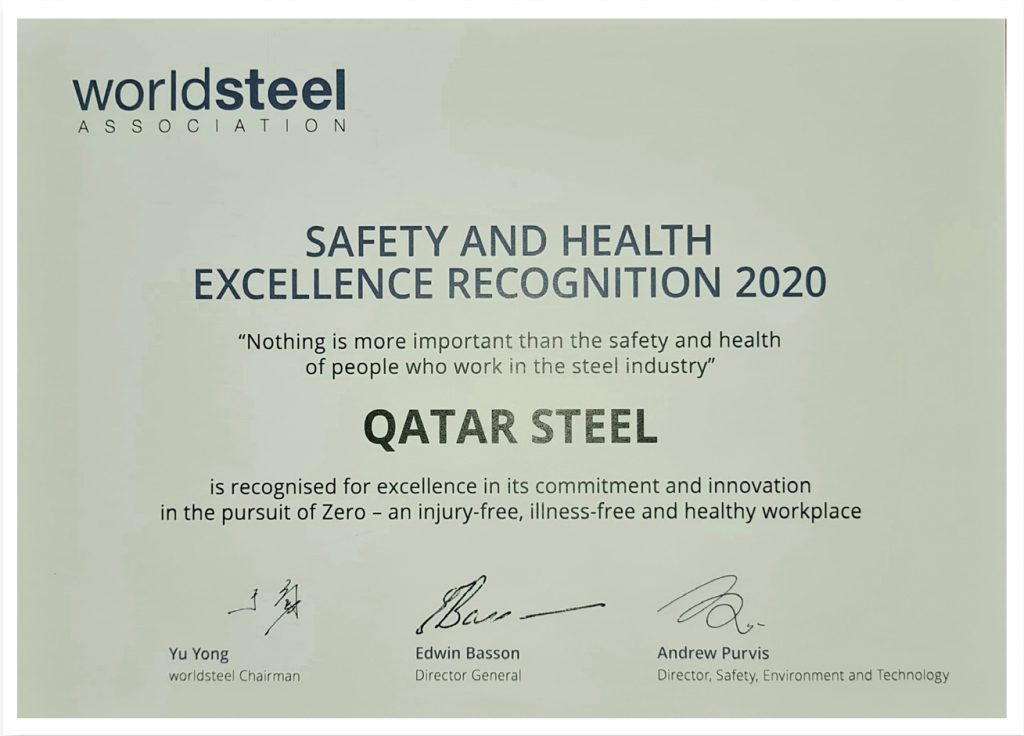 In the past years, a variety of HSE programs and initiatives were established as part of Qatar Steel main aim of achieving a zero-harm workplace. Life-saving rules, ISO 45001 certification, effective risk assessments were all part of the significant improvements that have been accomplished. Along with this year's goal: "Nothing is more important than the safety and health of the people who work in the steel industry", Qatar Steel commits to eliminate accidents and injuries and maintain a sound safety culture through effective safety leadership, preventing exposure from workplace hazards and addressing behavioral safety concerns. This achievement was only possible because of the commitment of all Qatar Steel employees towards their and others safety. This long-term commitment will continue as we strive to be the best in the steel industry.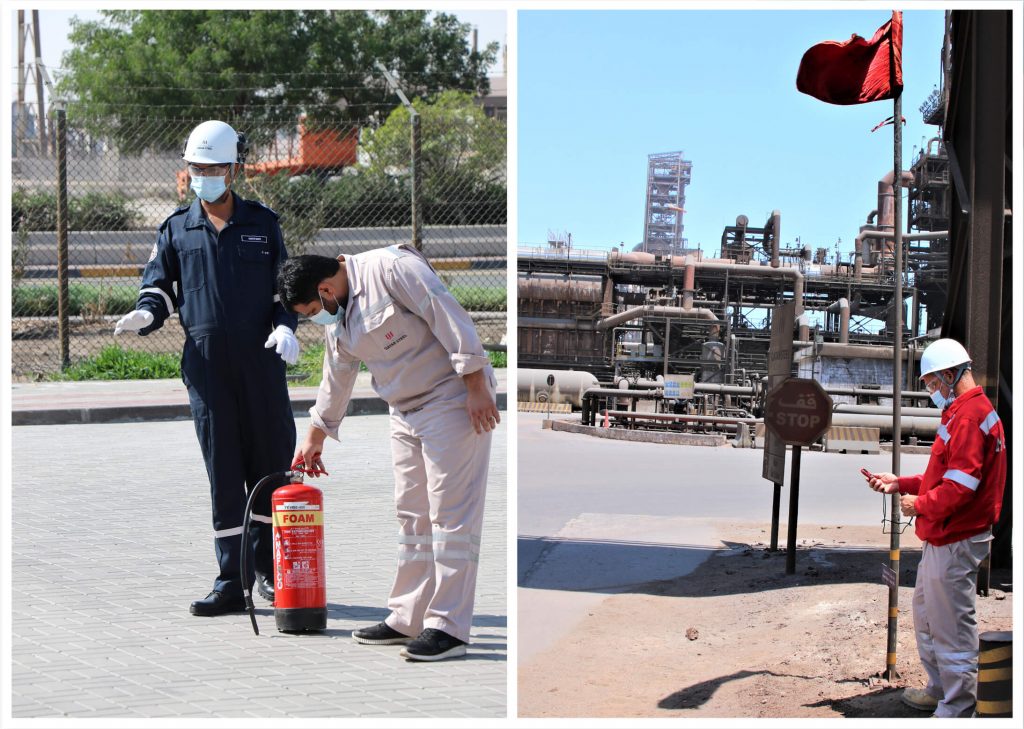 HSE Day
On 21 October 2020, Qatar Steel celebrated World Steel Safety Day to promote safety and health in the workplace. The event was aimed at renewing the commitment of employees to work safely throughout the year and ultimately achieve the objective of ensuring the integration of safety in work culture and lifestyle.
The event drew attention towards the five most common causes of safety incidents in the steel industry which are: Working at Heights, Vehicle Safety, Falling Objects, Machinery Safety, Material Handling, and in particular for this year, Process Safety Management.
Upon arrival at Qatar Steel gates, all employees received reminder cards on this year's themes. This initiative was driven by the company's HSE department.
At an operational level, a safety inspection was carried out in some departments to raise awareness of the main causes of serious incidents and to make the workplace even safer.
A webinar was later presented by Mr. Alexander Stramrood, Qatar Steel HSE Manager and Mr. Jacobus Goosen, Safety Section Head and it included a keynote address by our Managing Director & Chief Executive Officer, as well as the announcement of awards and recognition to both employees and contractors, who excelled in safety during 2019.
Double Safety achievement for Qatar Steel Company (10,000,000) hours without injury & LTIFR
On 6th November 2020 Qatar Steel celebrated the completion of a period of 12 months without a single Lost Time Injury amongst its workforce, including contractors' employees. This distinct milestone of having an LTIFR of 0 (ZERO) has been achieved for the first time in the history of Qatar Steel. Although a tremendous feat, this marks the first step of the company's journey towards Safety Excellence.
Qatar Steel embarked on a journey towards Zero Harm nearly three years ago with an ambitious goal at its heavy industry plant in Mesaieed. The strategy included safety culture transformation, with focus on visible felt leadership, behavioral change for its employees, as well as focus on contractor employees. Management commitment and dedication, a robust Safety Observation program, and ISO 45001 certification are some of the cornerstones on which this renewed HSE strategy was built.
In recent years there has been a continual improvement in terms of its safety performance, with a drastic reduction of total recordable incidence rate and a lost time incidence rate. The company is ranked amongst the best when benchmarked against other World Steel Association member companies.
Well aware of the fact that safety is a journey without a destination and complacency is the enemy, Qatar Steel celebrate these milestones with a forward commitment to achieve the next target: to have Zero Harm to people, property, and the environment.

Health Promotion
Various health promotional activities & health tips on the following topics were circulated in 2020.
COVID-19 AWARENESS CAMPAIGN: Aimed at protecting employees from the spread of virus
An intensive COVID-19 awareness campaign was conducted across Qatar Steel on different media platforms with the intention of creating awareness among our employees and their families, and providing them with the requisite tools and knowledge to combat the spread of the pandemic. As a part of this campaign, inspiring videos were produced in-house and shared through social media platforms for quick reach.
Two of our videos 'Together We Will Fight' and 'Walking with COVID' reached a wide audience organically. Pamphlets containing these messages were distributed among the employees and displayed at various strategic locations in the Mesaieed and Doha offices. Prevention reminders were constantly updated on social media to intensify the drive and reach.
In the month of July 2020, the 'NEW NORMAL' guidelines were intimated to all of the employees through social media. An official WhatsApp group was created and messages were disseminated to safeguard employees, as well as their families and friends.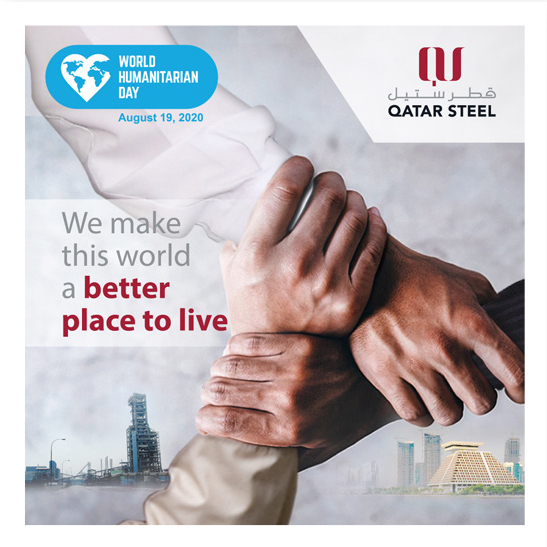 WORLD HUMANITARIAN DAY:
Make this world a better place to live World Humanitarian Day on the day of 19th August, is an occasion to educate people to help people affected by crises and mobilize political will and resources for Humanitarian work. It's a day to celebrate and reinforce the achievements of humanity who are working hard to make this world a better place. Within the limits of its capacity, Qatar Steel actively promoted the day on digital platforms recognizing the significance; an inspiring banner was placed across all of its social media platforms and the company intranet to this effect.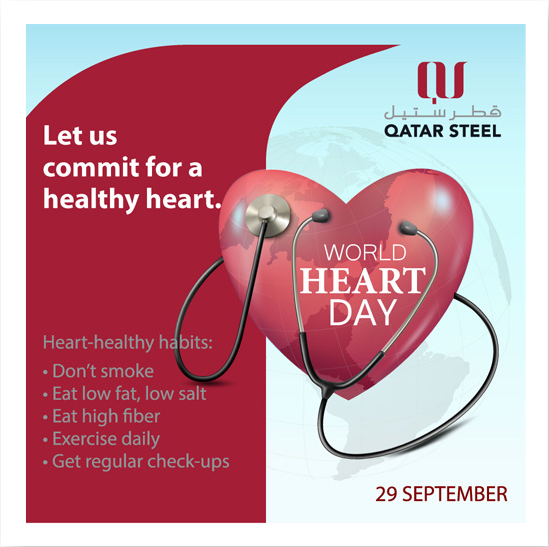 WORLD HEART DAY:
Let's commit for a healthy heart On the 29th of September, World Heart Day was promoted digitally through the creation and sharing of visuals on healthy habits which help keep the heart healthy and prevent disease. These digital posters and infographics were posted across all social media platforms and the company intranet.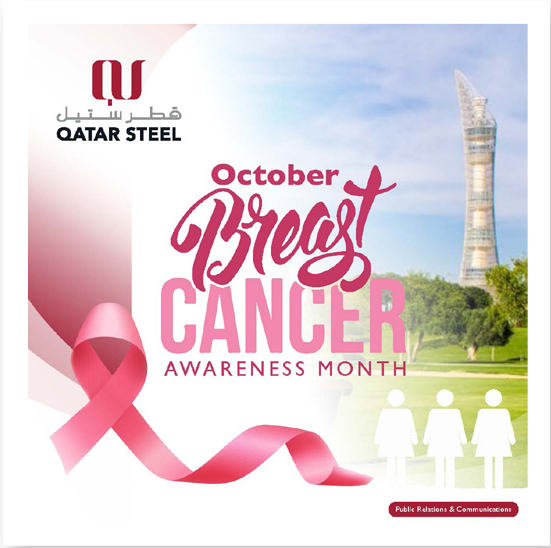 BREAST CANCER CAMPAIGN:
The month of October is internationally recognized as Breast Cancer Awareness Month. It is a worldwide annual campaign involving thousands of women to increase awareness of the disease. Due to COVID-19 restrictions, in 2020 the campaign was conducted digitally through sharing banners and posters pertaining to the signs and symptoms of breast cancer. The visual was intended to enable women to identify early signs, thereby enabling them to get treatment at the earliest resulting in better chances of fighting the disease.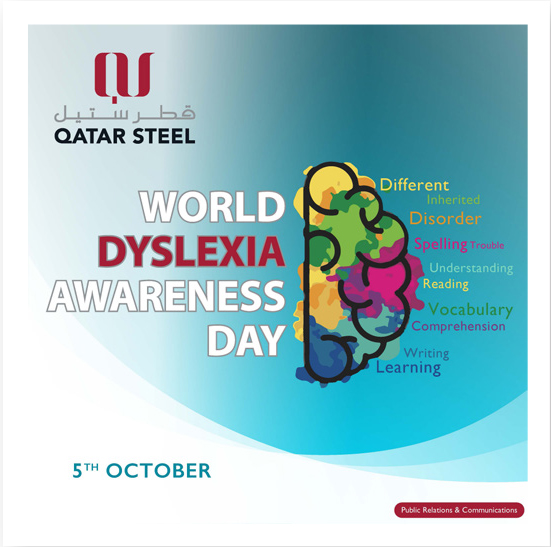 WORLD DYSLEXIA AWARENESS DAY:
Let's win together World Dyslexia Day 2020 is marked every year for empowering people with dyslexia. Qatar Steel pro-actively campaigned to spread awareness through sharing of visuals on social media platforms.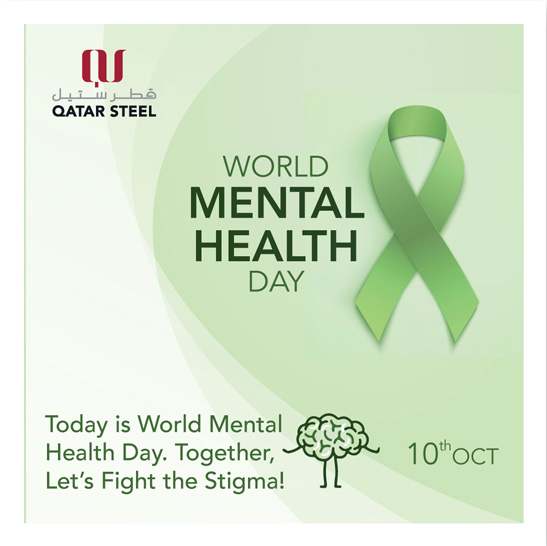 WORLD MENTAL HEALTH DAY:
Together let's fight the stigma World Mental Health Day is observed on 10 October every year, with the overall objective of raising awareness of mental health issues around the world and mobilizing efforts in support of mental health. Visuals to spread awareness were developed and shared on social media platforms and the company's intranet.