Qatar Steel's Occupational Health Centre (OHC) has three main domains: Primary Health Care, Occupational Health Services, and Emergency Medicine. The Centre aims to maintain and improve employees' health and well-being through pre-employment medical exams, periodic medical exams, and special exams for employees exposed to hazards. As part of the company's focus on preventative medicine, clinics also provided individual consultations for employees and conduct a variety of health awareness campaigns. For year 2021 the following figures can be highlighted for the QS Medical Service (QSMS) Department:
a total of 4288 Qatar Steel Employees and 187 contractor employees were consulted in primary and urgent care facilities at Qatar Steel Medical Services,
a total of 1054 (98.23 %) Qatar Steel and Q-Coat employees are now fully vaccinated and a total of 560 employees (~50.13%) have completed their 3rd dose till date,
a total of 151 Employees were trained as Designated First Aiders with the internationally recognized certification of HABC
QSMS received the License to operate a Pharmacy from MOPH linked with the existing Clinic in early 2021.
Additionally, in 2021 QSMS has successfully completed all three phases of Project SAHA: Objective of Project SAHA (HEALTH in Arabic) is to promote employees' health and wellness, targeting employees with chronic diseases and lifestyle risk factors.
In particular, Project SAHA encourages a healthier lifestyle by implementing the "Simple 7" steps: Get Active, Eat Better, Lose Weight, Control Cholesterol, Manage Blood Pressure, Reduce Blood Sugar, and Stop Smoking.
The process is carried out as visually shown in the following figure: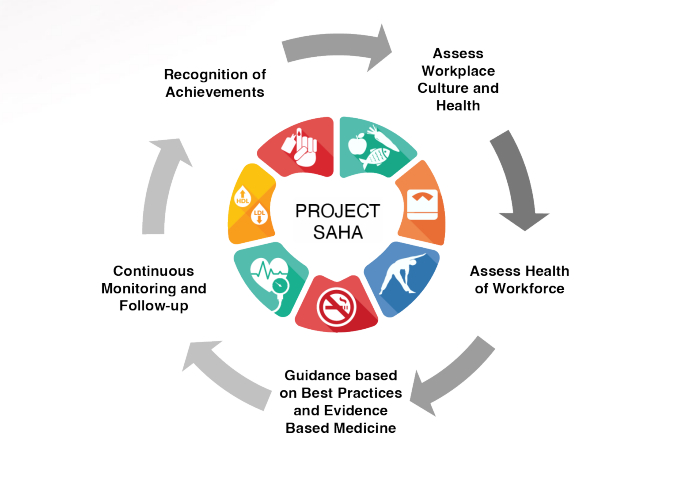 The group of employees will be reassessed against their individual parameters and health education provided with a more focused approach. The three phases were rolled out as follows and the overall improvement of the parameters are shown in percentages in the figure below:
First Phase: February'21 to May'21
Second Phase: June'21 to August'21
Third Phase: September'21 to November'21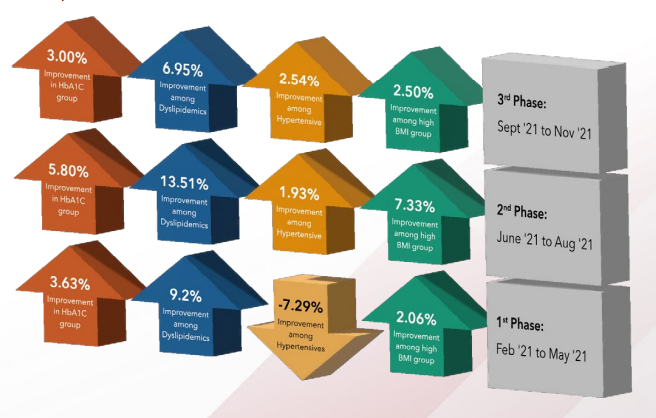 Safety and Health Recognition Award of 2021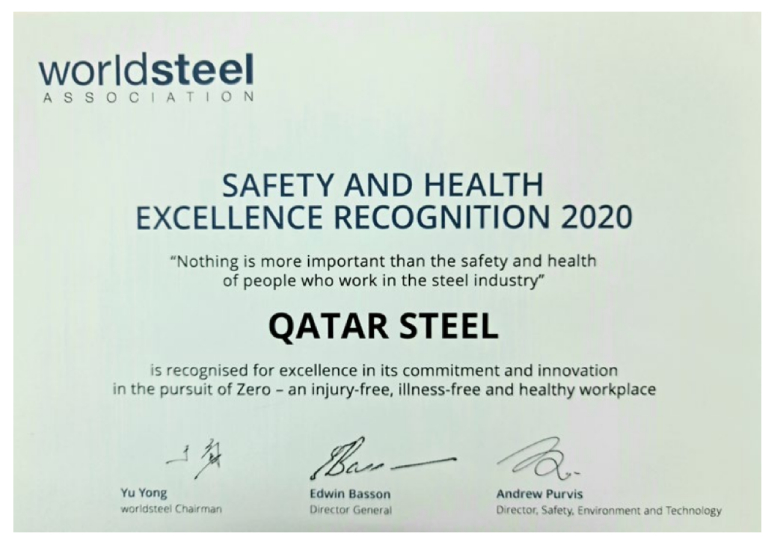 As part of its commitment to the highest safety and health standards, the World Steel Association (worldsteel) recognises excellence in six of its member companies for delivering demonstrable improvements in safety and health for everyone that works in the steel industry, and one of these is Qatar Steel. In particular, Qatar Steel was awarded in 2021 for "Safety Culture and Leadership": The safety observation and feedback programme "SEE it, OWN it and SHARE it" was initiated in 2018 to transform Qatar Steel Company's workplace safety culture from
a reactive, compliance-based culture to an interdependent culture in which people look out for each other's safety and wellbeing. With the concept of 'Care for People' at its core, this programme integrates principles of behavioural safety interactions and visible felt leadership by line management to achieve a step change in safety culture and performance. The introduction of the Behaviour-Based Safety Interactions and Visible Felt Leadership programme provided real impetus to the organisation's cultural transformational efforts by positively influencing
employee behaviours and attitudes.
In the past years, a variety of HSE programs and initiatives were established as part of Qatar Steel main aim of achieving a zero-harm workplace. Life-saving rules, ISO 45001 certification, effective risk assessments were all part of the significant improvements that have been accomplished. Along with the goal of "Achieving Zero Harm", Qatar Steel commits to eliminate accidents and injuries and maintain a sound safety culture through effective safety leadership, preventing exposure from workplace hazards and addressing behavioural safety concerns. This achievement was only possible because of the commitment of all Qatar Steel employees towards their and others safety. This long-term commitment will continue as we strive to be the best in the steel industry.
HSE Day
In alignment with the International Labor Organization's (ILO) World Day for Safety and Health at Work and World Steel Association's Steel Safety Day, Qatar Steel organized an annual HSE Day event on 28 April 2021. In view of the COVID 19 pandemic related restrictions, instead of physical gathering, a virtual event was conducted unlike previous years. During this event, chaired by the respected MD & CEO, Qatar Steel celebrated its achievements, and focused on creating HSE awareness on two selected Safety themes of the year namely, Process Safety
Management and Moving Machinery. A number of QS staff and contractor associates were also felicitated in recognition of their contributions towards our goal of Zero Harm. Key results of annual safety audit carried out on the five most common causes of serious safety incidents were also shared with the participants during the event.
HSE Awards and Recognition for Employees & Contractors – 2021

Health Promotion
Various Health Promotional activities & health tips circulated during 2021, as listed below:
COVID-19 Vaccination Hesitancy Flyer
World Hand Hygiene Day 2021- "Save Lives: Clean Your Hand"
Eid Holiday Precautionary Measures
World Hypertension Day 2021 – "Measure your Blood Pressure, Control It, Live Longer"
World Health Day 2021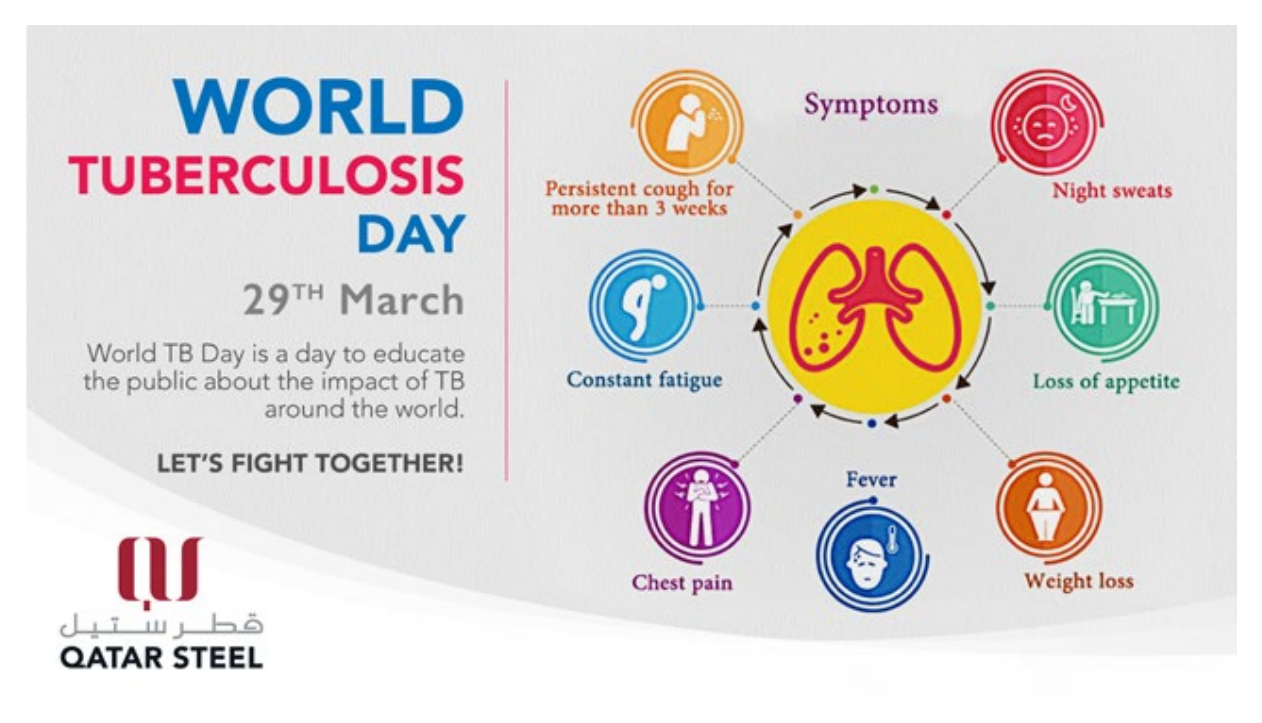 March 2021: WORLD TUBERCULOSIS DAY
Qatar Steel recognize World TB Day on March 24. This annual event commemorates the date in 1882 when Dr. Robert Koch announced his discovery of Mycobacterium tuberculosis, the bacillus that
causes tuberculosis (TB).
On this occasion Qatar Steel took the opportunity to educate the public about the impact of TB around the world through visual creations. Virtually we raised the awareness of the challenges that hinder our progress toward the elimination of this devastating disease.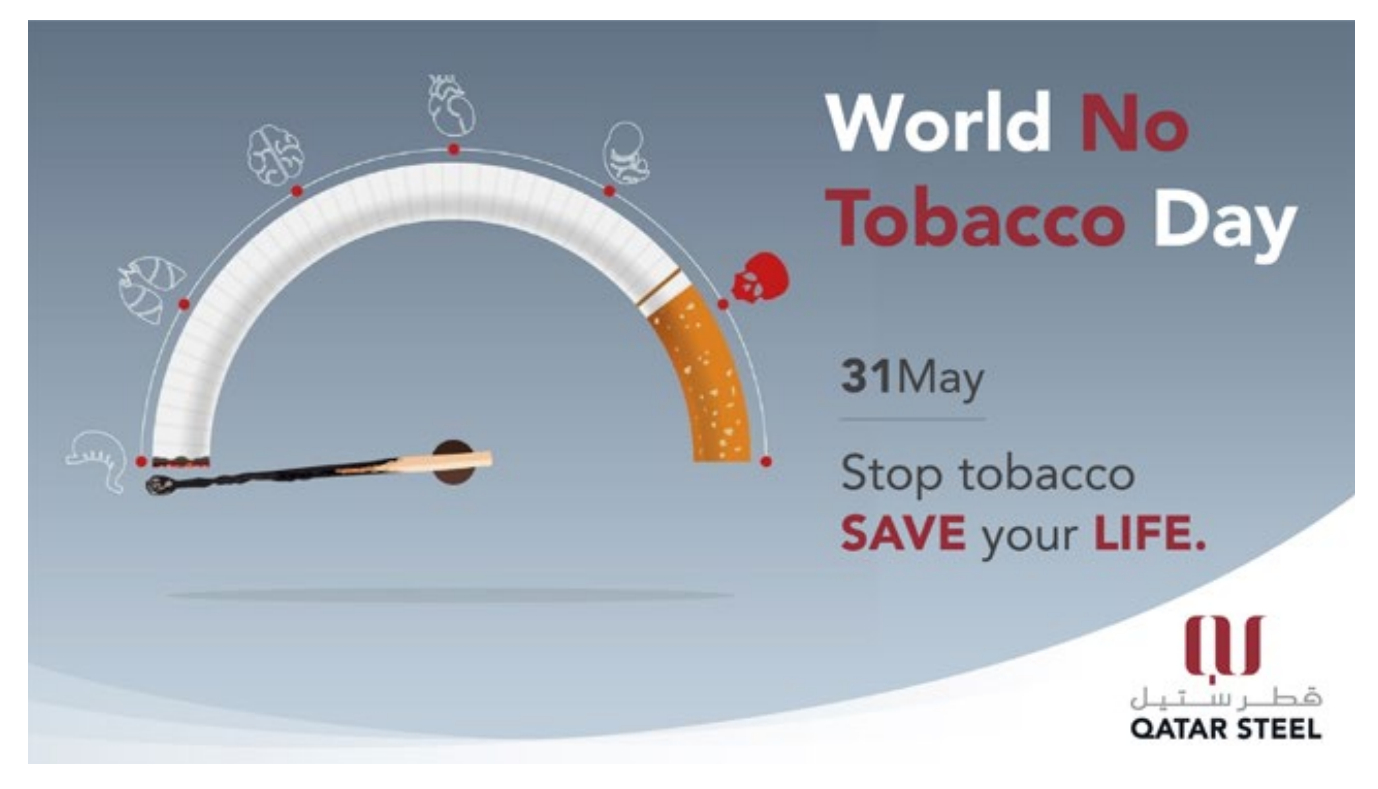 May 2021: WORLD NO TOBACCO DAY
On the occasion of No Tobacco Day, we at Qatar Steel took the opportunity to inform the community in general on the dangers of using tobacco, and what people around the world can do to claim their right to health and healthy living and to protect future generations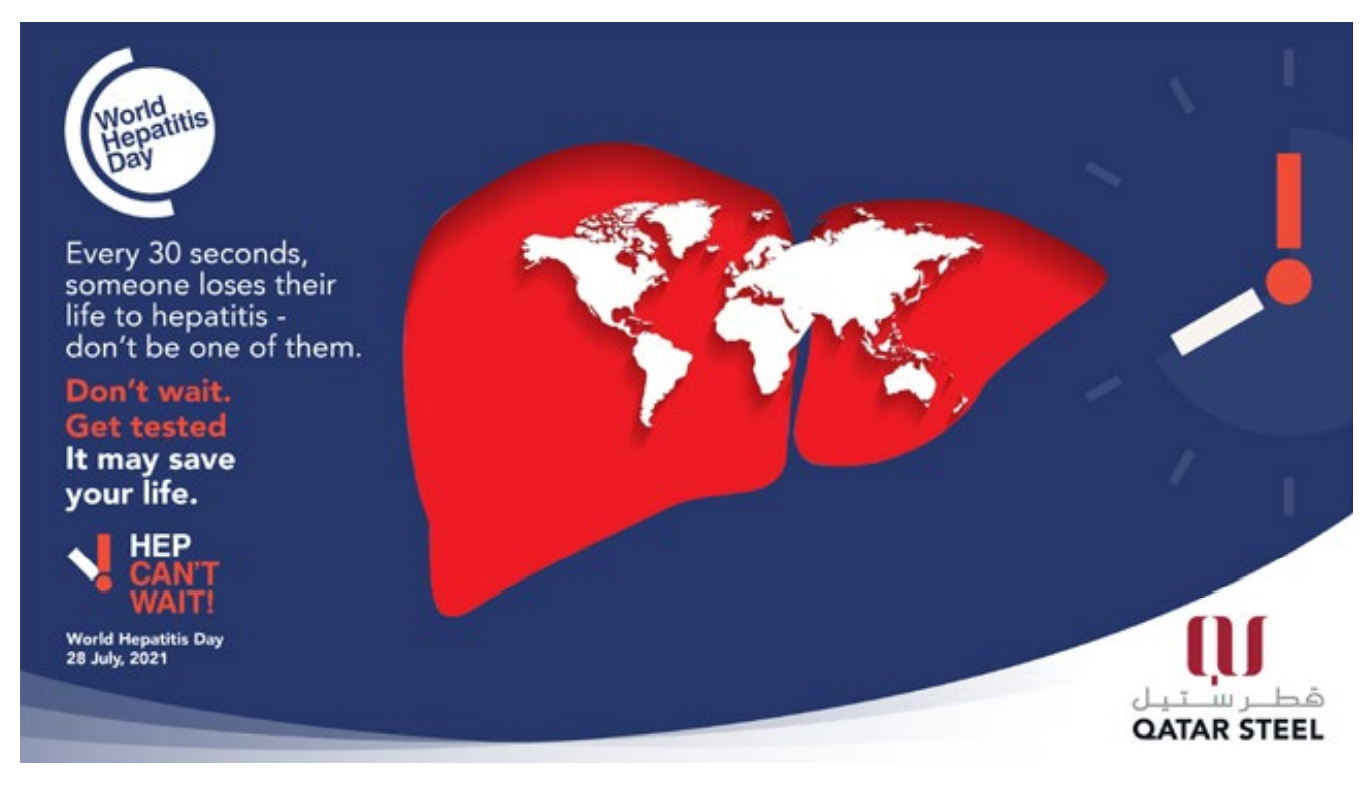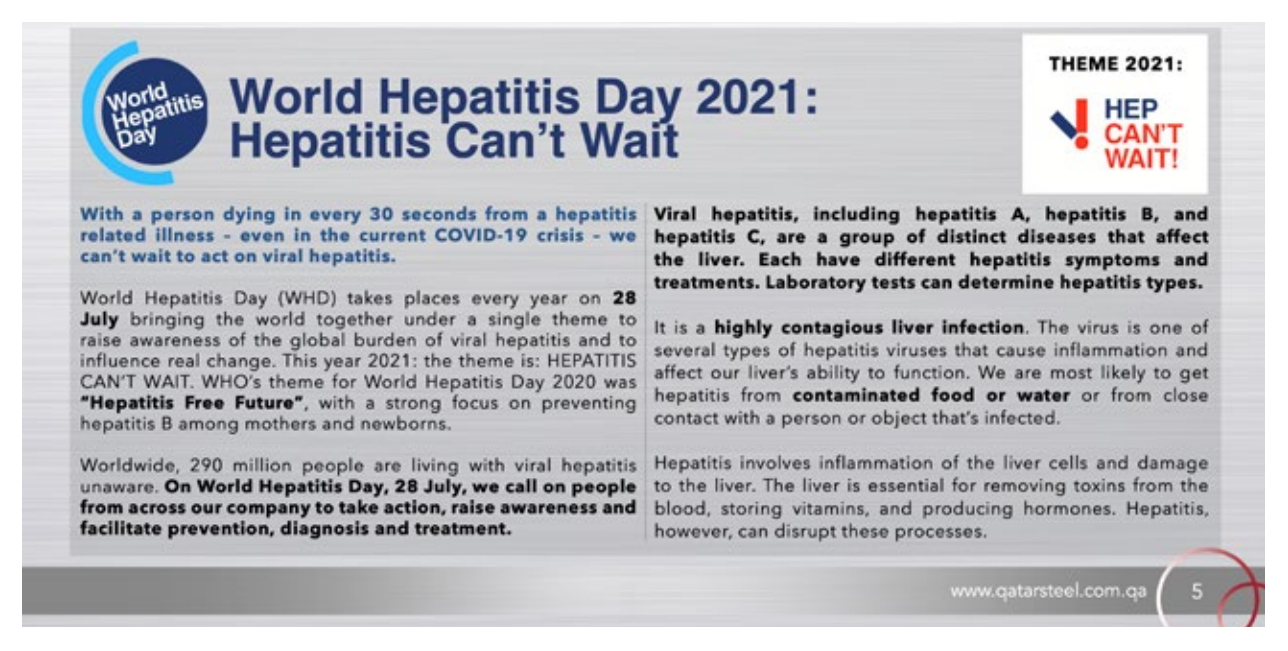 July 2021: WORLD HEPATITIS DAY
At Qatar Steel we used social media platform to raise the awareness. The visual impact of video attracted more public for engagement in social media.
We raised our voice through our Newsletter as well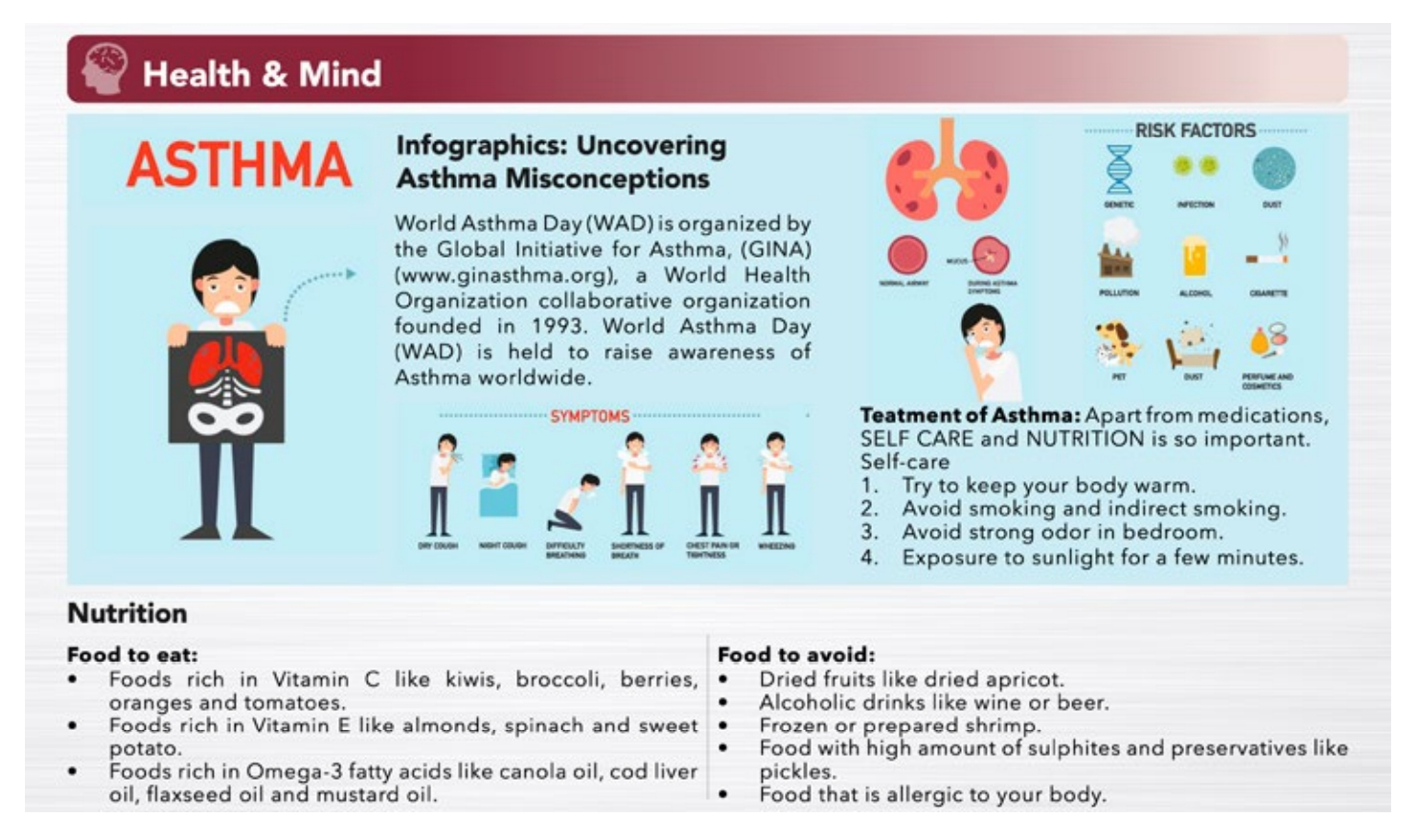 July 2021: AWARENESS AGAINST ASTHMA
Through our Newsletter, we propagated awareness against asthma.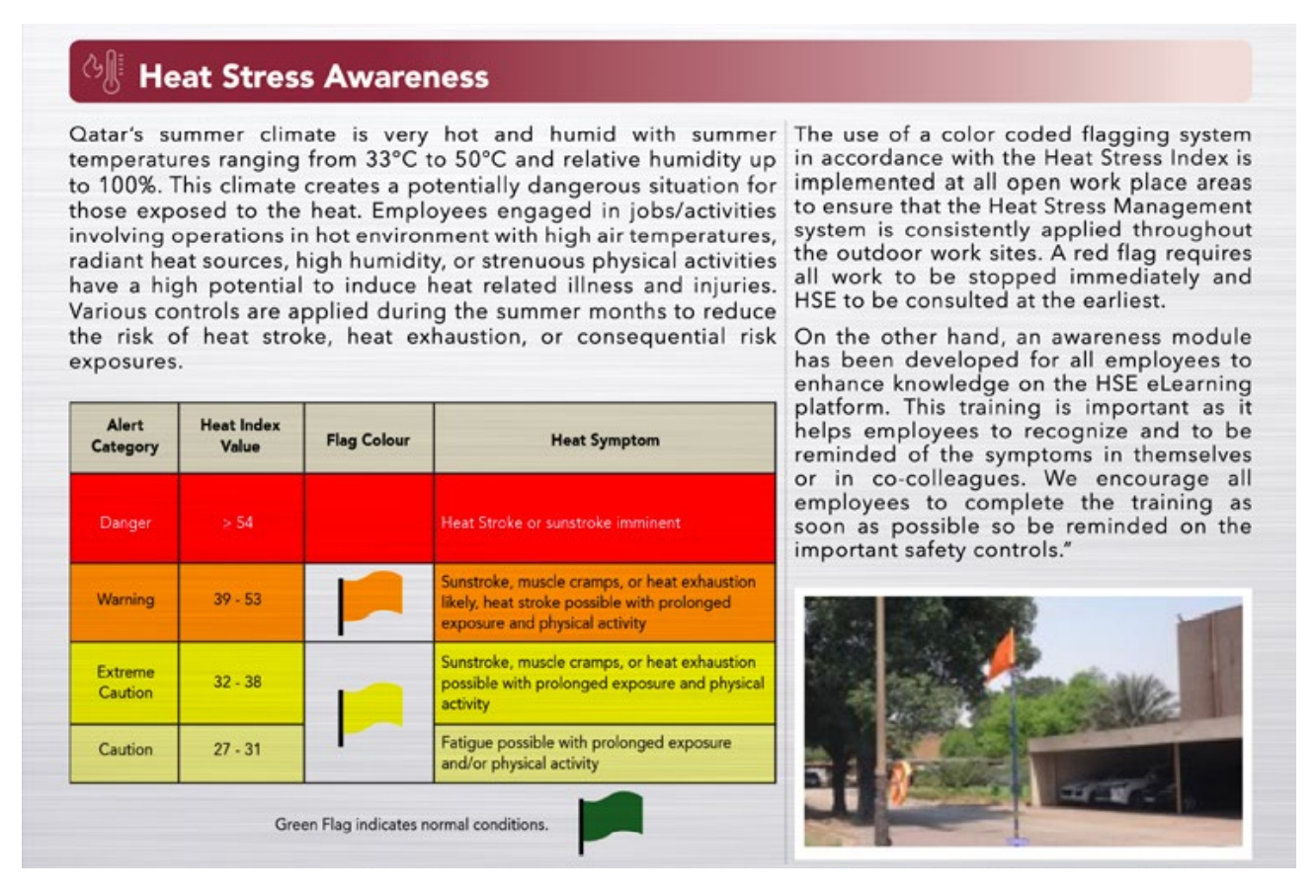 HEAT STRESS AWARENESS DURING SUMMER MONTHS
The issue was well raised through our newsletter and a detailed awareness campaign was made among employees to benefit them as well as to their families.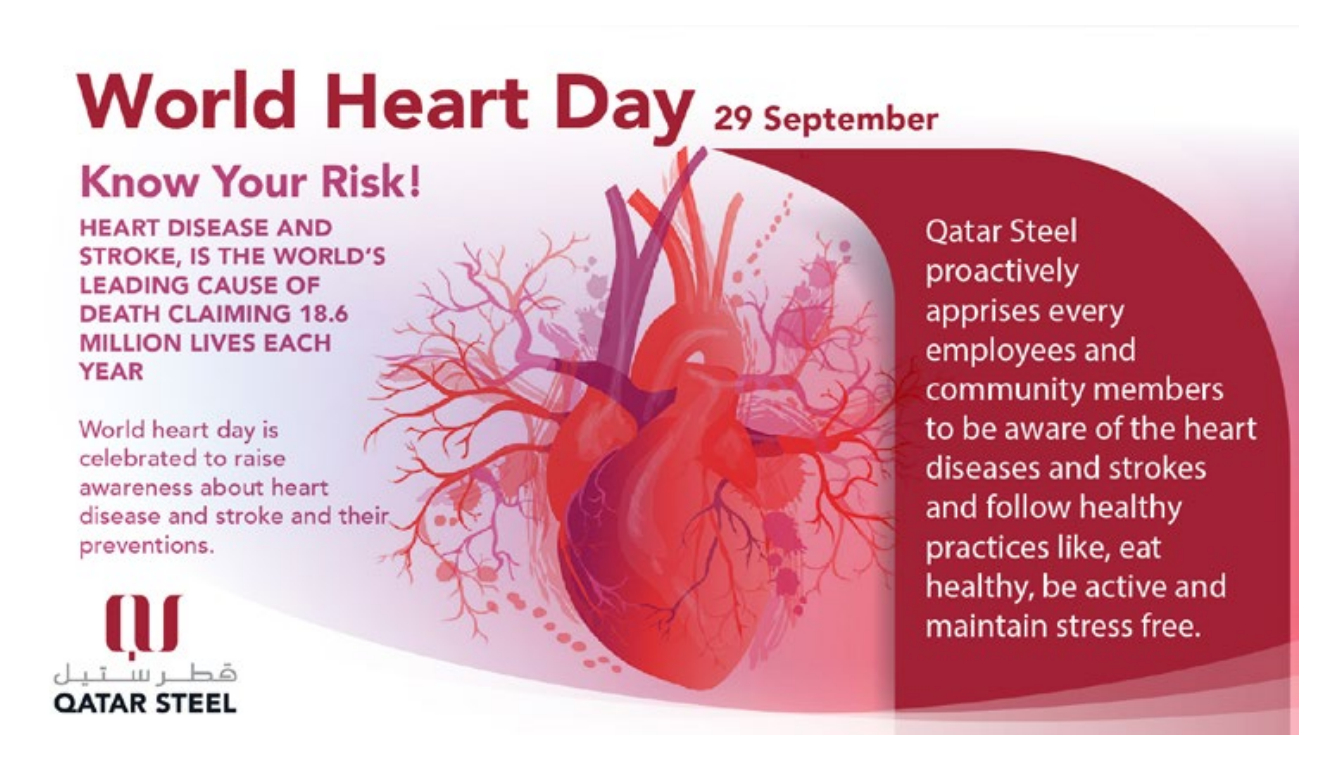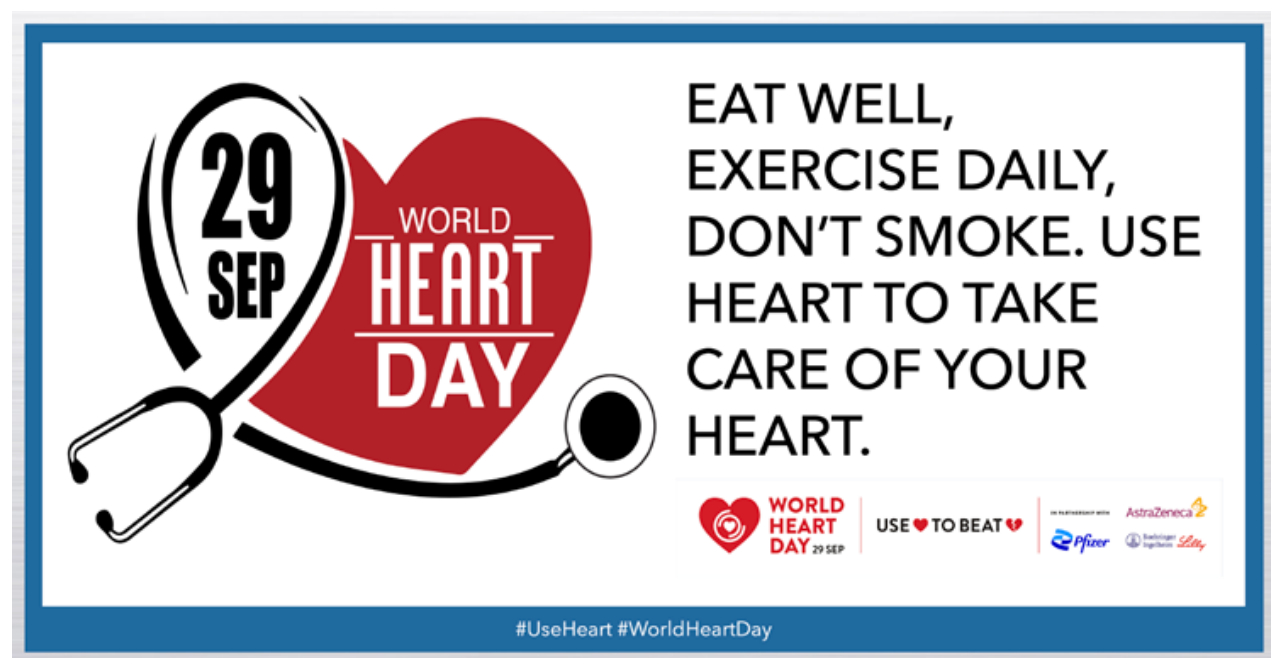 September 2021: WORLD HEART DAY
At Qatar Steel we stimulated 'know your risk campaign' through posters and post in social media.
On the occasion of World Heart Day, it was also raised through our newsletter as well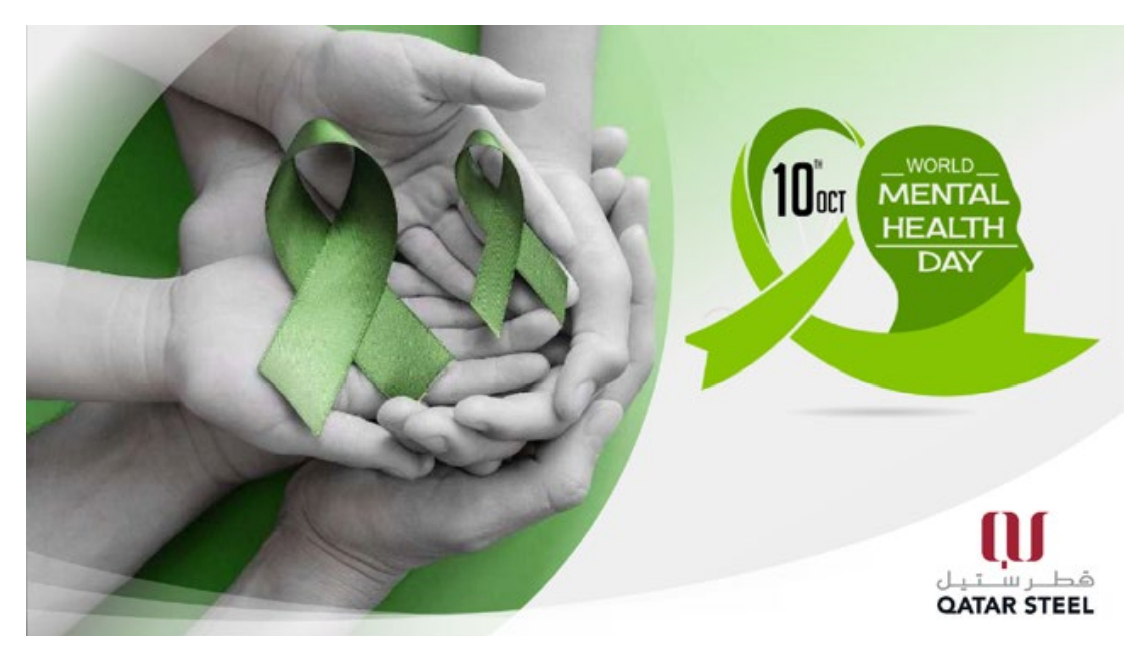 October 2021: WORLD MENTAL HEALTH DAY
The objective of World Mental Health Day is to raise awareness of mental health issues around the world and to mobilize efforts in support of mental health.
The Day provides an opportunity for all stakeholders working on mental health issues to talk about their work, and what more needs to be done to make mental health care a reality for people worldwide.
During the period of COVID 19, it was direly felt and we are Qatar Steel tried to connect all our employees through emails and phone calls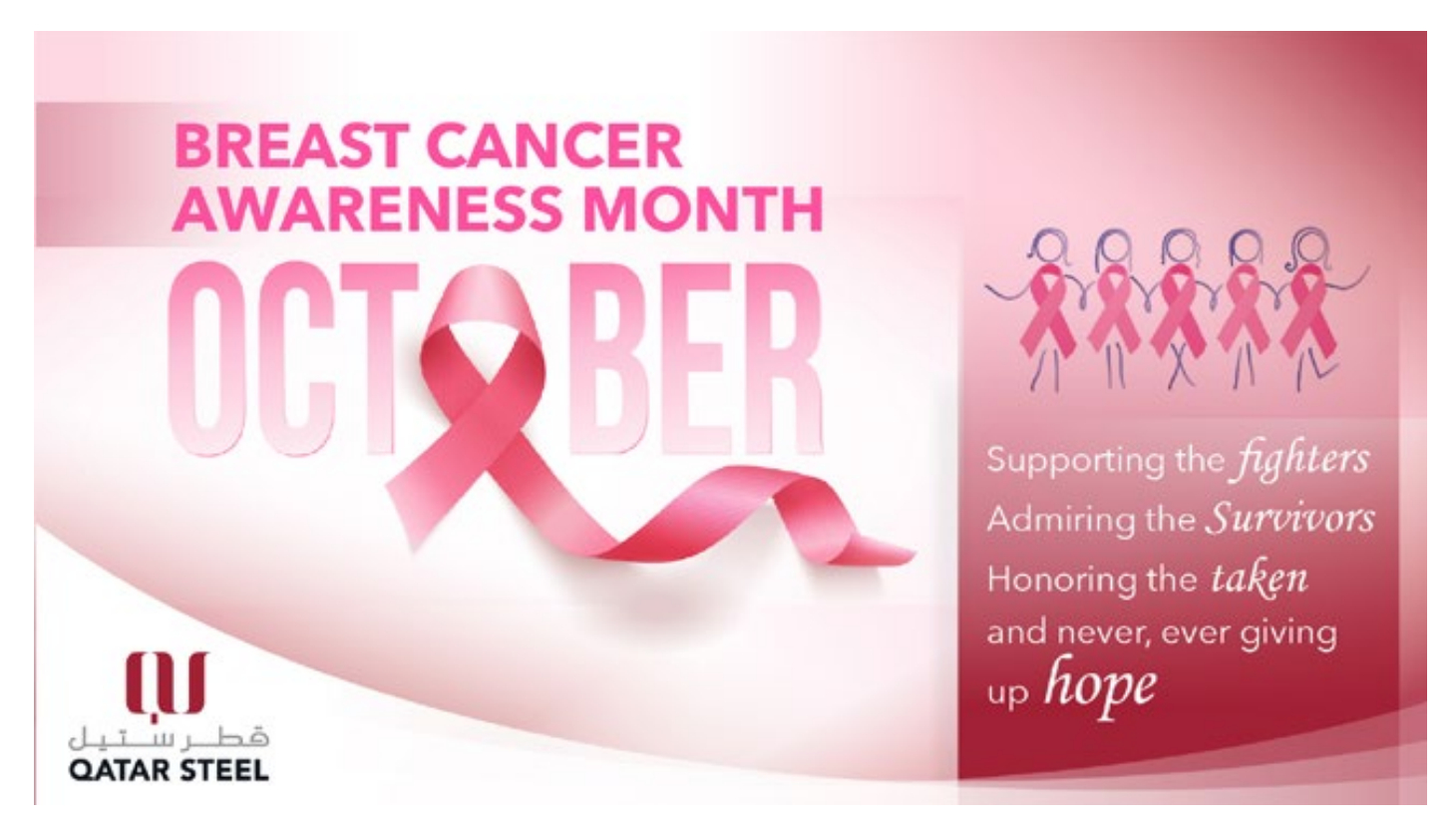 October 2021: BREAST CANCER AWARENESS CAMPAIG
The month of October is considered as Breast Cancer Awareness Month, an annual campaign to raise awareness about the impact of breast cancer. At Qatar Steel we joined to RISE together to help uplift women in need
November 2021: WORLD DIABETES DAY
World Diabetes Day is the primary global awareness campaign of the diabetes and is held on November 14 of each year. Each year, World Diabetes Day is centered on a theme related to diabetes. The theme for World Diabetes Day 2021-23 is 'access to diabetes care'. 100 years after the discovery of insulin, millions of people with diabetes around the world cannot access the care they need. People with diabetes require ongoing care and support to manage their condition and avoid complications. We need to take on the challenge.
Fundamental components of diabetes care include: Access to insulin, Access to oral medicines, Access to self-monitoring, Access to education and psychological support, Access to healthy food and a safe place to exercise
Qatar Steel Medical Services has successfully completed 3rd phase of 'Project SAHA". This initiative was exclusively focused on assessment of health risks like Diabetes. We are pleased to inform you that, our guidance based on evidence based medicine, continuous monitoring and follow-up, we has achieved 4% improvement in parameters of employees suffering from Diabetes. During this World Diabetes Day, we were delighted to reward all those employees, who have actively participated in this campaign and worked towards their health and our objective of 'Healthy Workforce'