Employee Empowerment and Engagement
Qatar Steel constantly endeavours to move beyond the traditional "total quality management" to explore how we can create a culture in which employees "live" quality in all their actions – where they are passionate about quality as a personal value, and not just simply obeying instructions. We define a "true culture of quality" as an environment in which employees not only follow quality guidelines but also consistently see others taking quality focused actions, hear others talking about quality, and feel quality all around them.
For the last years, Qatar Steel has been conducting the Quality Control Circles aimed at excelling in operations and manufacturing techniques. This activity was originally associated with the Japanese Kaizen management and techniques which has been accepted all over the world as a highly effective tool to improve the quality of work environment. It facilitates total involvement of employees which aspire them to evolve suitable solutions of the problems.
The Quality Control Circle activities are aimed at encouraging employees to create new ideas in order to improve working conditions, safety, and individual development for the growth of the organization.
"Quality in action" guidelines facilitate the employees to understand the company's expectations. We studied eight technical presentations and concluded that factors that drive quality as a cultural value are: leadership, message credibility, peer involvement, and most importantly employee ownership of quality issues. It has encouraged our employees to reduce cost in various areas of operations leading to produce defect-free goods. Consistent with objectives, we conduct group brainstorming sessions to determine the root causes of bottlenecks and identify corrective actions to act upon.
Eight MD & CEO awards were presented to different departments as part of the program. The awards epitomize Departments commitment to operational excellence and high performing organization values.
Consistent with efforts to promote the benefits of an active healthy lifestyle, Qatar Steel participated in the celebration of National Sports Day.

In the presence of the MD & CEO, Division and Departments managers and a large number of employees, a series of sport activities were planned and executed. Qatar Steel organized fitness activities and fun sport including march past, slow jogging, race, tug-off-war, and playing team games like, football, cricket and basketball. An abundant enthusiasm was noticed among the employees.
In the course of the event, MD & CEO thanked His Highness Sheikh Tamim Bin Hamad Al Thani, Amir of the State of Qatar, for his generous initiative to dedicate one day for sport activities and raising the interest among the people who are the true wealth of the country. Healthy people reflects a healthy nation and a healthy nation is always a wealthy nation. Therefore; it is necessary to put emphasis on various sports.
He also added that this initiative has proved successful every year, and emphasized that a healthy and wealthy nation is always successful in accommodating every ups and downs of the economy and hence it is necessary to put emphasis on sports. Incorporating sport into our daily lives is so important because it helps us to stay active in our life and in the workplace as well. It connects us with other sport lovers across the world. Qatar today has become a regional hub for sport and believes that human health is a priority for the state.
In the end, MD & CEO thanked all the participants who participated in sports activities, stressing the importance of healthy lifestyle and explaining that sport is an essential element of our life because it generates a positive impact on society
Spotlight: Qatar Steel Recognizes Long-Service Employees
In a special ceremony, Qatar Steel recognized 202 of its long-service employees, who have completed 10 – 40 years of work, in acknowledgement and appreciation of their efforts, commitment and dedication in serving the Company throughout the years.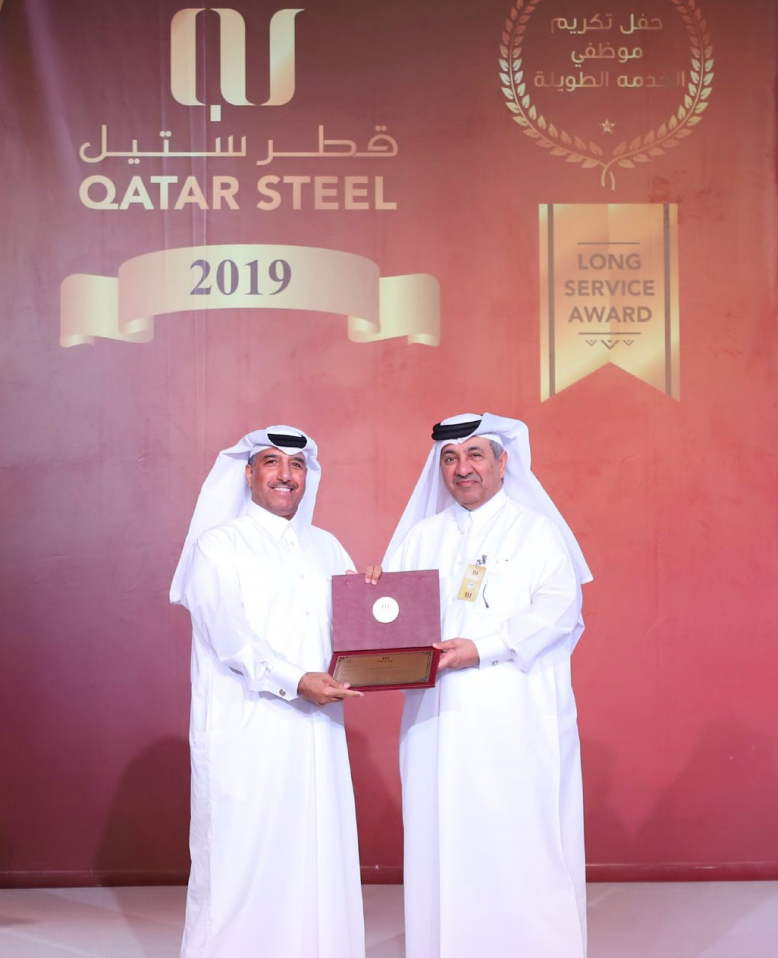 On the occasion, MD & CEO: "Qatar Steel has a long of tradition of holding this ceremony to recognise longservice employees in appreciation of their efforts and dedication throughout their years of service. This annual recognition tradition is the way the Company expresses its pride in its technical and administrative staff with excellent expertise and skills in various fields. It represents a motivation for employees to give their best in order to enable Qatar Steel to realise its strategic goals and contribute positively to promoting health and safety standards at workplace."
In the conclusion of the long-service employee recognition ceremony, MD & CEO, presented certificates to the recognized employees for their outstanding performance over the previous years