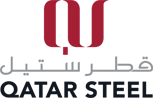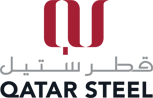 Responsible Sourcing And Material Consumption
Social, environmental and ethical considerations are taken into account when sourcing Qatar Steel's raw material, in addition to cost and delivery time. Through responsible sourcing in the supply chain, the company seeks to minimize any negative impacts while making a positive contribution to the business, company employees, and the local community.
Qatar Steel mainly uses three materials: Iron Ore, Coke and Scrap Steel. The company accurately monitors the usage of these different materials in various production stages, and attempts to use these as by-products or as raw materials in other production processes. One example is the internal recycling of substances with a high iron content (e.g. dust collected in de-dusting facilities). Since Qatar Steel uses natural gas procured from Qatar Petroleum, the production processes are relatively more green and efficient than other steel plants around the world which rely on coal. The investments in the MIDREX production facilities have also helped manage Qatar Steel's by-products significantly.
The importance of the responsible sourcing defined as the sourcing of raw materials in compliance with the international responsible sourcing guidelines stems from the fact that both the end users and the stakeholders are increasingly interested to know where the raw materials which used to produce our products are coming from.With the aim of achieving transparency and traceability throughout the supply chains we gave special attention for this issue and achieved highest recognition from CARES UK. Because we believe it an essential part of ensuring a sustainable future for our business.
The iron ore that is used by Qatar Steel was originally procured from foreign entities such as SamarcoLuossavaara-Kiirunavaara Aktiebolag (LKAB), Bahrain Steel and Vale. In 2015, Qatar Steel terminated procurement from Samarco due to shutdown of their operations and iron ore is now sourced from geographically closer sources like Bahrain steel (over 1 million tons annually to Qatar Steel). Both Bahrain Steel and Vale (in Oman) provide iron ore of the highest standards to meet Qatar Steel's requirements, while reducing the need for long shipping lines. Which results in lesser emission rates per ton of purchase.
The quality of the received pellets is ensured to meet stringent standards, according to two basic parameters: a high iron content and physical properties (cold compression strength, size consistency and fines).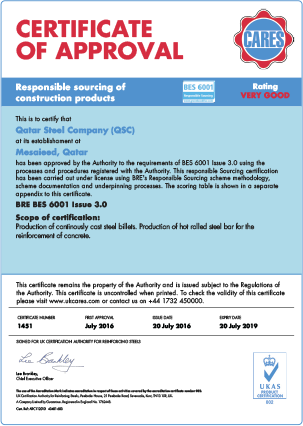 Biodiversity
In general, Qatar Steel's area of operation is not considered to have high biodiversity value. No species from the international union for conservation of nature (IUCN) Red List have habitats in the area. In addition, the species' biological taxonomy and conservation states plan is inapplicable.
Nevertheless, we are committed to preserving the natural environment as outlined in the National Biodiversity Strategy and Action Plan 2015-2025. QS had hired consultants and conducted studies to examine the impact of the operation on the ground water pollution. Qatar Steel is pleased to affirm that the operations are not resulting in any harmful impact on the biodiversity in the region.
Raw Materials
The total carbon injection in metric tons which had increased by about 19.5% in 2015 relative to the previous year has since declined in 2016 by more than 9%, from 45,198 to 41,057 mt. As a responsible corporate citizen of Qatar, Qatar Steel is aware of its environmental impacts. Efforts aimed at reducing waste enabled the company to increase the percentage of scrap used as a steel input from 10.9% in 2014 to around 14.9% in 2016.
Materials used
(Unit: mt)
2014
2015
2016
Total Iron Ore Pellets
3,723,697
3,807,685
3,554,668
Total DRI
2,712,914
2,442,848
2,297,613
Total HBI
208,262
115,909
73,648
Total RBQ (Reduced Briquettes)
—
8431
73,438
Scrap (i.e. Purchased and Internal Generated Scrap)
358,475
391,394
429,382
Total Alloys
43,470
36,515
33,225
Total Additives (i.e. Lime and Dololime))
150,781
137,300
132,441
Total Recarburizer
4,989
5,676
4,900
Total Carbon Injection)
37,811
45,198
41,057
Total Lump Coke
21,745
19,055
13,339