Responsible Sourcing and Material Consumption
Qatar Steel is committed to improve the environmental, social, and economic impacts of its operations, including throughout the supply chain. This commitment starts with the responsible sourcing of raw materials. The iron ore used for our production is sourced from globally reputable companies, all of which are certified by ISO 14001 Environmental Management System and ISO 9001 Quality Management System. Companies with this certification tend to have clear environmental objectives and processes in place to achieve them.
In 2019, Qatar Steel completed a Life Cycle Assessment (LCA) on its products through a third-party evaluator, BRE Global, in accordance with the requirements of EN15804:2012 and A1:2013. By applying Life Cycle Assessment (LCA) to its products, Qatar Steel is fully aware of the environmental impacts of its products throughout all stages of their life cycle, from mining to manufacturing, transport, use and recycling or disposal. This "cradle-to-grave" analysis is required to meet the international accreditations in manufacturing for the company's high-grade steel. We aim to take full advantage of steel's infinite recyclability by recycling steel scrap generated in Qatar, to further reduce the environmental impacts of our main products.
The LCA also provides the company with the necessary data to benchmark the environmental performance of the main products and acts as structural support for our environmental decision-making. Understanding and improving the lifecycle performance of our main products are crucial ways in which we can contribute to a more sustainable economy.
Traceability of Major Raw Materials:
Qatar Steel procures iron oxide pellets from globally reputed pellet producers and can be traced back the history of production up to the palletization plant. Similarly steel scrap procured locally can be traced up to the supplier/trader level.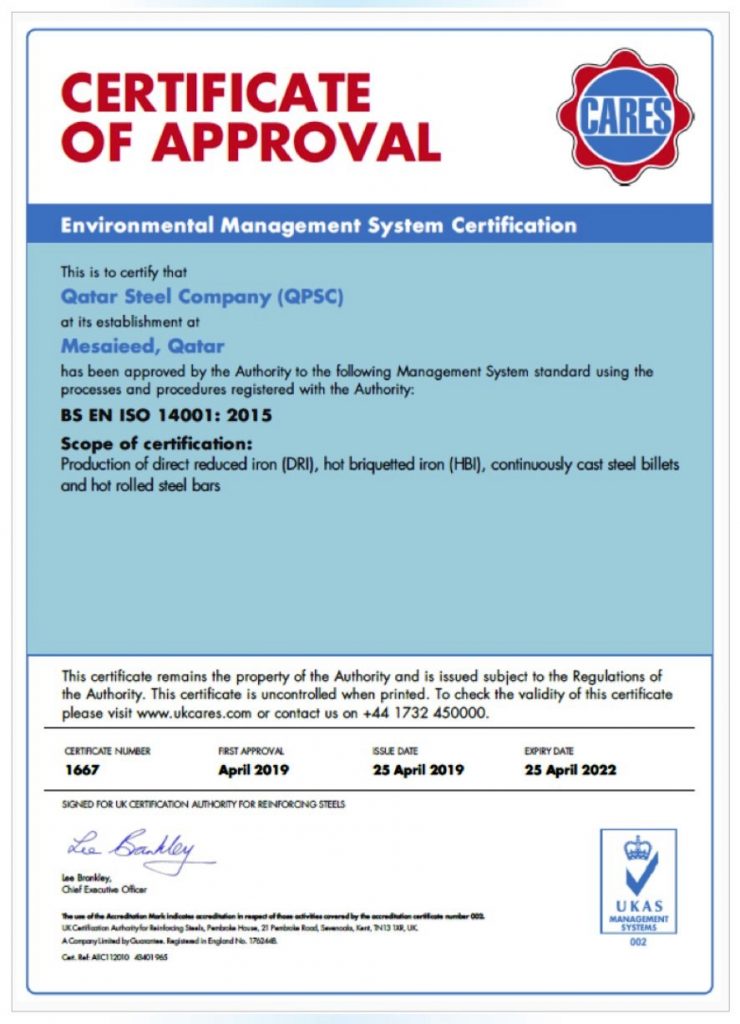 Additionally, Qatar Steel has achieved a Responsible Sourcing of Construction Products certificate from UK CARES. The Environmental Product Declaration (EPD), which quantifies the environmental impact of products, is publicly available on www.greenbooklive.com. This EPD certificate was renewed in 2019 after the UK CARES Audit.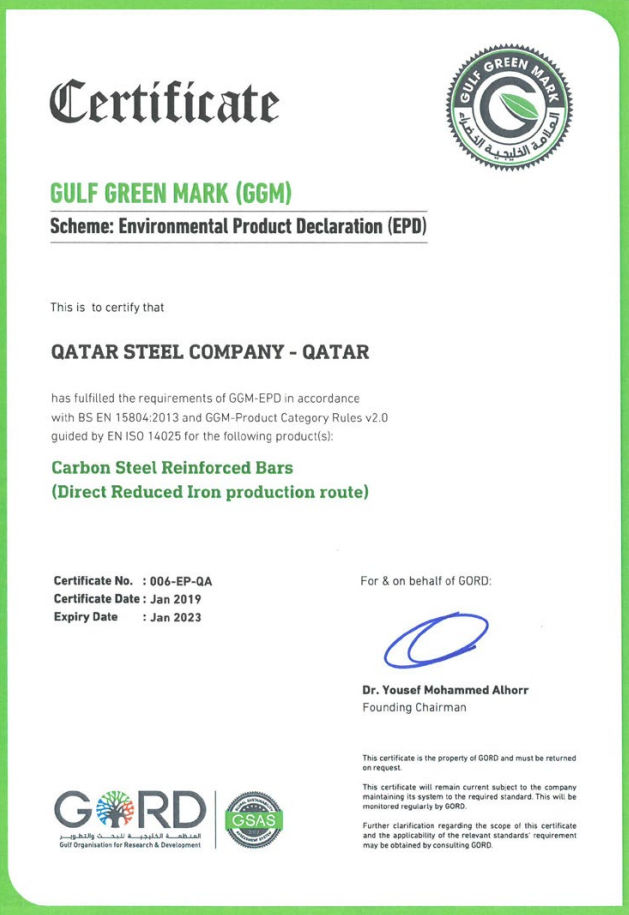 Qatar Steel holds BRE BES 6001 Issue 3.1 responsible sourcing certification from UK CARES since 2016.The BRE standard BES 6001 has been published for construction product manufacturers to ensure and then prove that their products have been made with materials that have been responsibly sourced. The standard includes a framework for various aspects such as the organizational governance, supply chain management and environmental and social aspects that must be addressed in order to ensure the responsible sourcing of construction products. In 2019, Qatar Steel has added a new feather in its cap by achieving performance rating of "VERY GOOD".
The first steel company as on date has achieved a performance rating of "VERY GOOD" for the prestigious BES 6001 Responsible Sourcing Certification from CARES UK after the successful reassessment audit conducted along with CARES SCS Scheme Surveillance Audit.
In addition, Qatar Steel has been accredited with an exclusive recognition on technical competence of having testing laboratory to supply products meeting the customer's and international specification's requirement with utmost customer satisfaction. Quality Assurance Laboratory of Qatar Steel is now accredited by TURKAK (Turkish Accreditation Institution, Turkey), for Chemical and Mechanical testing of carbon steel used for reinforcement of concrete in Qatar and worldwide. TURKAK is a signatory to the European co-operation for Accreditation and International Laboratory Accreditation Cooperation (ILAC). On the other hand, Qatar Steel becomes the first rebar manufacturer in the GCC region that obtains the Certificate of Product Performance from Australasian Certification Authority which will enable Qatar Steel to Market its product in Australia and New Zealand.

Transport Impact Assessment
In line with the company's sustainability approach, Qatar Steel also seeks to minimise the impact associated with the transport of materials, goods and people involved in its operations. Therefore; a transport impact assessment is regularly conducted, gathering data like transport distance of incoming material by land and by sea, and reporting the impact data as a part of the EPD. A similar study for sold materials is also conducted. As a result, the company aims to transport through sea route to reduce the total logistical footprint impact. In 2019, the incoming raw material distance travelled increased by 44% compared to 2016, and the distance for sale product distance increased by 281% over the same time.
Distance Travelled of Raw Material and Sale Product by Sea and Road
Incoming Raw Material
2016
2017
2018
2019
Distance travelled by sea in km/ton

0.065

0.069

0.089

0.095
Distance travelled by road in km/ton

0.003

0.003

0.004

0.003
Total
0.068
 0.072
0.093
0.098
Sale Product
Distance travelled by sea in km/ton

0.027

0.050

0.100

0.023
Distance travelled by road in km/ton

4.899

2.479

0.877

13.814
Total
4.926
2.529
0.977
13.837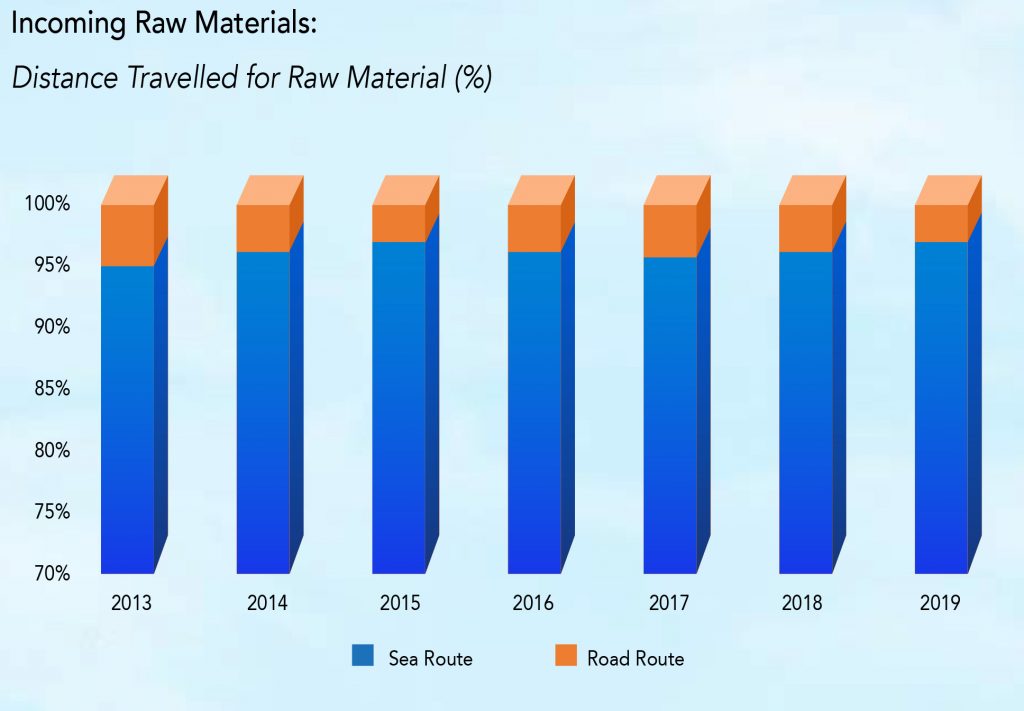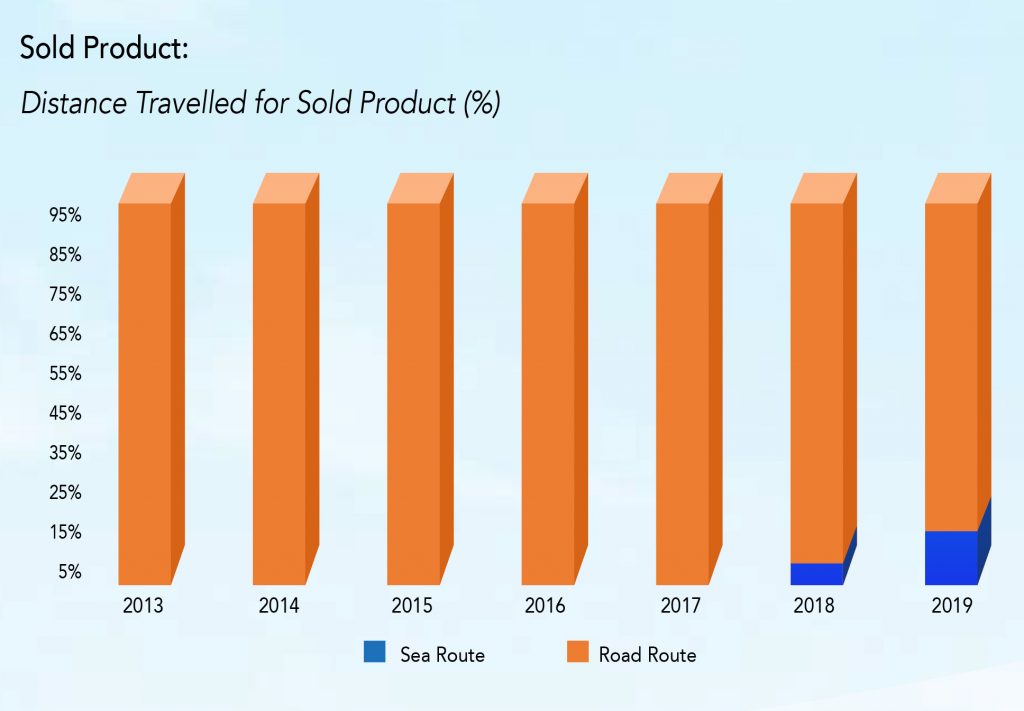 Production Inputs
As a leader of sustainable steel in the region, Qatar Steel aims for continuous improvements in its steelmaking process using materials that are responsibly sourced as well as using recycled or scrap material wherever possible. Overall, 591,591 metric tonnes of input material is recycled such as reduced briquettes produced from generated by-products and scrap material that is either generated internally or purchased locally. Scrap input increased by around 5 % compared to 2018.
Production Inputs
Standard Raw Material Input for DRI and Steelmaking (in metric tons)
2016
2017
2018
2019
Iron Ore Pellets

3,554,668

3,662,666

3,800,406

3,505,499
DRI

2,297,613

2,517,450

2,369,586

2,331,163
HBI

73,648

0

0

0
Alloys

33,225

35,334

36,765

34,313
Additives (I.e. Lime and Dololime)

132,441

136,758

136,318

130,386
Recarburizer

4,900

6,226

4,709

4,789
Carbon Injection

41,057

40,068

41,058

39,970
Fluorspar

492

17

1,061

1,515
Lump Coke

13,338

9,335

12,702

17,097
Recycled Raw Material Input for Steel Making (in metric tons)
RBQ (Reduced Briquettes)

73,438

36,567

90,737

86,507
Scrap (Purchased locally and Internally Generated )

429,382

454,693

475,644

499,795
Lump Coke (from neighboring Aluminum Company)

0

13,067

9,589

4,648
Cryolite (from neighboring Aluminum Company)

0

1,176

576

641
Total Recycled Input Material

502,820

505,503

576,487

591,591