Qatar Steel participated and awarded with best stand design in the recently held Project Qatar concluded on May 10, showcasing its products used in building and constructions projects along with sales and marketing partner Muntajat. More than 280 international exhibitors from across 21 countries and 126 local exhibitors participated in the high- impact four-day event, which provides networking opportunities that have been designed to foster the formation of new partnerships to help bolster Qatar's already flourishing construction industry.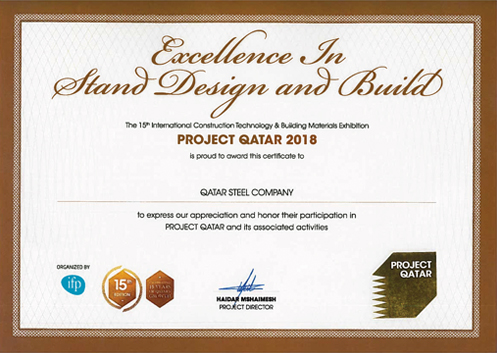 Considering Project Qatar a good platform for construction and building companies to meet, communicate and further consolidate their business relations, Qatar Steel participates every year and looking forward to achieving sustainable development adopting the best international practices and the highest quality and sustainable standards in manufacturing steel products.
Through its participation in Project Qatar, Qatar Steel aims at enhancing its leading position in local, regional and far-reaching markets, with a view to building up continual and successful business relations and partnerships.