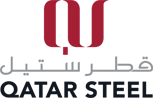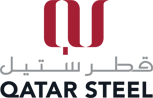 Qatar Steel is committed to implementing national strategies, highlighted in the Qatar National Vision 2030, which aims at building a progressive society, capable to sustain growth and to provide high living standards for all members in the society. As a significant employer in the State, Qatar Steel has a role in improving the social welfare of Qataris. This responsibility is taken seriously by ensuring there are employment opportunities for Qataris that offer competitive wages and benefits. Qatar Steel actively engage in and initiate activities including: career fairs and educational outreach opportunities such as scholarships, training and internships.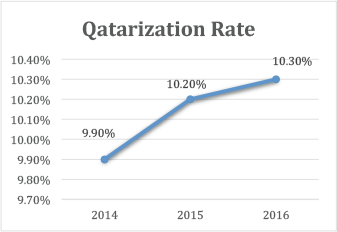 Qatarization
2014
2015
2016
Number of Qatari Employees
210
191
187
Qatarization
9.9%
10.2%
10.27%
Qatari Senior Management
0
0
2
Number of Qatari new hires
8
–
5
Qatar Steel has participated in several career events at Qatar Technical Independent School, and Al Wakrah Independent School. The objective of these activities is to build strong ties with future leaders at the educational institutions.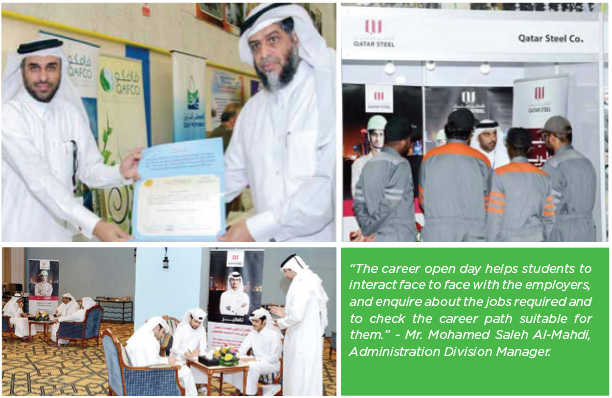 Qatar Steel's goal is to maintain the proportion of Qatari employees at around 10%. This target is an ambitious one; therefore, Qatar Steel is carefully designing programs to recruit, develop and retain Qatari talents. This goal has been consistently achieved or closely matched since 2013.
Qatar Steel adopts a threefold approach towards Qatarization:
1. Developing HC programs targeted at Qataris:
The Human Capital team has developed a schedule of incentives for Qatari nationals, such as competitive pay packages, highly specialized training, and on-going career development opportunities, following industry best practices.
Engaging Qatari Women :
Qatar Steel understands the importance of engaging women in the workplace, especially Qatari women.
According to Qatar University, nearly two-thirds of all graduates are women; this as an opportunity to
attract and provide an engaging career for these highly skilled university graduates. Moving forward, the
company will be developing strategies to increase programs for Qatari women.
Success Story
Ms. Hanan Jawad Al-Sulaiman joined Qatar Steel on March 20, 2010, as Senior Supervisor in Quality AssuranceDepartment. She holds a Bachelor's degree in Biotechnology and Genetic Engineering from Qatar University.Her responsibilities include supporting Qatar Steel's Sustainability activities and writing reports.
In March 2015 Ms. Hanan received a scholarship from Ministry of Education, Culture, Sports, Science and Technology of Japan through the Embassy of Japan to fulfill a Master's Degree at Nagaoka University of Technology. Qatar Steel has supported this employee's initiative to further develop her career. She is now pursuing this degree with a major in Electrical, Electronics and Information Engineering.
2. Investing in enriching and engaging practices:
Qatar Steel offers an excellent salary and benefits package to employees to support employee engagement and satisfaction. These benefits include group insurance, retirement benefits, tuition reimbursement, sick leave, paid vacation, funding of education through scholarship and sponsorship programs, and alternative work arrangements for newly hired Qatari trainees.
Morever, we recognize special contributions by employees and celebrate milestones of continuous service through long term service awards. As a result of the review, 320 employees who have completed 10, 15, 20, 25, 30 and 35 years of service received awards in recognition and appreciation of their efforts and dedication.The ceremony was held on 26th April 2016, at Al-Reem's Club in the Mesaieed Industrial City


3. Focusing on education:
Qatar Steel focuses on the education of Qatari students in universities and colleges both inside and outside of Qatar. Despite the challenging economic climate, the company has continued to provide sponsorships, scholarships and other education programs. As needed, administrative and financial support is provided to all sponsored students, in order to both develop their careers and contribute successfully to Qatar Steel's growth. Qatar Steel has also designed an Internship Training Program to provide Qatari students with the opportunity to learn about work in technical and non-technical departments at the company.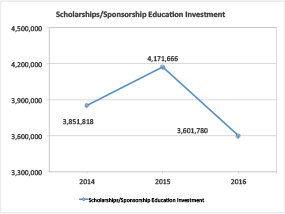 Investment in Education (Unit: QR)
2104
2015
2016
Scholarships/Sponsorship Education
Investment
3,851,818
4,171,666
3,601,780