Qatar Steel is committed to support the local community through a number of initiatives that are intentionally designed to empower the sustainable development of a flourishing society. The company recognizes that there are a number of challenges the local society faces, and accordingly attempts to implement varied initiatives to support a further reach of individuals. When investing in the community, Qatar Steel employs a focused approach, directly investing in organizations which will have the greatest impact on the local community. Qatar Steel is particularly interested in partnering with non-profit and charitable organizations that empower people with the skills, tools and information to improve their standards of living.
Corporate Social Responsibility (CSR) is embedded in our values and apprises us how we conduct business, to achieve our goals and commitments.
We strive to achieve excellence through our operations done in a social and ethically responsible manner. The spirit of our ongoing efforts to manage our business as a conscientious member of our community and to improve our performance in this regard. This is reflected in the high standards we have set for ourselves.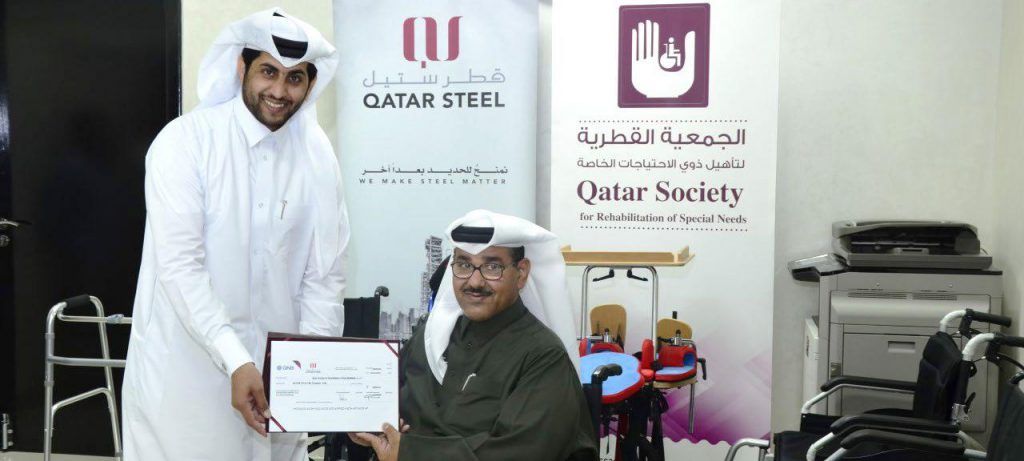 In 2019, we have contributed to our community through various activities:
Community Investments
2016
2017
2018
2018
Community Investments (QAR)

121,750

65,680

92,500

55,500
Spotlight: Qatar Steel Participates in Garangao Night Celebrations.
As part of its social responsibility and support for community activities, Qatar Steel Public Relations & Communications Department visited Dreama Center in Qatar to join the children in their Garangao night celebrations, coinciding in mid-Ramadan. This initiative celebrates the customs and traditions associated with the heritage of Qatar and the Company's aim is to bring joy and happiness to the hearts of children. The Garangao night is a popular traditional event cherished by children in Qatar. Dressed in brightly decorated clothes, children wander around the streets until late into the night singing the special Garangao song.
Qatar Steel takes part in the Garangao night celebrations being an event, which brings joy not only to children, but to adults as well. We seize this happy opportunity to extend congratulations to all local and expatriate families in Qatar, wishing them and their children happiness and joy. Happy Garangao to you all!
Spotlight: Qatar Steel Celebrates Qatar National Day
Under the motto of 'The path of excellence is arduous Qatar Steel participated in the celebration of Qatar National Day at Qatar National Convention Centre. Qatar Steel's Managing Director & CEO Eng. Mohammed bin Nasser Al-Hajri, the executive leadership team and a large number of the employees as well as their families were present in the celebration.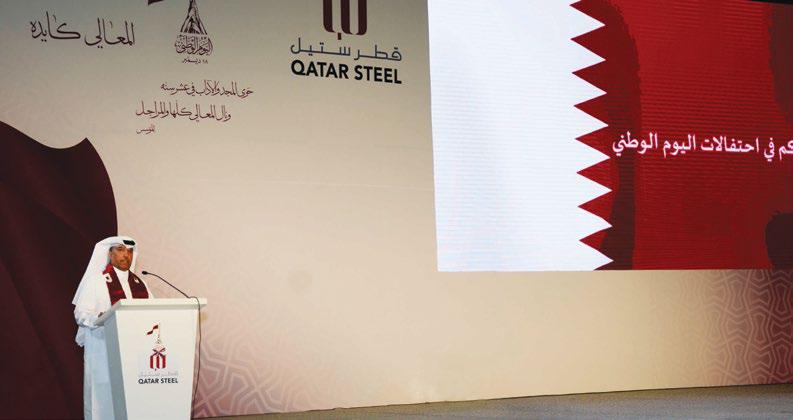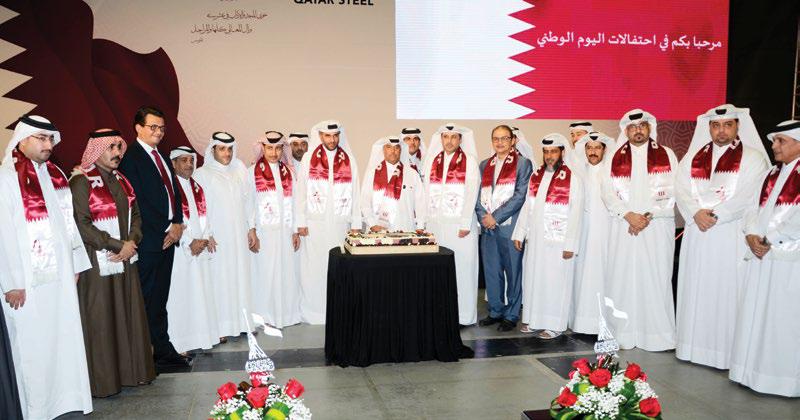 Speaking on this occasion, Managing Director & CEO Eng. Mohammed bin Nasser Al-Hajri commented that, "I take this opportunity to extend my sincerest congratulations to His Highness the Amir Sheikh Tamim bin Hamad Al-Thani, His Highness the Father Amir Sheikh Hamad bin Khalifa Al-Thani, His Highness the Deputy Amir Sheikh Abdullah bin Hamad Al-Thani, and distinguished people including the residents of Qatar."
He added, "Qatar National Day is an occasion to recall the vision and journey of the Founder of the State, the Late Sheikh Jassim bin Mohammed bin Thani", "his timeless efforts and achievement, the challenges he faced and his attention towards the youth of Qatar and encouraging them to maintain an elevated image of their country. It is also an occasion to recall the leaders who followed his steps in building Qatar as a modern state proud of its identity, values and firm principles in enhancing peace and harmony.
"As we celebrate Qatar National Day, we renew our determination to continue with achievements, make every effort to promote the elevated standing of our nation, support the comprehensive development path and achieve more development, growth and prosperity for the people and residents of Qatar". He added, "We are proud of achievements and successes, which have contributed in enhancing the standing of Qatar both regionally and internationally as a comprehensive and sustainable development model."


Qatar Steel' Managing Director & CEO Eng. Mohammed bin Nasser Al-Hajri stated that celebrating the Qatar National Day is an important occasion to renew loyalty, foster national values, preserve the principles of love, peace and goodness to the world. He emphasised the pride in belonging to the country under the leadership of His Highness the Amir Sheikh Tamim bin Hamad Al-Thani.
Spotlight: Qatar Steel Organizes Blood Donation Campaign
As part of its commitment to continue supporting community services and encouraging for philanthropic activities, Qatar Steel organized a blood donation campaign at Qatar Steel plant location (in Mesaieed Industrial City) in cooperation and coordination with the HMC Blood Transfusion Unit.
As part of Qatar Steel's Corporate Social Responsibility initiatives which include a wide range of health awareness programs and support to health organizations in the country, this annual campaign was organized to boast blood reserves in the country.
The employees from the various departments participated in this campaign and showed their responsiveness and awareness towards the importance of blood donation and its impact on society.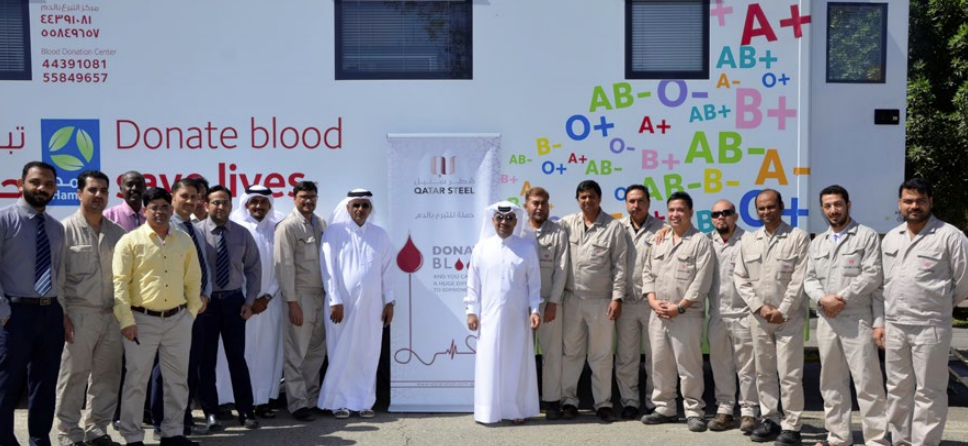 On this occasion, Mr. Mohammed Saleh Al-Mahdi, Administration Div. Manager, praised the campaign and level of participation by Qatar Steel employees and applauded the cooperation received from Hamad Medical Corporation and jointly fostering the humanitarian goals.
Al-Mahdi said that blood donation in the company comes from the culture that this activity seeks to save precious lives and eventually becomes a national duty that reflects in the concept of integrating the members of society for a sustainable development. We believe that it is the duty of all governmental and private institutions and apex bodies to participate in and support in this type of community activities as part of corporate CSR. They should ignite the fire of patriotism and allegiance and disseminate the culture of returning values to the members of the society. Qatar Steel has been organizing this event annually as an inspiring, rich and wonderful opportunity for their employees to show their support for the community and participating collectively. Such campaigns will contribute to instill and promote a culture of volunteerism by raising awareness in the importance of blood donation, and its role in saving the lives of patients and enhance the company's commitment to create a healthier life for the local community.
Spotlight: Breast Cancer Awareness Campaign

The month of October is internationally recognized as Breast Cancer Awareness Month, a worldwide annual campaign involving thousands of women to increase awareness of the disease.
As part of our social responsibility and in our effort to cultivate a healthy and sustainable society, we proactively campaigned in Qatar Steel in co-operation with Health, Safety and Environment Department and Qatar Steel Medical Clinic. It aimed at raising the awareness for the disease and help other women to become aware of it and take action to prevent it. Let's make this society free from the disease.
Spotlight: Qatar Steel Enhance Diabetes Awareness
Qatar Steel participated in 'BEAT DIABETES' awareness campaign at Mesaieed plant site and as part of its CSR initiatives in association with Qatar Metabolic Institutes (QMI, Hamad Corporation) to stem the tide of this rapidly increasing worldwide epidemic. Almost every employee of different nationalities took the initiatives to participate in the campaign and received the result of assessment done on their blood samples. Many employees who were not aware of the conditions, and about its seriousness, found the campaign very helpful and eye opener. This awareness campaign was aimed at promoting early diagnosis and preventing or delay the onset of type 2 diabetes.
Two separate interactive sessions were planned for the employees. Detailed illustrations were presented, and questions and answers sessions were encouraged and responded by QMI and Qatar Steel's Medical Doctor at length to remove misconceptions about the disease. Doctors recommended that weight loss and a healthful diet are the best ways to reverse pre-diabetes. At-risk adults can reduce their chances of developing Type 2 through the adoption of lifestyle practices such as healthy eating, losing weight, and getting regular physical activity.
This awareness campaign was a part of "Prevention & Co-Existence" campaign adapted worldwide.