Qatar Steel Blog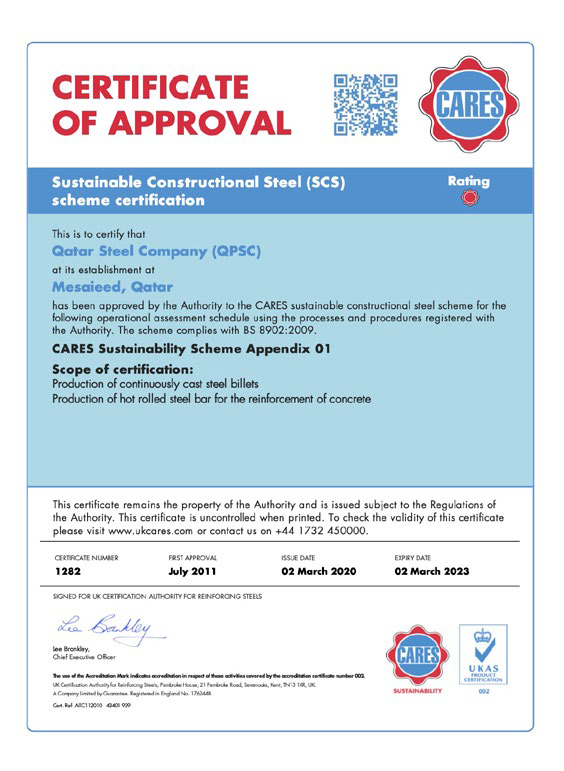 UK CARES Sustainable Constructional Steel (SCS) Certification for Qatar Steel
15 April 2022
With an objective of improving the environmental, social and economic management and to improve the performance of products, Qatar Steel is committed to produce rebar for Sustainable Construction and Infrastructure Projects in Qatar and globally.Since 2011, Qatar Steel has been effectively managing the requirements of 'Sustainable Constructional Steel Certification' scheme principles successfully certified by UK CARES.
Sustainable Constructional Steel (SCS) Certification
The CARES (Certification Authority for Reinforcing Steel) Sustainable Constructional Steels (SCS) scheme is an accredited, independent and impartial certification scheme with an objective of improving the quality, environmental, social and economic management of steel producers and processors as well as improving the overall performance of the product.
This certification was launched by UK CARES in 2009 and its 9th version was released in 2020. The products include steel rebar, structural/sections, hot rolled flat steel, rails and other steels used in construction and infrastructure projects. It applies to primary producers of steel like Qatar Steel and fabricators who process steel into building products used in construction projects. (Ex: Rebar cut and bend units)
The goal of the scheme is to provide a robust and transparent mechanism which clearly communicates the overall sustainability performance of constructional steel products to customers, designers, specifiers, clients, wider stakeholders and builds confidence that sustainability is actively managed throughout its supply chain.
There is now a demand for companies to manage a wide range of issues in a systematic way, to improve performance and be able to demonstrate this. Specification of certified steels for reinforced concrete helps enhances positive sustainability impacts across the construction industry value chain.
Certification Process followed by UK CARES:
Every year, UK CARES examines Qatar Steel's Product, Quality, Environmental, Health and Safety and Sustainability Management Systems. A two-stage audit process is followed based on checking the evidences on site/through online platform against a self-completed Sustainability Key Performance Indicator (KPI) workbook and Environmental Product Declaration workbook. CARES auditors' audits over 100 criteria and performance indicators related to sustainability management, Environmental aspects, Social Aspects, Economic aspects and if all requirements are met, SCS certification is then awarded/renewed with a validly of three years.
Certification has a minimum mandatory requirements to achieve a "Pass Level" as well as credit requirements to incentivize and recognize better performance. While the company remains responsible for compliance with legal requirements and standards, the scheme enables credits to be obtained from going beyond the compliance. Credits can be gained for performance that meets specified criteria above the mandatory certification level as part of the 'Rosette Rating System'. As per the new version of certification scheme launched in 2020, beyond basic certification of "Pass" level, there are 4 additional performance levels reflecting good, better, best practice and aspirational "sustainable" steel i.e.1 Rosette, 2 Rosettes, 3 Rosettes and 4 Rosettes. Failure to comply with mandatory requirements results in the issue of non-compliance.
In the year 2020, Qatar Steel achieved "1 Rosette" rating for the first time since the commencement of certification and became the first company in the middle-east and fourth in the world among the 26 certified companies to achieve this status.
Benefits of certification:
The CARES sustainable constructional steel (SCS) scheme has helped Qatar Steel to improve the overall performance level of sustainability management system over the years.
As the precise, accessible and timely information on the environmental and social impact of material use is increasingly becoming important for designers, contractors in construction and infrastructure project, UK CARES SCS certification credential will help in achieving credits in the green building rating systems such as LEED (Leader in Energy and Environmental Design), GSAS (Global Sustainability Assessment System), etc.