Product Innovation and Operational Efficiency
Product innovation, alongside operational efficiency and excellence, is an integral element to Qatar Steel's continued economic success and pursuit of sustainable steel. The company seeks to develop value-added products, working alongside customers to meet their needs and anticipate future trends. These efforts are outlined in Qatar Steel's Sustainability Roadmap, and centre on four key objectives and partially linked with each other.
Product Diversification
Qatar Steel has a long history of successfully developing cutting-edge solutions and diversifying its portfolio over time. The Research and Sustainability(R&S) department, established in 2012, is working across all levels of operations to push for product innovation, mainly focusing its efforts on the development different grades of rebar, wire rod and billets conforming to international specifications for gulf and export market. In 2017, Qatar Steel had successfully developed a new high-strength rebar with a yield strength of 600MPa, conforming to ASTM Grade 80 and above. In 2018, the company developed yet another rebar, conforming to ASTM A706 Grade 60, through QST process for seismic zone applications with a high TS/YS ratio (>1.25), certified by UKCARES. This grade of rebar is suitable for constructions in earthquake-prone areas for enhancing structural safety due to its strength and high ductility. As a result, this grade of rebar can be plastically bent to a much larger extent and this flexibility is an important characteristic for increasing safety of construction in areas where earthquakes occur frequently.
Process Improvement
In 2018 the company continued to carry out improvements and modifications to site equipment and processes. These improvements and modifications, among other things, developed the working environment by improving the general safety for operators, as well as reducing dust emissions and other impacts on the environment. Some of the improvements and modifications accomplished in the plant are mentioned below.
At the DR1 plant, when there is stoppage of Process or Product Dust Collection System (PDCS), huge amounts of dust were emitted to the surrounding environment. An interconnection was made between these two systems so that the PDCS can be used as an alternate facility during the stoppage of PDSC to reduce the dust emission and protect the operators.
To eliminate dust accumulation in the product bucket elevator, a permanent dust collection line was installed at DR1.
A conveying system with wind guard protection was introduced at DR1 plant which eliminates fugitive emissions and raw material and product loss.
Introduced SO2 and NOX monitoring systems at EF5 main furnace de-dusting system to monitor and control dust and GHG emission levels to controlled ambient levels.
To enhance environmental safety, 10 new CO detectors were installed in various hazardous location of the DR1 plant.
At Ladle Furnace, an argon purging line has been modified to avoid direct human interface with hazardous working conditions and to enhance the safety of operators.
As a major project of electric power factor improvement 6 units of capacitor banks (each is 5 MVAR) for electrical power factor correction were installed at DR1, DR2, RM1, RM2, main substation and EAF5. This project improved the electrical power factor from 0.85 to 0.99.
Opportunities for renewable energy projects such as installing a solar power plant to reduce the total power consumption are investigated by collaborating with institutions like Kahramaa, local universities and other industries in coming years. Consequently this collaboration would minimize the quantity of natural gas consumption, electrical power and GHG emission.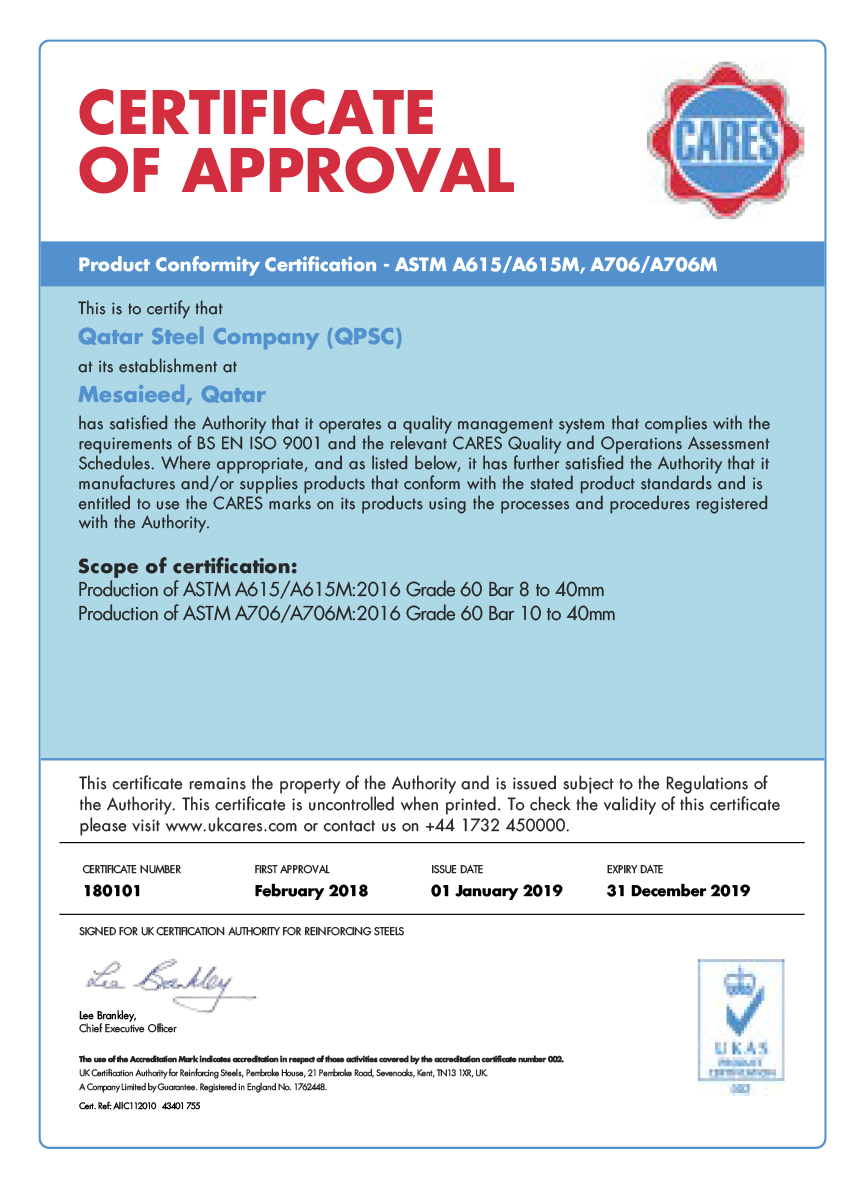 Spotlight: Qatar Steel holds 34th forum of QualityControl Circle
Qatar Steel's Quality Control Circle (QC Circle) is an initiative that fosters a culture of quality at all levels of operation and encourages employee engagement in improving the working conditions that directly affect them. This year, the 34th QC Circle was held at Al Reem Club in Mesaieed Industrial City. This is an important event on the company's calendar, and was attended by the Managing Director and General Manager, Division managers and Department managers, and other employees from across the company. The forum is aimed at excelling in operations and manufacturing techniques, an activity originally associated with the Japanese 'Kaizen' management system's techniques, which have been globally accepted as an effective tool of improving the working environment. It facilitates total involvement of employees, aspiring them to grow and develop, all the while seeking out and solving potential problems.
Commenting on the importance of the event, Eng. Mohammed Bin Nasser Al Hajri, Managing Director and General Manager of Qatar Steel, said: "This forum aims to encourage employees to innovate and contribute towards improving working conditions, maintaining safety standards and attaining quality, while working to increase production". On the topic of sustainable development, he said, "We will continue to take advantage of the best outputs from this forum by applying best practices and innovations, which help us improve products and services that enhance customer satisfaction and increase efficiency".
Afterwards, he congratulated all participants for their active participation in the 34th forum, and praised them for their exchange of knowledge and committed continuity to enhancing performance in Qatar.