Qatar Steel has set out to assess every possible opportunity to increase the safety of employees and contractors. Given the high temperatures and heavy machinery involved in the steel industry, injuries and fatalities present significant risks to workers at all steel plants globally, including Qatar Steel.
Despite consistent improvements in employee safety, Qatar Steel is keenly aware that worker injury can lead to low worker morale, and increased healthcare and injury compensation costs.
Qatar Steel's HSE committee is accountable for company-wide safety issues, as per OSHAS 18001 standards. The HSE committee is responsible for promoting and communicating safety issues, reviewing workplace safety inspections, reviewing accident and injury reports, providing training on specific business activities, identifying workplace hazards, and reviewing safety proposals with top management.
Over the past year, the company's transformational efforts in nurturing a safety culture resulted in a significant improvement in Lost Time Injury FrequencyRate (LTIFR) from 2.3 in 2015 to around 0.5 for 2016. Also, the total reportable injuries dropped by half from about 50 to 23, and Total Reportable Cases Frequency (TRCF) in 2016 decreased from 11 to 6.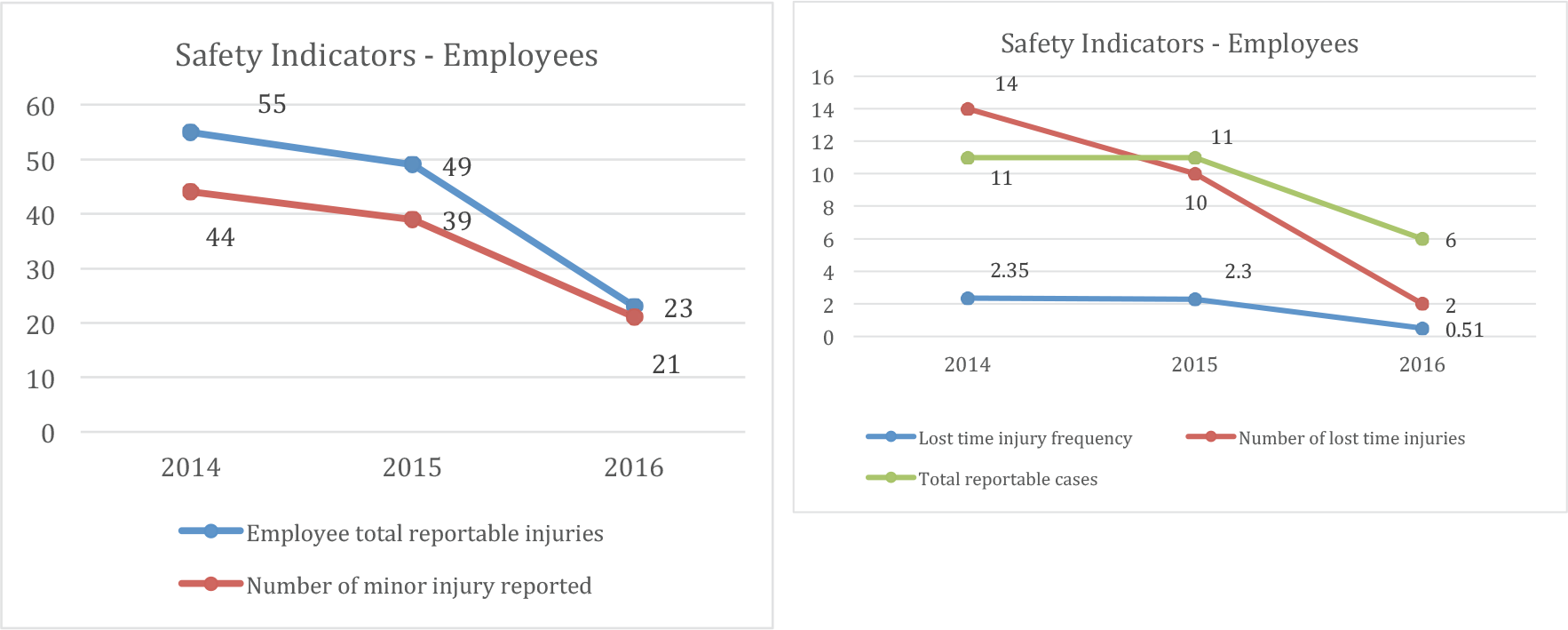 Safety Performance – Employees
2014
2015
2016
Fatalities
1
0
0
Lost time injury frequency (LTIFR)
2.35
2.3
0.51
Employee total reportable injuries
55
49
23
Total reportable cases (TRCF)
11
11
6
Man-hour worked, employees
5,055,907
4,340,327
3,943,960
Number of lost time injuries
14
10
2
Number of minor injury reported
44
39
21
Number of near missed reported
557
326
811
Number of first aid cases
0
25
7
Safety Culture Transformation Program (AMAN)
In an effort to enhance the safety culture at Qatar Steel consistent with the objective to effectively address key risk activities on a daily basis and create a "Zero Harm Culture".
Qatar Steel embarked on a Safety Transformation Program (AMAN) in April 2016 to transform Qatar Steel as one of the safest steel making companies in the world, and ensure a worldclass safety environment for employees.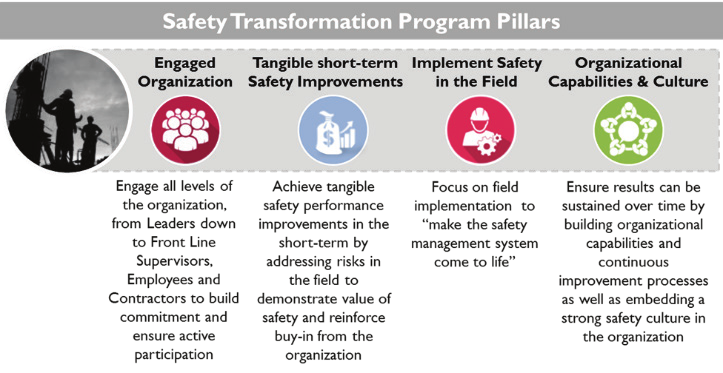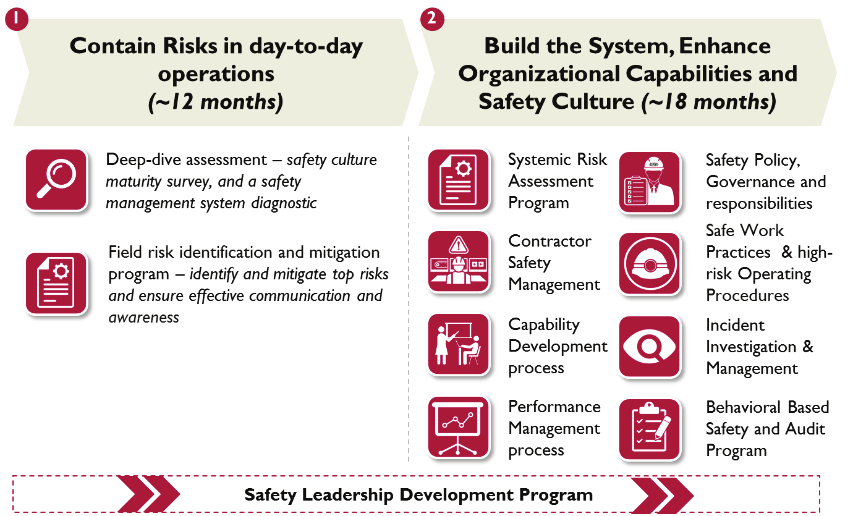 Safety Culture Transformation Program (AMAN)
This safety transformation program is based on five pillars and has had a remarkable impact on the company's culture. It addresses two main priorities, namely:
Phase 1:Contain risks in day-to-day operations.
Phase 2: Build the system, and enhance organizational capabilities and safety culture.
Phase 1 has started in April 2016, where the focus of the program has been on the following main areas: Since the start of the program, Qatar Steel has implemented quick wins that sent a strong message across the organization to raise safety awareness and to improve risk control within a short period of time. An example is the reinforcement of key safety rules like mobile phone, driving and smoking policies, applicable to all areas within the Qatar Steel premises. This has increased compliance by employees and contractors, generated engagement, and satisfied insurance requests. Qatar Steel's executives also gathered the Leadership of top Contractors to communicate and reinforce HSE standards and requirements to align expectations across all people working within Qatar Steel premises.
Processes and corresponding training programs are being put in place to create improvements over time. Qatar Steel is setting up an integrated safety governance that engages all layers of the organization in a systematic way. This is done by clarifying the roles and responsibilities of operations and maintenance staff to ensure safety is driven by the line organization. The company is also upgrading procedures by embedding safety through a proper risk assessment methodology. Furthermore, to learn from incidents and prevent them from happening again, Qatar Steel is revamping the incident investigation process to systematically embed learnings in organizational practices. And in order to ensure contractors abide by the same standards, Qatar Steel is adopting an integrated contractor safety management approach starting from pre-qualification to execution and post-work feedback. Last but not least, Qatar Steel is putting controls in place including audit and performance management processes to keep track of the progress and act upon recommendations as needed.
Qatar Steel management is fully committed to providing the required time and resources to make this change a success. No doubt, this transformation cannot be possible without the full support of Qatar Steel employees to accelerate the transformation and sustain it in future.
Safety Training
Qatar Steel also ensures that its employees and contractors receive regular training and updates on the latest safety policies. Employee attend safety training programs and weekly safety meetings where they are encouraged to raise safety concerns and propose solutions. This training ensures that workers are well equipped to manage any safety hazards they may encounter.
The following safety trainings are conducted regularly:
Induction training for VIPs and visitors
Refresher training for existing Qatar Steel employees
Safety Induction for all new employees
Safety Induction and refresh training for all new Contractors.
Conducted Tool Box Talk Trainings attended frequently by departments