Qatarization and Education Investment
In line with the Qatar National Vision 2030, Qatar Steel is committed to maintaining a solid and growing base of Qatari employees. While the Qatarization rate has levelled at about ten percent for the past several years, Qatar Steel aims to continue to meet and exceed this rate in the coming years.
Qatarization
| | 2016 | 2017 | 2018 | 2019 |
| --- | --- | --- | --- | --- |
| Qatari Employees | 187 | 182 | 165 | 157 |
| Qatarization Rate (%) | 10.3% | 10.0% | 9.1% | 8.6% |
| Qatari Senior Management (New Hire) | 2 | 0 | 1 | 0 |
| Qatari New Hires | 5 | 3 | 2 | 3 |
The company follows a threefold approach to attract and retain Qatari talent, following the employee life cycle:
Developing human capital programs targeted for Qataris;
Investing in enriching and engaging practices;
Focusing on education.
To attract new talent, Qatar Steel follows local industry best practices by offering incentives for Qatari nationals, such as competitive pay packages, highly specialized training, and on-going career development opportunities. Moreover, the company's excellent salary and benefits packages including group insurance, retirement benefits, tuition reimbursement, sick leave and paid vacation. The company also supports employee engagement and satisfaction and provides many development opportunities for existing employees. This includes funding educational training through scholarship and sponsorship programs, as well as alternative work arrangements for newly hired Qatari trainees. In 2019, a total group of 3 students joined Qatar Steel after successfully graduated from the scholarship program.
Investment in Education
| | 2016 | 2017 | 2018 | 2019 |
| --- | --- | --- | --- | --- |
| Sponsorship/Scholarship Education Investment (QAR) | 3,601,780 | 2,522,070 | 971,714 | 968,993 |
To attract Qatari nationals, the company is actively present at various career events of local educational institutions, such as the Career Fair at Qatar University and Al Wakrah Independent School. As part of Qatar Steel's learning and development initiative, the company regularly invites students to visit its premises, providing a detailed induction program to the students on various aspects of its daily operations and get first-hand insights engaging with staff.
Spotlight: Qatar Steel Participates in Qatar Career Fair 2019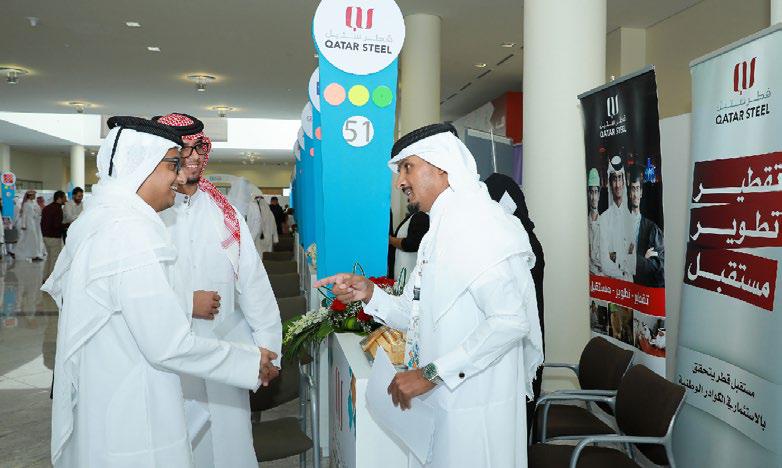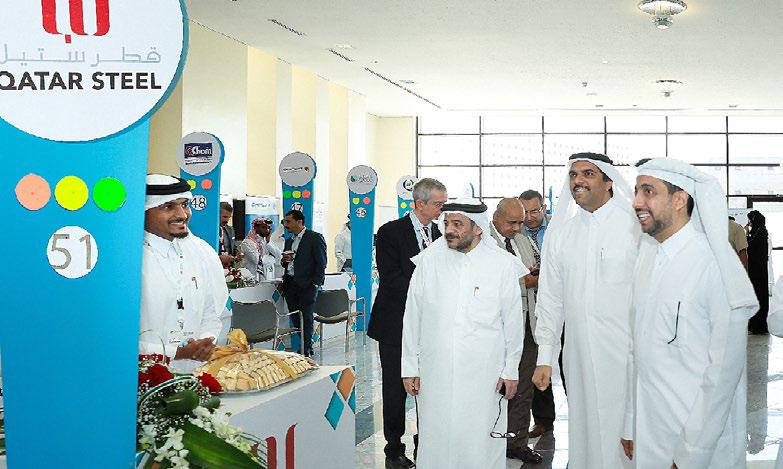 Qatar Steel participated in the thirteenth edition of annual career fair at Qatar University, organized by the Centre for Professional Development at the University, held on February 18-21, 2019. It was inaugurated by H.E. Dr. Hassan bin Rashid Al Durham – President of Qatar University.
The participation in the Career Fair is intended to provide promising job opportunities for the pool of Qatari nationals, develop them and prepare them for leadership positions in the company. It also aims to encourage the national graduates and young professionals to join the iron and steel sector.
In line with Qatar National Vision 2030 that constitutes a beacon that guides economic, social, human and environmental development of the country in the coming decade, Qatar Steel is proactive to continuously invest in human capital and to guide the younger generation on their career path.
Mr. Mohammed Saleh Al Mahdi, Administration Division Manager, said: "Qatar Steel is one of the leading companies that pays great attention to develop stable and sustainable workplace culture and participates annually in Career Fair to get the talents."
"Qatar Steel is a large and constantly expanding company, which requires regular reinforcement of its staff and refinements in their capabilities, and young Qatari nationals to adapt to the new leadership role in various technical and administrative disciplines to ensure constant improvements."
"Qatar Steel offers a variety of training and development programs for employees and provides them with suitable opportunities to prepare them technically and individually.
Qatar Steel's participation in the Qatar Career Fair comes as part of its commitment to the Qatarization Plan, which is in line with QNV 2030's vision and is striving to develop its creative and talented workforce to work in different challenging positions and roles."
Spotlight: Qatar Steel Participates in 8th Annual Career Fair for Universities & Work Sectors at Al-Wakra Secondary School.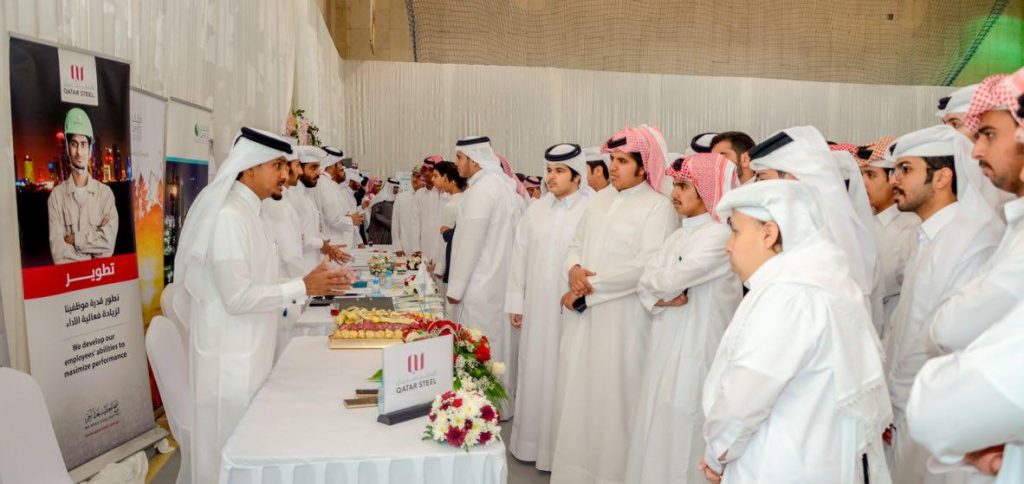 Qatar Steel participated in the 8th Annual Career Fair for Universities & Work Sectors, organized by Al-Wakra Secondary School under the auspices of HE Dr Mohammed Abdul Wahed Al Hammadi.
Minister of Education and Higher Education, to provide students and parents deep insight into the job market requirements and familiarize them with the prospective career and academic paths available.
The inauguration ceremony was attended by His Excellency Mr.Sultan Al-Khater – Undersecretary at Ministry of Economy and Commerce & Mr. Yousef Al-Abdullah – school principal, other faculties and a number of high ranking officials and dignitaries from Ministry of Education and Higher Education, as well as government organizations and diplomatic missions accredited to Qatar.
The event aimed at providing Qatari students an opportunity to interact face to face with the employers to enquire about the job market requirements and get abreast of the academic and career options available.
Over 50 local and multinational organizations and institutions took part in the fair, including industrial companies in Qatar, educational institutions, and various working sectors. The fair was visited by a great number of students from local school and universities as well.
Qatar Steel officials welcomed the students at its booth and briefed them about job opportunities and internship programs available. Officials also answered their queries on career prospects in Qatar Steel.
Through its participation in this annual career fair, Qatar Steel is hopeful to attract talented and high performing students and recruit them in the company's different departments in the future
Spotlight: QU Engineering Student's Visit to Qatar Steel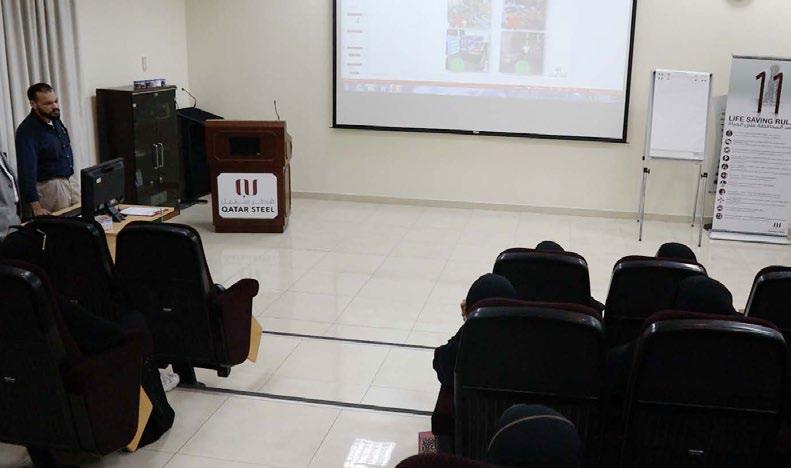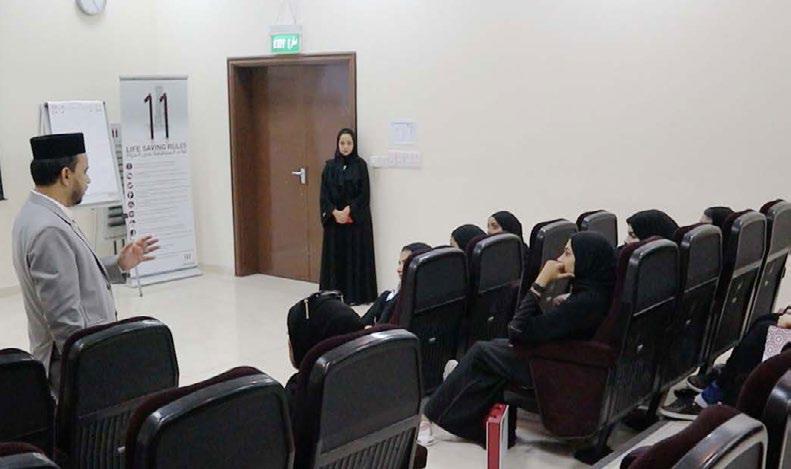 There is no better way to learn than on-the-job. As part of their internship program, Qatar University's Engineering students – mentored by teaching faculties – visited Qatar Steel to get an in-depth knowledge on steel making process and HSE standards being followed at plant site. The briefing was made by L & D Department to the students on the technological up-gradations being executed in various parts of the plant and the importance of developing quality, reliable, sustainable and resilient infrastructure, to support economic development and human well-being of the society.
This visit is expected to add value to their understanding and will provide deep insight into the real working environment of the industry. Qatar University's faculty members thanked Qatar Steel Management for providing such an illustrative knowledge sharing training and expressed to have many such training in future.
Spotlight: Open Day – Qatarization Drive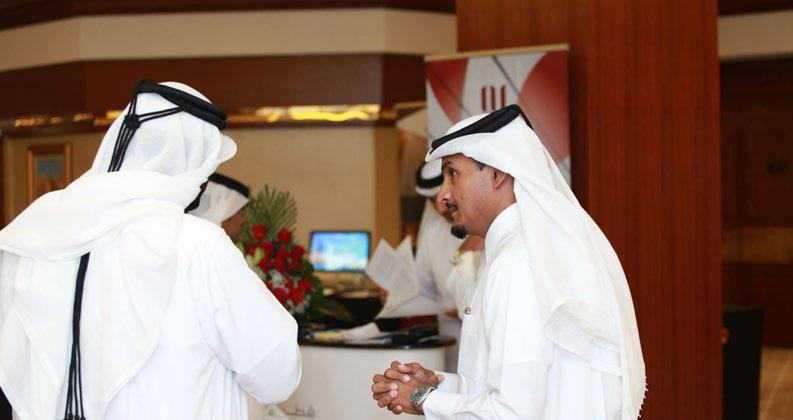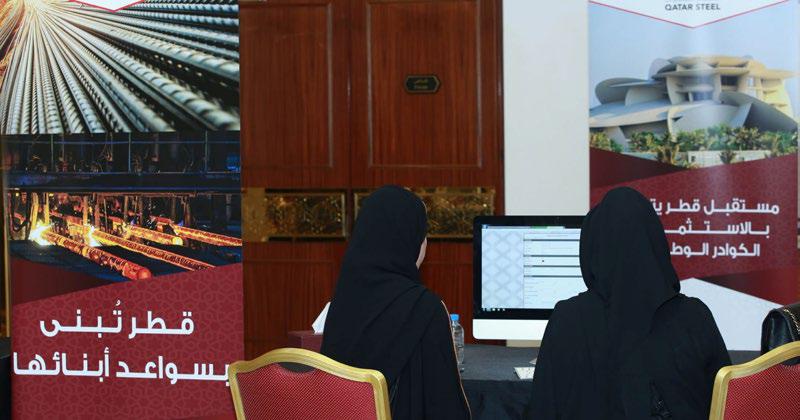 Qatar steel organized open day for Qataris in Sheraton Grand hotel to provide information on employment and training opportunities for university graduates in order to enhance their abilities, refine talents and make them able to deal with the challenges of national development. Through this recruitment drive, Qatar steel has introduced many career opportunities and took direct interviews of the attendees. The open career day attracted a lot of promising Qatari youths.
Mr. Mohammed bin Saleh Al Mahdi, Division Manager – administration stated that Qatar Steel is one of the leading companies in the iron and steel industry and is constantly expanding and developing, aiming at hiring qualified Qatari nationals for different positions.

Qatar Steel OPEN DAY is part of its commitment to implement the Qatarization Plan in line with QNV 2030's. He added that Open Day is an opportunity for us to meet the nationals face to face, discuss with them the future plans and attract the ambitious and distinguished Qatari youths showing sincere commitment towards the jobs available in the company and assume the roles.
Mr. Issa Bin Hassan Al Hajri, Manager – Human Capital, said that Qatar Steel gives priority and importance to its human resources and strives to attract Qatari nationals with technical and administrative qualifications and assume all necessary steps to prepare and develop them.
Al Hajri added that jobs available at Qatar Steel for high school graduates and universities has various advantages and incentives.
He pointed out that the applications received on Qatar Steel's open career day will be reviewed and evaluated according to their qualifications and specialties, before arriving at a final conclusion to recruit them in suitable positions and adopt them for a suitable role.