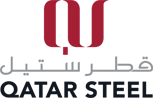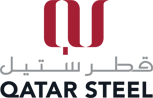 Steel is fundamental to the sustainability of the global economy, yet the steel industry is known for its heavy consumption of energy and associated GHG emissions. Qatar Steel has therefore created a two-fold approach to managing energy and GHG emissions: 1) the company is determined to continue taking steps to increase energy efficiency while remaining competitive in the global steel marketplace, and 2) the company is committed to investing in new products that help to reduce indirect emissions by reducing use of other construction materials.
Energy Consumption
Qatar Steel uses energy both directly in its operations as well as indirectly via its supply chain. The fuel consumed by our transport fleet and the natural gas used in our daily plant operations make up our direct use of energy; additionally, our indirect energy consumption comes from electricity supplied by Kahramaa and is used in various processes.
Enhancing Our Operations Facilities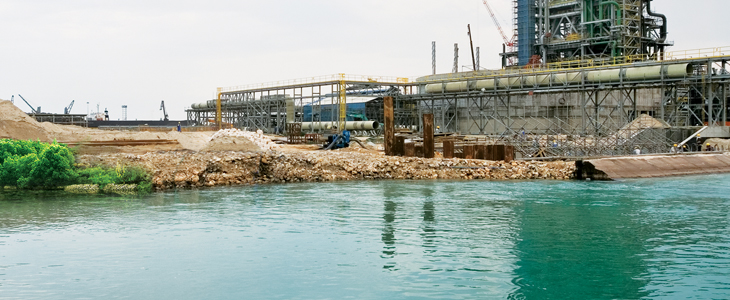 One of Qatar Steel's main achievements in 2014 was launching steel production in its new EAF5 plant, which has increased capacity and enabled Qatar Steel to shut down the older EAF1 and EAF2 plants. The new EAF5 plant relies upon chemical reactions, and therefore is much more energy efficient than the EAF1 and EAF2 plants; energy consumption in EAF5 is estimated to be 540 kW of energy per tonne of production, compared to 700 kW per tonne of production in EAF1 and EAF2.
5% Reduction in Energy Consumption Per Tonne of Steel Sold
Direct and indirect energy consumption (GJ)
Direct energy consumption (GJ)
Indirect energy consumption (GJ
Total Energy Consumption (GJ)

Energy intensity (GJ/tonne of sales)

In2014, Our total energy consumption increased by 8.4% compared to the previous year. This increase was due to greater production and total sales. However, Our operations achieved notable gains in efficiency, energy intensity (defined as energy consumption per tonne of steel sold) decreased by 5% in 2014 compared to the previous year, reaching 14.9 GJ per tonne of steel sold.
GHG Emissions
The steel manufacturing process generates GHG emissions from both our direct and indirect energy use. At Qatar Steel, we are committed to managing our GHG emissions and working to reduce them by implementing various energy-efficiency programmes.
Recognition For Qatar Steel CO2 Emissions Reporting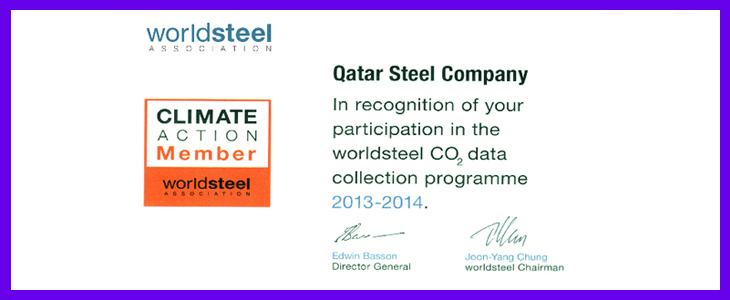 Qatar Steel is an active member of the World Steel Association. We successfully participated in the World Steel Association's CO2 Data Collection Programme in 2012, 2013, and 2014.
GHG Emissions (Mt of CO2)
Direct GHG emissions(1)

Direct GHG emissions

Total GHG emissions

GHG emissions intensity (tonnes CO2 equivalent/tonne of steel sold)

In 2014, Qatar Steel's operations (including natural gas consumption in all plants, vehicle fuel consumption, and electricity consumption) resulted in 4,383,724 Mt of GHG emissions, compared to 3,992,145 Mt of GHG emissions in 2013. This is an increase of 11.8%, in live with the company's increase in overall energy consumption in the same year. The GHG emissions intensity(defined as GHG emissions per tonne of steel sold) decreased by 1.8%, reaching1.6 tonnes of CO2 per tonne of steel sold.
AIR EMISSIONS
In order to continue reducing the air emissions produced by our operations,we work to ensure that all such emissions remain compliant with Qatar's Ministry of Environment regulations. to this effect, Qatar Steel conducted a study in 2014 to measure its emissions and ambient air quality. The study concluded that Qatar Steel emissions and ambient air emissions are in line with MoE standards.
Other Air Emissions (average tonnes per year)
2011
2012
2013
2014
NOx
642
498
657
903(1)
SOx
45
21
12
46(1)
Particulate matter
52
41
25
153(1)
(1) In 2014, we included our Electric Arc Furnace plants in our air emission calculations. This was not included in previous years' calculations.